CHOIR BOY Comes to PCS Next Month
Performances run April 15-May 14.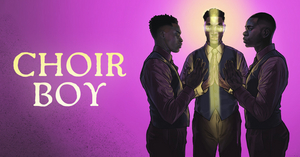 The glorious harmonizing of spirituals and exuberant, soulful dancing will Raise the Roof at Portland Center Stage this spring when Tarell Alvin McCraney's Choir Boy soars onto the U.S. Bank Main Stage. Choir Boy begins preview performances on April 15, opens on April 21, and runs through May 14. Tickets are on sale now.
PCS's Associate Artistic Director Chip Miller directs this coming-of-age story of a young, black, gay student making his way at the Charles R. Drew Prep School for Boys. Music Director DeReau K. Farrar, the director of music at the First Unitarian Church of Portland, will bring the lush choral music to life. Isaiah Reynolds will make his PCS debut starring as Pharus Jonathan Young, joined by Luther Brooks IV, Delphon "DJ" Curtis Jr., Kevin Loomis, Don Kenneth Mason, Gerrin Delane Mitchell, and Wildlin Pierrevil.
Like the semi-autobiographical play that was the basis for the film Moonlight, McCraney drew from his own experiences for Choir Boy: "When I was that age, I was growing up black and queer in the South, and looking to be part of a community. I always felt like I had to negotiate who I was in order to do that. I still remember going to high school and how terrifying it was to try to be open and myself and excel in all the ways that I wanted to excel," McCraney said in an interview with Variety.
McCraney also spoke about the play's renewed relevance in an interview with Theatre Mania: "Cut to, you know, 2022 and there are states banning young folks from even identifying as gay or trans or bi or as queer. The words 'queer theory' are stricken from high-school learning and teaching. Here in Florida - where I'm from, where Choir Boy is set in my mind - that's what's happening."
Choir Boy premiered in 2012 at The Royal Court Theatre in London and opened on Broadway in 2019, where it was nominated for four Tony Awards, including Best Play, and won a Special Tony Award. Variety called the play a "penetrating look at race, masculinity, and sexuality" and NY Daily News called it "stirring and stylishly told," noting that "Tarell Alvin McCraney cannily explores race and sexuality and the graces and gravity of history." The Guardian raved that "the songs bring the house down ... Choir Boy ascends and its choirboys achieve, as long as the notes hold, what feels like freedom."
From the Academy Award-winning writer of Moonlight, comes this exhilarating story about Pharus, a young, gay student leading the gospel choir at his elite, all-boys prep school. Can a rigid institution that prides itself on producing "strong, ethical black men" contain Pharus, who is a quiet rebel at his core? Or can Pharus inspire the very nature of the school to shift forever? Identity and community clash in this Tony-nominated hit. Filled with rousing music and soul-stirring dance, this play rejoices in all that it means to march to your own drum.