BWW Review: Portland Center Stage's MAJOR BARBARA is Pretty, but Dusty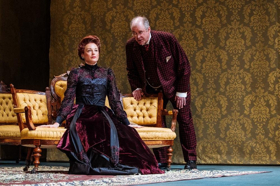 If you were going to revive a 113-year-old play, George Bernard Shaw's MAJOR BARBARA seems like a great choice. Its themes -- capitalism, inequality, social welfare, the ethics of the arms trade -- are practically ripped from today's headlines. Then, you'd need to decide whether to dust off the play for a modern audience or present it in its full period splendor. For the Portland Center Stage production, director Chris Coleman opted for the latter. The result is a production that's gorgeous to look at but difficult to connect with.
MAJOR BARBARA tackles the age-old question of how best to help someone: Do you give them a fish or a job fishing?
The "give them a fish" side is represented by Barbara Undershaft, a Major in the Salvation Army, who helps the poor by providing them with food and saving their souls. Her opponent is her father, Andrew Undershaft, a wealthy arms manufacturer who believes that poverty is a worse problem than weapons and that providing jobs is better than giving handouts. To settle the matter, they make a deal -- Andrew will spend a day at the Salvation Army with Barbara, and Barbara will spend a day at Andrew's munitions factory. The inevitable result is vindication of one side and disillusionment of the other.
The best parts of this production are Lex Liang's lovely costumes and Dana Green, who plays Lady Undershaft (Barbara's mother), as well as a few minor characters. While the other actors seem overly constrained (perhaps by their corsets), Green's characters are refreshingly human. She also gets to wear some of the most fetching outfits.
Much of the play is spent in philosophical debate. It's Shaw, so it's witty, but it also runs for about 2 hours 45 minutes. The key arguments, presented by Barbara (Hanley Smith) and Andrew (Charles Leggett), are rendered in speeches rather than dialogue, which makes them difficult to engage with for so long, especially since the production is so firmly rooted in 1905, rather than giving us a window into how these same issues impact us today.
Overall, MAJOR BARBARA is an interesting play to be putting on right now, but I think the material -- and the audience -- would have benefitted from a slightly less dusty, even if that meant less opulent, production.
MAJOR BARBARA runs through May 13. More details and tickets here.
Photo credit: Jennie Baker