Review: Fertile Ground: JUICEBOX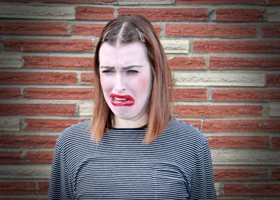 Have you ever...
Been totally in love with a member of a boy band?
Held your retainer in one hand while you practiced French kissing on the other?
Sent your real-life a crush (who you were too nervous to actually talk to) a note that said: "Do you like me? Check yes, no, or maybe" -- complete with checkboxes?
If you answered yes to any of these questions (and especially if you answered yes to all three!), then you most definitely must see JUICEBOX, a solo performance by Anne Zander, now running at the 10th Annual Fertile Ground Festival. It's painfully funny -- both in the sense that Zander's character, Jessica, is so awkward it's sometimes painful to watch and also that it's so funny you might hurt yourself laughing.
Here's the deal: It's the 90s, and Jessica is an adolescent -- still young enough that she throws temper tantrums, but old enough that her hormones have started to run wild. She's in love with a boy from school who at that very moment is at the movies with another girl. Feeling sad, angry, and confused, Jessica seeks comfort in her imaginary boyfriend: Brian Littrell of the Backstreet Boys.
Zander is a master of physical comedy, especially the cringeworthy variety. The show is over-the-top, getting progressively more awkward until you're not sure how much farther it can go (several steps farther than you think, as it turns out). But at the same time as she's completely ridiculous, Jessica is also completely vulnerable. I recognized a lot of myself in the character and spent the whole 45 minutes alternating between laughing hysterically and wanting desperately to save her from being laughed at. I was also very, very glad that my own awkward teenage years are decades behind me.
JUICEBOX runs through this weekend: Feb 2 @ 5pm and Feb 3 @ 2pm. If you've ever been or known a teenage girl, I recommend you check it out. Details and tickets here.
(And in case you're wondering about my answers to those questions: "Donnie Wahlberg!" "Yes, of course," and "How else were you supposed to get a boyfriend in the 90s?")
Photo credit: Peter Robert Shaw