BWW Review: Enjoy the Silence of SMALL MOUTH SOUNDS, at Artists Rep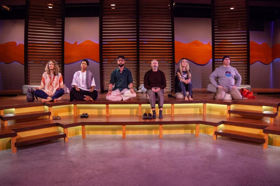 In a time when live theatre has to compete for an audience with Netflix and cell phones, it seems incredibly daring to produce Bess Wohl's SMALL MOUTH SOUNDS, a play about six people at a silent retreat that has a barely 40-page script. I gave it 50-50 odds of being fantastic or totally bombing -- I mean, 90 minutes with almost no dialogue? Are they crazy?
But, as we all know, most communication is nonverbal, and this is what SMALL MOUTH SOUNDS brings into focus. Without messy words getting in the way, the retreaters are able to connect with one another, and with themselves, in ways they likely never would in their regular, noise-filled lives. Most of them find something meaningful, even if it isn't exactly what they were looking for. And as a viewer, I got to experience it all vicariously -- I left SMALL MOUTH SOUNDS a little bit calmer than I walked in.
With little dialogue, this play requires a highly skilled director and excellent actors to convey the characters' search for meaning. This production has both.
The six retreaters are all broken in some way -- they've come to escape something, find something, or make sense of something. Joan and Judy (played by Susannah Mars and Ayanna Berkshire) are a couple struggling to deal with illness; Ned (Darius Pierce) is facing an existential crisis after several strokes of bad luck; Jan (Michael Mendelson) has lost a loved one; Alicia (Kelly Godell) has some sort of unfinished relationship business; and Rodney (John San Nicolas) -- well, he might be there just to show off his superior state of enlightenment. There's also a teacher (Mary McDonald-Lewis), who we hear but never see (and who doesn't seem to have life any more figured out than the retreaters who've come to learn from her). They are all very good, as, under Shawn Lee's direction, they find ways to commune with themselves and communicate with others.
A major highlight of Artists Rep's production is Megan Wilkerson's set, which is complemented by Jennifer Lin's lighting design and Rodolfo Ortega's sound design. The theatre has been transformed into a gorgeous retreat center, complete with a skylight through which you can see sunlight, stars, and (my personal favorite) a spectacular rainstorm.
I highly recommend SMALL MOUTH SOUNDS. It's not only ambitious, but also thought-provoking, heart-warming, and funny. You should go -- and when you do, please remember that this is a silent retreat and turn off your phone.
SMALL MOUTH SOUNDS runs through November 4. Details and tickets here.
Photo credit: David Kinder