BWW Review: Bag & Baggage Throws Binaries Out the Window with Queer, Gender-Fluid Take on MUCH ADO ABOUT NOTHING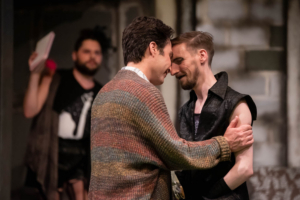 It's significant that Gordon Barr chose to adapt MUCH ADO ABOUT NOTHING, one of Shakespeare's comedies about love and marriage, into a celebration of the non-binary. By putting a gay couple at the center and having characters go by gender-neutral pronouns, Barr makes the point that all of the fuss our society makes about categorizing people is really just so much ado. Wherever we fall on the gender and sexual identity spectrums, we're all human - equally guilty of pride, stubbornness, and foolishness, and, most importantly, equally deserving of love.
MUCH ADO ABOUT NOTHING is about couples falling in and out of love, mostly because of gossip and trickery. There are two main couples: Benedick and Beatrice (here, Bertram), who love each other, but have to be tricked into admitting it; and Claudio and Hero, who fall in love at first sight, but, thanks to a cruel plot by one of Claudio's enemies, have an altercation at the altar. It's a comedy, though, so everything works out in the end.
What I found most surprising about the show was how little the play had to change to accommodate these ideas. With the long history of male actors playing female parts (and, more recently, women taking on iconic male roles), Shakespeare has always been more than a little queer. Introducing a gay central love story and gender non-conforming characters is a natural extension of the 400+-year path Shakespeare's plays have already traveled. Still, the gender swaps and gender-neutral pronouns do sometimes cause confusion. If you're unfamiliar with the play, I recommend you at least read a synopsis in advance.
The part of the adaptation that doesn't work is making Claudio a woman and Hero a man. The Claudio-Hero romance has always been challenging, but the climax of their story is about gender inequality and oppression - changing the genders renders the relationship unrealistic and robs the play of it's big emotional moment.
If you happened to see Oregon Shakespeare Festival's 2015 production of MUCH ADO ABOUT NOTHING, you'll recognize a lot of similarities in Bag & Baggage's, directed by Cassie Greer, particularly in the set, sound, and lighting design. This production emphasizes the social scene in which the love stories unfold. Characters are often listening into, and taking notes on, others' conversations. It's a bit like lurking on social media, Shakespeare-style.
Norman Wilson leads the cast as Benedick. Even when he's throwing barbs at Bertram, Wilson does so with a charming and disarming twinkle in his eye. For his part, Berns brings a lot of physical comedy to the role of Bertram, though he never quite makes a convincing transition from snarky to sincere. Arianne Jacques and Christian Mitchell struggle as Claudio and Hero, which can likely be chalked up to the gender swap. Meanwhile, Peter Schuyler steals more than one scene in the dual roles of Borachio and the Friar.
Overall, this "queer and campy" MUCH ADO ABOUT NOTHING is heartfelt and entertaining, if a little messy.
MUCH ADO ABOUT NOTHING runs through July 28. More details and tickets here.
Photo credit: Casey Campbell
Related Articles View More Portland

Stories

Shows