BWW Review: Artists Rep Scores a Knockout with World Premiere of Hansol Jung's WOLF PLAY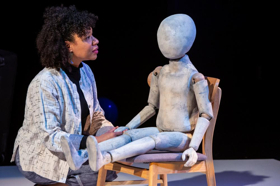 Artists Rep has been instrumental in cementing Portland's place on the National Theatre scene. That effort is about to take a huge step forward with Hansol Jung's WOLF PLAY, now in its world premiere. Taking everything together -- an exquisite script, excellent performances, and brilliant stagecraft -- WOLF PLAY is one of the finest pieces of theatre I've ever seen.
I didn't expect this to be the case when I walked into the theatre. As much as I try to be objective, I'm human and I have my biases. I'm not a parent and I don't spend much time with children, so to be honest stories about kids have to work pretty hard to resonate with me. But great theatre takes you out of yourself. It gives you empathy for people who are different from you and helps you understand the world from a perspective that's not your own. That's exactly what WOLF PLAY does.
WOLF PLAY tells the story of Jeenu, a Korean boy who was adopted by a couple in Arizona. Not long after adopting him, the couple had a child of their own and decided that it was all too much to handle. Rather than going back to the adoption agency and all of the legal and financial burdens that would require, they decide to "re-home" him via the Internet. So, at 8 years of age, Jeenu finds himself once again with new parents: Robin, a yoga-going woman who wants a child more than anything, and her wife, Ash, a career-focused boxer with no room in her head or heart for a child. Rounding out the cast of characters is Ryan, Robin's sister and Ash's coach, who is decidedly not happy about the new distraction in his star boxer's life; Peter, the adoptive father who gave Jeenu up in the first place; and Wolf. You see, Jeenu isn't a real child. In his mind, he's a wolf, but he's really a puppet. The character Wolf, played by a human adult, is both puppeteer and Jeenu's inner voice.
Here are the reasons you should go.
Go for the storytelling. Since seeing the play, I've been racking my brain to think of a playwright to compare Jung to. But, the truth is, Jung is in a class of her own. She wields language like a poet. Her lyrical, precise script perfectly captures our best and worst natures. The play simultaneously celebrates our extraordinary capacity for love, exposes our nastiest inclinations toward selfishness, and admonishes the injustices of our social systems. Jung also has a razor-sharp sense of humor and the ability to cut you to the quick in two words flat. I will not be surprised if WOLF PLAY ends up on the short list for some of the most prestigious theatre awards. In fact, I'll be surprised if it doesn't.
Go for the performances. In particular, go to see Christopher Larkin in the role of Wolf. His puppeteering and personification of Jeenu's consciousness are both superb. He conjures emotions so adeptly that I quickly started seeing a real boy, rather than a faceless puppet.
Finally, go for the stagecraft, especially William Boles' set. Part house, part forest, and part boxing ring, it invokes all of the various places the characters feel at home. And go for Dámaso Rodríguez's inspired direction, which transforms the play into an intricate, and intimate, dance.
WOLF PLAY was commissioned by ART as part of its Table | Room | Stage program. On opening night, Rodríguez announced that the play would be getting a National New Play Network rolling world premiere, with productions in Minneapolis and Boston. After that, it will hit stages in Chicago and New York. Once the accolades start coming in, it will be much harder to get tickets, so I recommend you head over to the ART website and procure yours right now.
WOLF PLAY runs through April 7. More details and tickets here.
Photo credit: David Kinder