BWW Review: Artist Rep's CAUGHT is a Perplexing Puzzle for a Post-Fact World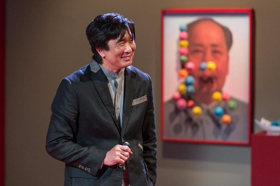 I got a tip to arrive at Artists Rep early to check out the art installation in the lobby. This turned out to be very important as the installation is a key aspect of the CAUGHT experience, which combines visual art and performance into a whole new type of adventure in live theatre. And just when you think you've got it all worked out, it changes. Christopher Chen's CAUGHT is like a hall of mirrors, where the more you look, the less sure you are what's real and what's just a reflection. You'd best pay attention.
When you walk into the Morrison Lobby, you're greeted by a living statue of Chairman Mao surrounded by maneki-neko, "the beckoning cat." It's the first in a series of 12 pieces by Chinese dissident artist Lin Bo, who we learn has been persecuted and imprisoned for his work. The interactive installation takes you all around the lobby, where you'll have a chance to rake a Rice Zen Garden, stick pinwheels into Mao's face, and write on scrolls with disappearing ink.
Eventually, you make your way to your seat, and out comes Lin Bo, who gives a TED talk-style presentation about the Tiananmen Square massacre, his work, and his time in a Chinese prison. He has a book about his experience in the works, so this also serves as a preview book tour.
And then, the sands shift.
CAUGHT's goal is to get you to question everything, which is a good skill to hone in today's post-fact world. But it also takes aim at our obsession with facts and truth. After all, stories are more compelling than facts. What are the "reasonable parameters of truth"? And is lying always bad, or is it only bad if you get caught?
The show also hits on the nonsense that results when we abstract things beyond all meaning. In one scene, a conversation veers so off course that one of the characters says in exasperation, "Sorry I'm not even sure what we're talking about anymore!" (Neither was I.) It reminded me very much of trying to make sense of talking heads conversation on the evening news or a White House press conference.
In the end, CAUGHT doesn't provide any answers, or even a stable space to stand while you contemplate the many questions it raises. But it does leave you inspired to look at things a little more closely before accepting them as true.
It's not easy to write a review without giving away anything about the show. But I do want to give a thumbs-up to some of the collaborating artists whose helped make this all happen: Shawn Lee, Greg Watanabe, Sara Hennessy, Chris Harder, Dmae Roberts, Megan Wilkerson, Jennifer Lin, and Horatio Hung-Yan Law.
CAUGHT runs through October 29. Details and tickets here. Give yourself at least 30 minutes before curtain to engage with the art installation.
Photo credit: Russell J. Young