Artists Rep Announces Lava Alapai As New Associate Artistic Director
Alapai will serve as Associate Artistic Director as part of DNA: Oxygen, an initiative dedicated to the development and production of new works from BIPOC.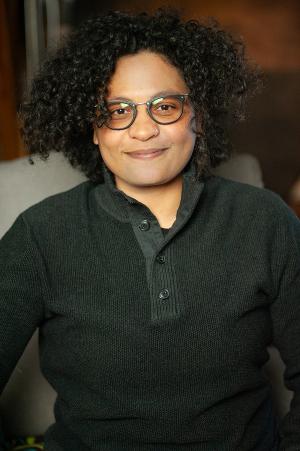 Portland-based director and Resident Artist, Lava Alapai has been named Artists Rep's Associate Artistic Director. This one-year artistic leadership residency is intended to prepare ART's Black artists to lead an arts organization of comparable size.
In addition to her responsibilities as Associate Artistic Director, Lava will receive mentorship with an eye toward preparing her for the next steps in her career. The Associate Artistic Director will serve as a member of the artistic team, collaborating closely with Artistic Director, Jeanette Harrison. Alapai was selected based on her breadth of directorial experience and her interest in making the transition from award-winning freelance artist to Artistic Director. "DNA: Oxygen disrupts systemic pipelines to power and creation by centering BIPOC artists as leaders, as thinkers, and as generators," says Artistic Director Jeanette Harrison.
The residency was designed by Harrison and the original DNA: Oxygen group members whose purpose was to address inequities and provide an artistic home for Black artists within ART's community while providing a safe space for all Black artists to share their stories. ART Resident Artist and original DNA: Oxygen member, Ayanna Berkshire said this about Alapai's hire, "This is a wonderful step forward for DNA: Oxygen. Thank you Jeanette and ART for your commitment to this program. I am excited to witness what comes of this leadership opportunity and know that the program will take flight with Lava's wonderful and unique skills." The group's first devised project was a short film called See Me, describing a slice of life of three Black people in Portland during the pandemic.
Harrison continues, "Lava was a key part of why I was so excited to come to this community and get involved. Lava is an inspiring emerging leader, and I am so thrilled to foster her growth and have her join the Artistic leadership team. Lava will bring a deep knowledge of the community both locally and regionally, which is crucial for ART living out its promise as a community center for all." Alapai's work as a director includes a broad range of new plays and musicals. Alapai co-directed the highly acclaimed Artists Rep production of An Octoroon by Branden Jacobs-Jenkins. Alapai has continued to flex her remarkable director style with The Revolutionists, The Chinese Lady (Artists Rep), School Girls; Or, The African Mean Girls Play (an ART co-production with Portland Center Stage). Lava Alapai shares, "I'm excited to go on this journey with Artists Repertory Theatre, which has been my artistic home for the past few years as a Resident Artist. I look forward to connecting with the Portland community in my new role."
This Associate Artistic Director residency, as part of the DNA: Oxygen program, allows ART to build upon the experiment in the radical transformation of a regional theatre into an institution rooted in anti-racist and anti-bias practices, allowing artists of color to find safety and community. Harrison emphasizes, "This work is ongoing, and we will eagerly learn from the past while continuing to move forward in building the future that is necessary for full equality, access, and justice for everyone in our community."
ABOUT LAVA ALAPAI
Lava Alapai (she/her) is a multi-ethnic playwright, director, and photographer born in Okinawa, Japan, and raised in Honolulu, Hawaii. She caught the theatre bug in Hawaii and began her career in an after-school theatre class. She and her friends made short films that she wrote, directed, and edited with two VHS players and her best friend's camcorder. After graduating with an MFA from the California Institute of the Arts in acting, Lava left Los Angeles, toured the country as a puppeteer, and landed in Portland, Oregon, where she has been creating theatre in Portland for over a decade. Writing credits include Middletown Mall, currently in development and received a grant in support from the Regional Arts and Culture Council, The Event for Artists Repertory Theatre's Mercury Festival, T.I.N.A for 48 hour Film Festival (won best use of character), redline for 24hr Theatre Festival, and Mutt for ManyHats Collaboration with support from a grant from the Regional Arts & Culture Council. Some of her recent directing credits include The King of the Yees for Profile Theatre, Stains for Ashland New Plays Festival, Beatrice for Portland Opera, Midsummer Night's Dream a co-direction for Anonymous Theatre, a stage-to-film production of Wayfinding for Willamette University, School Girls, or; the African Mean Girls play for Portland Center Stage/Artists Repertory Theatre co-production, Is God Is for Washington Ensemble Theatre, The Chinese Lady, The Revolutionists, and An Octoroon (co-direction) for Artists Repertory Theatre, Columbinus, Charlotte's Web and Locomotion for Oregon Children's Theatre. Lava has enjoyed being behind the camera as director of photography and editor for Alex Getting Better, Oregon Children Theatre, Salt for Shaking the Tree Theatre, the November Project for ManyHats Collaboration, and a multimedia pandemic project called Touch for Portland Center Stage. She is a proud member of the Stage Directors & Choreographers Society (SDC) and Dramatists Guild.
ABOUT ARTISTS REPERTORY THEATRE
ARTISTS REPERTORY THEATRE'S (Artists Rep or ART) mission is to produce intimate, provocative theatre and provide a home for a diverse community of artists and audiences to take creative risks. Artists Rep (est. 1982) is Portland's oldest professional theatre company and has become a significant presence in the U.S. regional theatre with a legacy of world, national, and regional premieres of provocative new work with the highest standards of stagecraft. In 2016, ART became the 72nd member of the League of Resident Theatres (LORT) and is an Associate Member of the National New Play Network (NNPN). Plays developed by ART have subsequently been produced in New York, Chicago, London, and throughout the country. Recognition for ART developed plays includes the Dramatists Guild Foundation Award, the Edgerton New Play Award, NEA Funding, the Mellon Foundation National Playwright Residency Program, American Theatre Magazine's Most-Produced Plays, and coverage in the New Yorker and the New York Times. In 2021, the Oregon Media Production Association (OMPA) honored Artists Rep with the Creative Innovation Award for the company's pivot to digital mediums in response to the COVID-19 Pandemic. ART recognizes that we are a predominately white organization and operate within systemic racism and oppression, and that silence and neutrality are actions of complicity. We commit ourselves to the work of becoming an anti-racism and anti-oppression organization, and will work with urgency to end racial inequities in our industry and our culture. To learn more about our organization and programs, please visit https://cloud.broadwayworld.com/rec/ticketclick.cfm?fromlink=2221517®id=83&articlelink=https%3A%2F%2Fartistsrep.org%2F?utm_source=BWW2022&utm_medium=referral&utm_campaign=article&utm_content=bottombuybutton1about/