BWW Review: TATUS (THE DADDY) at Teatr Polski Wroclaw - I want more!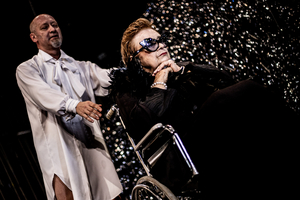 Do you still remember how it was to opening an envelope with developed photos from an event that had happened long time before? It's the same when you go to see a play inspired by one of your favorite movies: you never know if it will be that good as you remembered.
You will be pleased or mad. I was mad. Because it was too short - Seb, please: I wanted more!
Teresa Sawicka and Mariusz Kiljan played toxic siblings in some way addicted one to another. People that are a family. They refer to Tatus - daddy, idol - a person or a being outside the family but sometimes closer that the real one. This is what this play is all about - about relationships and bonds - about choosing those you need and those you want.
This is a real example that a good show doesn't require huge scene, 20 actors and fireworks. Can be private, cozy, intimate and close: this is all you need to feel emotions and Seb Majewski's story. Teresa Sawicka and Mariusz Kiljan make it feel very real and convincing, their venom, frustration and pain are covering what's really inside: huge need for love. On their way there is paranoia, jealousy, humiliation, possession and irritation. They are traumatized in childhood looking over and over their identity. But as Kiljan says: Life isn't for cripples.
Psychology says that from your birth you feel that love from your mother is unconditional while your father's love has to be earned. Tatus is a daddy - the person you want to be loved by, you want to wear this love with pride like a medal on your chest. In this case - daddies are autothemed - they are big personas of theater and directing. Those are people we want to refer to, impress them, earn their love and prove that we are worth it. That's what those characters do - in a twisted way. Show is short - leaves a lot of questions and deficiency.
If you didn't see What Ever Happened To Baby Jane (directed by Robert Aldrich in 1962) you should! Once - it's a great movie - old style type, second - you will watch Tatus as you eat huge package of chocolates.
As director says by himself it's not a therapy but reflexion. And now the question: Who's your daddy? sounds differently.
Photo credit: Tobiasz Papuczys
Related Articles View More Poland

Stories

Shows