2018/2019 at Pittsburgh Public Theater Welcomes New Artistic Director, Marya Sea Kaminski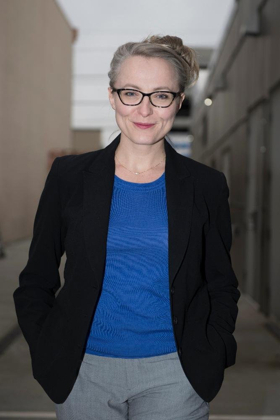 Pittsburgh Public Theater's new Artistic Director, Marya Sea Kaminski, has assembled a collection of plays - some epic and timeless, others fresh and intimate - that invite us into the idea of home. These characters search for where they belong, who they love, and how they make a place for their families in poignant, hilarious, and sometimes harrowing circumstances. Marya welcomes you into their homes, and into ours: "I am thrilled to invite Pittsburgh audiences into this season and to continue The Public Theater's legacy of telling a rich variety of stories with some of the most exciting artists working in the American Theater today. My favorite moment in the theater is when the artists and audience finally come together to bring a story to life. That feels like home to me. I look forward to having that experience in Pittsburgh, night after night."
September 27 - October 28, 2018
Pride and Prejudice
By Kate Hamill
Directed by Desdemona Chiang
Kate Hamill's wild adaptation of Austen's classic love story is anything but plain Jane. To save the family estate, the Bennet sisters are in a flurry to find suitable men to marry - except Lizzy who'd rather risk the family fortunes than force a second date. This madcap romance is filled with clever seductions, awkward escapes, and perhaps just enough luck to win at this wicked game called love.
November 8 - December 9, 2018
Sweat
By Lynn Nottage
Directed by Justin Emeka
The folks at Olstead's Steel Tubing in Reading, Pennsylvania work, drink, and dream together, until layoffs and lockouts at the factory begin to drive them apart. By following the lives of nine friends between 2000 and 2008, this combustible drama unearths the brutal consequences of a battered economy and dares to ask how we begin to heal. Critically acclaimed on Broadway, Sweat was awarded the 2017 Pulitzer Prize.
January 24 - February 24, 2019
The Tempest
Adapted and Directed by Marya Sea Kaminski
Marya Sea Kaminski's premiere production will crack open this old story to unleash a world where magic reigns, sailors sleep with fish, spirits surround us, and love can strike like lightning to brighten the darkest night. Told from a female perspective with an original score, this Tempest will swirl with vicious plots, ridiculous jokes, and the powerful pull between violent revenge and veritable forgiveness.
March 7 - April 7, 2019
A Doll's House, Part 2
By Lucas Hnath
Directed by Ted Pappas
Remember when Nora walked out and slammed the door behind her in Ibsen's 1879 masterpiece, A Doll's House? Well, she's back. It's 15 years later and Nora confronts Torvald to demand that he officially divorce her. She navigates some hilarious and harrowing negotiations with her husband, their daughter Emmy, and their nanny Anne Marie, as we watch the woman who once upended the rules of marriage return to set the record straight. A must-see for theater-lovers and anyone who's ever tried to be married.
April 18 - May 19, 2019
Indecent
By Paula Vogel
Directed by Risa Brainin
Based on incredible true events, this story of a Jewish playwright and his resilient acting troupe unfolds with unexpected joy, beautiful stagecraft, and the contagious melodies of a live Klezmer band. In 1923, Sholem Asch's first play opens on Broadway - a love story between two women set in a brothel - and scandal erupts when the entire cast is arrested for obscenity. Indecent unearths the perilous history of this groundbreaking work of Jewish literature, and reveals the way art can deeply connect us even in a world unravelling.
May 30 - June 30, 2019
Marjorie Prime
Directed by Marya Sea Kaminski
In the near future, "primes" are programmed to look, sound, and smile like our dearly departed. With young Walter, Marjorie recalls the good old days of their marriage despite the frustrations of her rapidly failing memory. He acts and feels like family, even as Marjorie's own daughter seems less and less familiar. Jordan Harrison (writer for "Orange is the New Black") brings us this inventive, intimate play about a world where advancing technology can lead us back to who we are and to the people we love.
Pittsburgh Public Theater's home is the O'Reilly Theater in the heart of Downtown's Cultural District. Six-play packages ($158.50 to $352.50) are available by calling 412.316.1600, online at ppt.org, or at the O'Reilly Theater Box Office. Single tickets will go on sale in August and September.
For more information visit ppt.org