Click Here for More Articles on REVIEW ROUNDUP- THEATRE
BWW Review: THE VERY HUNGRY CATERPILLAR SHOW Enchants First Time Audiences at Childsplay Theatre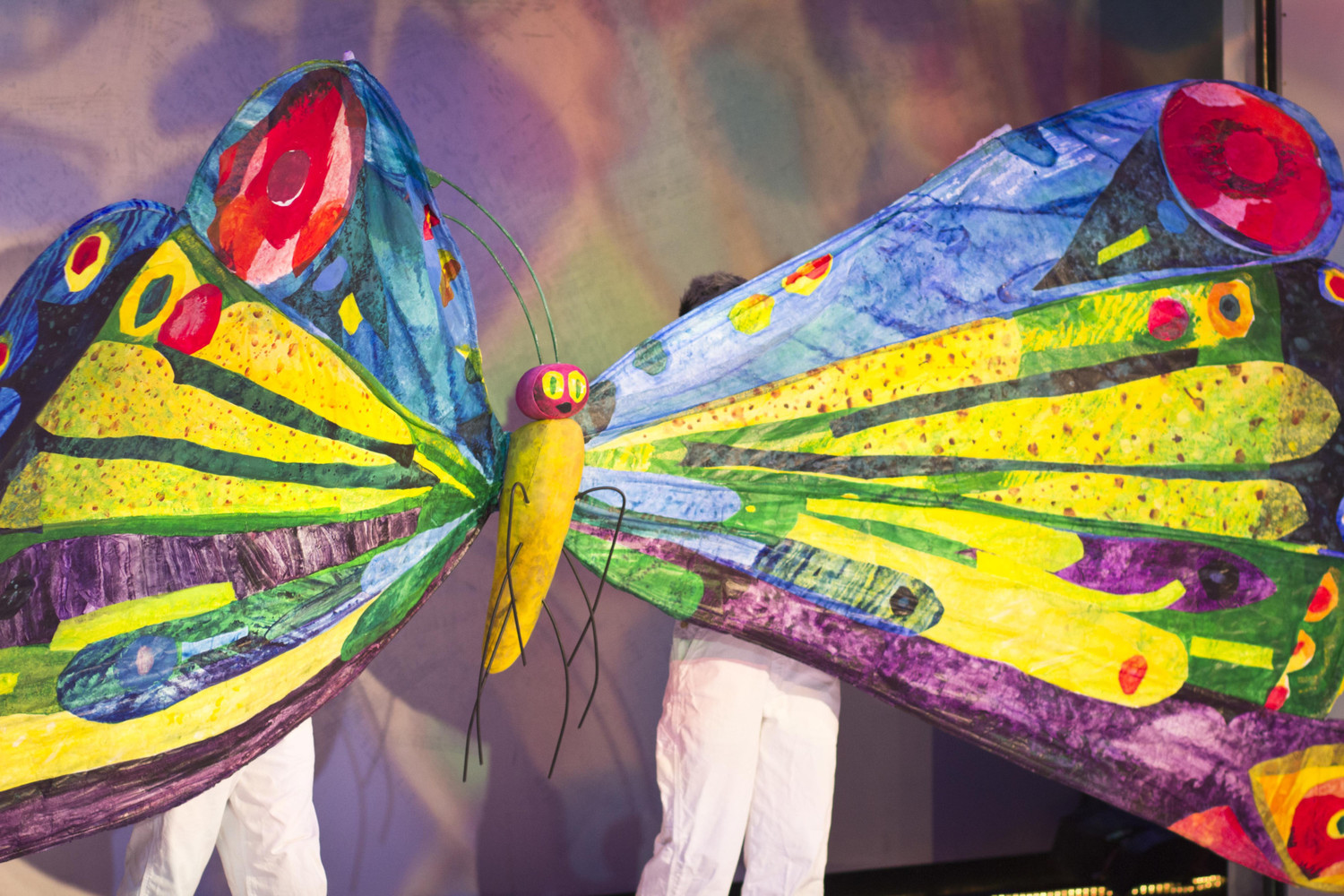 BWW Review: THE VERY HUNGRY CATERPILLAR SHOW Enchants First Time Audiences at Childsplay Theatre
Childsplay's "The Very Hungry Caterpillar Show" is helmed by director Dwayne Hartford's visionary hands. This lovely piece is brought to life by joyous performances from some of the valley's most respected actors. Adapted for the stage from a 50 year old children's classic this is a master class which highlights everything important, impressive, and inspiring about Theatre for Young Audiences. "The Very Hungry Caterpillar Show" is as sweet and soothing as any show possibly could be. Recommended for ages 3+, the audience in which I attended was mainly pre-K to early elementary. From the entrance of the first puppet, the kids never ceased to be enthralled through the entire 45 minute tale, which follows a script directly adapted by Jonathan Rockefeller from Eric Carle's definitive books.
We sometimes forget how fortunate Phoenix is to have Childsplay as a leader in our community. Theatre for Young Audiences produced and executed at the highest level has been at our fingertips for 42 seasons thanks to Childsplay. Not every city is able to have professional theatre designed specifically for youth, and the few cities that do look to our Childsplay for inspiration and guidance. Continually innovative and exceedingly impressive in performance, production, and reach, this company is not just the best TYA theatre in Arizona, I'd argue it is one of the best all-around theatre companies in the state.
"The Very Hungry Caterpillar Show" is the perfect show to introduce young children to the art of theatre. With a simple set of three white paper machete walls, equipped with hidden windows and bold, colorful projections, the tight-knit cast of three owns the stage. Childsplay has always benefited from a devoted repertory of stellar actors, and in this production we find three of the best, Katie McFadzen, Debra K. Stevens, and Jon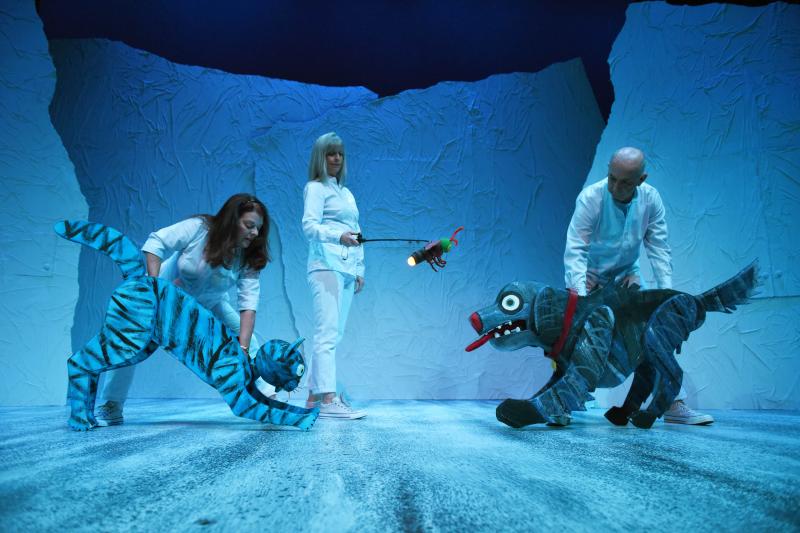 Gentry. Each renowned artists, directors and teachers in their own right, they take on a decidedly simple script with precise and bright performances here, forming a true ensemble. It is like watching black belt karate masters showing off their full mastery of the white belt routine with complete understanding, grace and presence. The ease at which they immediately engage the audience and their sage-like storytelling fills every beat and the moments in between. Gentry and Stevens have been working together for 37 years, and McFadzen joined their troupe 25 years ago. That is over a half century of creating, bonding, and developing a shorthand that most performers will never experience, and it is this same history that makes what Childsplay does so remarkable and unmatched.
The production follows four of Eric Carle's works: "Brown Bear, Brown Bear, What do you See?", "10 Little Rubber Ducks," "The Very Lonely Fire Fly," and "The Very Hungry Caterpillar." True to the books, each word is exact, and the puppets are recreated with an outstanding likeness to Carle's iconic illustrations by Rockefeller Productions. When performed Off-Broadway, "The Very Hungry Caterpillar Show" was nominated for a Drama Desk Award and the Off-Broadway Alliance Award for Best Family Show. The countless number of intricate puppets are dazzling and visually enticing.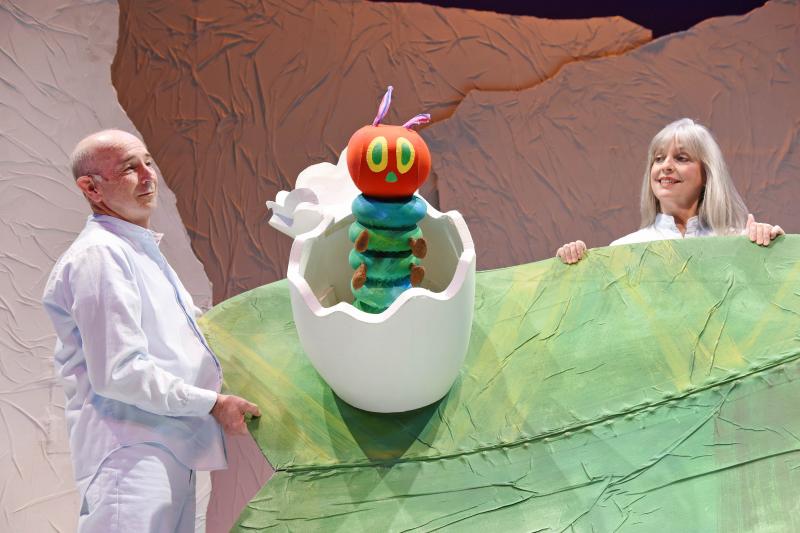 Eric Carle's distinct illustrations are recognized by anyone who was a child in the last 50 years, and his work has been adapted into numerous cartoons, but there is nothing like a live performance to engage children. Seeing these stories come to life, before their eyes, in real time, is the type of experience that takes something familiar and reinforces it with a new, deeper emotional connection and understanding. The magic of live theatre never stops astonishing audiences, and it can begin at a very young age. If you're considering introducing your young one to theatre, "The Very Hungry Caterpillar Show" is the ideal opportunity. Running until April 21st, tickets start at $12 and are on sale now at www.childsplayaz.org or at the Herberger Theater Center Box Office (602) 252-8497. The play is recommended for ages 3 and up. The Herberger Center is located at 222 E. Monroe St., Phoenix, AZ 85004.
Review by Seth Tucker www.SethATucker.com
Related Articles