BWW Review: Stray Cat Theatre Presents Annie Baker's THE ANTIPODES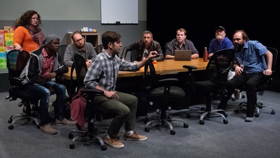 THE ANTIPODES is Annie Baker's mind-bending exposure of the functions and frailties of the narratives we create to define and explain reality. Her focus on story telling (the work is invitingly publicized as "a play about people telling stories about telling stories") is an ingenious cover for a foray into deeper and more aggravating questions of an existential nature. And still, it is incredibly if not darkly funny.
It is axiomatic that, since time immemorial, tribes and cultures have used stories to reveal the cords of pain or pleasure, love or hate, righteousness or injustice, that connect us. But, what if our stories (our histories) are flawed fictions, based on arbitrary assumptions or fallacious clues that endure only by virtue of their unchallenged repetition? What if the stories we even tell about our personal experiences are fables we've created to explain and justify ourselves?
What then?
THE ANTIPODES does not presume to answer the questions. It requires only that they be asked. And that audiences reflect.
To this end, the Pulitzer Prize winning author builds on her already well-established body of enigmatic and provocative plays (Circle Mirror Transformation, John, The Flick) with a work that containerizes (cloisters, closets, sequesters) a cohort of seven brainstormers inside a sterile conference room. They are tasked by their team leader to create (and here's the rub) we're not quite sure what. Whatever it is, they are directed to tell stories as the prescribed pathway to the desired result. So, stories are now the mother of invention!
Ron May's direction of THE ANTIPODES (Stray Cat Theatre's Season opener) is nothing short of brilliant and inspired. He has assembled a superb cast: David Weiss, as Sandy, the tense and distracted team leader who declares a sacred and safe space for sharing but ironically abandons with regularity; Louis Farber, Will Hightower, Dolores Mendoza, Michael Peck, Michael Thompson, William Wyss, and Eric Zaklukiewicz as the tiger team story tellers, each of whom delivers a distinctively unique characterization; and Shannon Phelps whose turn as Sandy's attending assistant (either delivering messages from Sandy or taking meal orders or, best of all, delivering a magnificent run-on riff about a personal experience) is a pure gem.
For nearly two uninterrupted hours, the principles orbit around the conference table, taking turns to respond to a series of questions that, at first, verge from intrusive to ordinary (how each person lost his/her virginity, biggest regrets, best mentors, etc.) but become densely philosophical (does time exist on both a vertical and horizontal axis, is there a parallel universe; is the Creation story authentic). The escalator climbs from the sublime to the surreal, accentuated by one dynamic performance after another. A volatile Farber reflecting on a family tradition of shooting oneself in the face. Hightower fixating on questions about the nature of time. Thompson in an electrifying rant about the Creation story. On and on it goes to an ending that simply ends. No answers. But lots of time to contemplate what it's all about.
May has, as he usually does, a theatrical experience of the highest order.
THE ANTIPODES runs through September 27th in Studio Theatre at Tempe Center for the Arts.
Photo credit to John Groseclose
Related Articles View More Phoenix Metro

Stories

Shows