BWW Review: Desert Stages Theatre Presents SIX DANCE LESSONS IN SIX WEEKS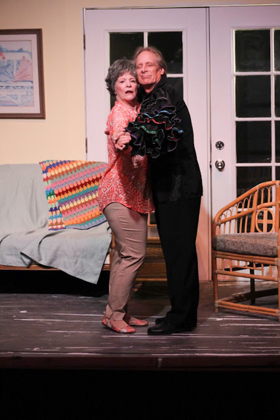 Chances are that among the thousands of faces in the human crowd, one may eventually stand out as a kindred spirit, to be seized and embraced, if the circumstances allow. In Richard Alfieri's endearing seven-scene pas de deux, SIX DANCE LESSONS IN SIX WEEKS, the place of interface is a high-rise condo in St. Petersburg, Florida where Lily Harrison, a 72-year-old widow, meets her match and kindles an unlikely friendship with Michael Minetti, a forty-something dance instructor.
Barbara McBain and Roger Prenger are arm-in-arm charming in Desert Stages Theatre's production of the play, directed by Joy Bingham Strimple.
McBain infuses Lily with a perfect balance of sass and vulnerability. When the doorbell rings, she primps for appearance's sake. When Michael crosses the line with smart ass mockery, this parson's widow goes kick-ass. When the resident in the unit below complains about the noise above, Lily shifts into sassy-seasoned apology. When growing familiarity breeds confidence, she spills her heart to Michael with a grief-stained confessional.
In marked contrast, Prenger is a souffle of charm and smarm. Michael strains to be real but has an irresistible impulse to put his foot in his mouth as often as he places it on the black and white cloth footprints that he uses for lessons. Indulging in questionable humor, he shifts from crass (calling Lily a "tight-assed old biddy") to poetic (describing Lily's view from her "ugly high rise" as "a little haiku to luxury and comfort."
The outlet for Michael's nervous and self-conscious energy is the dance ~ and in this arena, he is smooth and dashing. Prenger, a marvelous dancer in his own right, glides through five of the dance lessons (the swing, tango, Viennese Waltz, foxtrot, and cha cha) with sure-footed grace, and, in the sixth, contemporary, shakes things up with riotous moves to the frug, twist, watusi, hitchhike, et cetera.
Each dance has its scene and role in the play's thematic development. Prior to each lesson, Michael offers what Lily calls "two-bit sociologic commentary" on the background of the dance. But, Michael's purpose transcends sociology. The dancer (Alfieri's voice!) proclaims that having the background is important to capturing the soul of the dance: "That's really what you communicate when you dance - the soul. The steps are just conveyances, physical dialogue."
Thus, dance step by dance step, conveyance by conveyance, Lily and Michael unmask their true selves, share their deeper secrets, and reveal their souls. Two souls, then, each struggling with isolation and seeking meaningful companionship, become bound in a friendship to which a seventh scene, a "bonus lesson" is dedicated. Each sheds the persona that they conveyed at the play's beginning to reveal not only their true natures and desires but also their lingering regrets and fears about aging, loneliness, and sexuality.
Strimple has done an outstanding job in setting the floor for an intimate and tender exposition of friendship in the making.
In truth, when you're alone, and life is making you lonely, you can always go dancing!
SIX DANCE LESSONS IN SIX WEEKS runs through March 3rd at Desert Stages Theatre in Scottsdale.
Photo credit to Ashley Ann Photography
Desert Stages Theatre ~ info@desertstages.org ~ Box Office ~ 480-483-1664
Located inside Scottsdale Fashion Square ~ 7014 E. Camelback Road, Suite 0586 ~ Scottsdale, AZ
Related Articles View More Phoenix Metro

Stories

Shows