BWW Review: 3100: RUN AND BECOME Reveals A Path To Enlightenment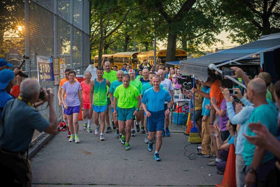 Sanjay Rawal is quite the versatile creative, a documentary filmmaker ~ Food Chains, Gather (in production ~ and activist in human rights and international development. His latest cinematic venture into matters of importance is 3100: RUN AND BECOME, one of the screenings at this year's ILLUMINATE Film Festival in Sedona, Arizona.
The film centers on the Self-Transcendence 3100 Mile Run, an ultra-marathon established in 1996 by Sri Chrinmoy, the famous spiritual guide who, among his visionary teachings, saw the act of running as a path to profound enlightenment.
At first glance ~ and, for the first several minutes of the film ~ it seems hard to understand how the long-standing run (it's the 20th Anniversary) is anything but a painful endurance test, an ordeal that tests both the will and the soul. Think about it: The entrants commit to running at least 60 miles a day for 52 days along a half-mile sidewalk loop in New York City. Arduous, to say the least, with little change of scenery, the scolding of the weather, and lots of hydration.
Patience, however, is a virtue in keeping pace with the progression of this documentary, as it follows past champion Ashprihanal Aalto and contenders Yuri Trostenyuk, Shaun Martin, Shamita Achenbach-Konig, Gyoman-san, and Gaolo, Jumandan and chronicles their evolution to fulfillment. Certainly, there is the joy of victory and the agony of defeat and, notwithstanding the spiritual emphasis, a definite competitive streak (Aalto affirms, ironically, that, "Second place sucks"), but, there is at the end the bliss of self-transcendence.
There is far more to this documentary, however, than the chronicle of the 3100. Rawal reveals that the spiritual power of running traverses national and cultural boundaries, that the act of running has historical and cultural roots that bind man to the earth, to his identity, and to his sense of place.
With the benefit of Sean Kirby's spectacular and dramatic cinematography, the camera shifts from Manhattan to a tribute run in the Navajo nation, a risky effort to preserve the hunting tradition in the Kalahari, and a Buddhist monk's trek ~ a quest for enlightenment ~ of sixty miles a day for a thousand days in the highlands of Japan.
In the end, Rawal has shined a light on the universality of the run as an enduring pathway to enlightenment.
The ILLUMINATE Film Festival runs from May 30th through June 3rd in Sedona, Arizona. The Festival is considered to be the premiere film festival for the emerging conscious film industry market.
Photo credit to Sri Chinmoy Marathon Team
Related Articles View More Phoenix Metro

Stories

Shows