Interview: Alexis Green of SEVEN GUITARS at BTT
A native of the Valley of the Sun, Alexis Green has returned to Phoenix to perform with the celebrated Black Theatre Troupe for the fifth time. She has previously appeared in Wedding Band (Mattie), Coming of the Hurricane (Kazarah), A Song For Coretta directed by fellow Seven Guitars cast member Mike Traylor (Lt. Gwen Johnson), and The Bluest Eye (Frieda/Darlene). Alexis recently received her MFA in Acting from Brown University/Trinity Repertory MFA Acting Program, and had previously attained her BA in Theatre Arts from ASU where she also conceived, produced, and performed in The ASU Black Theatre Festival in 2013. Her most recent credits include: Blues For Mister Charlie (Mother Henry) with The Williams Project in Seattle; Our Country's Good (Liz Morden) at Brown/Trinity; USA (Eugene Debs/Eleanor Stoddard) at Bread Loaf School of English in Vermont; and To Kill a Mockingbird (Mayella Ewell) at Trinity Repertory Company in Providence, Rhode Island. She now lives in Chicago.
How did you, originally, get involved in theatre?
I started learning about the theatre when I was a 6th grader at Bennett Academy and my teacher, Jim Hyte, gave us all opportunities to be on stage in his original plays. However, it wasn't until high school that I realized how much I needed it. I was a painfully shy child and high school was terrifying. However, my creative writing teacher freshman year encouraged me to audition for the fall play.
Can you unpack that a little bit? What was the relationship between your creative writing and your teacher thinking theatre might be your thing?
I honestly don't remember too well. Writing, though, was my first entrance into the creative world. I used to write poetry when I was a teenager. I filled up notebook after notebook with poems and song lyrics. Before theatre, writing was my outlet. I can't remember if I expressed any interest in theatre to my teacher or if I had mentioned that I had experience, but I remember her leaning over me in class (which took place in the theatre) and telling me to come audition.
I was the only freshman who got a role and I instantly had a group of older friends and a place I could retreat to.
What was the play and the role?
It was a murder mystery called But Why Bump Off Barnaby?. I played Cleo Barton, who was a "diva" Hollywood actress.
I needed theatre then, because it gave me a reason to speak and a place to figure out who I was. I was fortunate enough to get a taste of professional theatre when David gave me my first BTT role in The Bluest Eye back in 2009 when I was 18. I learned so much from watching the older actors work and never looked back after that. After high school, I attended the University of Arizona as an Acting major. Those two years were very difficult, but eye-opening for me. Being there exposed the competitive nature of this business and that was hard for me swallow. The program there also has a cut system where they require students to re-audition to stay in it until their junior year. I was cut and forced to change my major after freshman year, and that was devastating to me.
That makes my blood boil. What did you change your major to (before moving on to ASU)?
I was still allowed to remain in the theatre program itself. I went from being and BFA Acting major to BA Theatre Arts major, which meant I wasn't allowed to take the technique-based classes and couldn't perform on the MainStage. I could still take the general theatre arts courses. The tough thing about this was I had to walk around the halls with all those who DIDN'T get cut and watch them continue in the program. That takes a toll on your confidence.
Well, yeah. Grrr!
I chose not to stay in that environment and transferred to Arizona State University where I finished my Bachelor's degree in Theatre Arts. My time at ASU was particularly formative because it gave me the space to define myself as an artist outside of acting. As my senior capstone, I chose to create a Black theatre festival. This featured almost 50 diverse artists from around the valley and spanned the month of February with four different productions.
Well, that is just FABULOUS! Wow. What a cool and wonderful, exciting and brilliant thing! I'm curious about your defining yourself as an artist outside of acting, and how creating a festival tied into that.
I think defining myself as an artist to me was about figuring out who I was as a person and what I really cared about. In my two years at ASU, I took a lot of courses in African American studies, Gender studies, and Communication. This is also when Trayvon Martin became prevalent in the news. I felt I had a responsibility after that to do what I could in my career to give platforms to underrepresented voices. I looked around ASU and saw a lot of beautiful work happening- specifically around the LatinX experience, but I felt like outside of BTT, I saw nothing representing the Black experience. I had the resources at the time so I decided to do something about it.
After graduating from ASU, I took a year off and performed around the valley including another production with BTT. Then in 2014, I took off to Providence, Rhode Island where I just completed my MFA in Acting at Brown University/Trinity Rep.
I absolutely love Rhode Island, specifically Providence. It's such a beautiful and complex region, in so many ways - such deep, contradictory history there.
Did you love the weather? I know that might seem like a weird question in the context of this interview, but being from this desert, I'm obsessed with climate. I love the winters out there, but hate the summers (the humidity!) as much as I hate this furnace out here. The only nice summer I remember was in Iceland.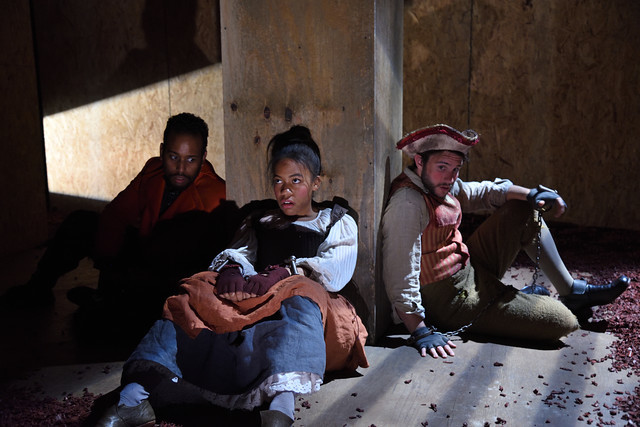 Haha, the weather was certainly an adjustment. My first winter there was apparently one of the worst winters they'd seen in a while, so it was shocking to leave my apartment to find snow up to top of parking meters and adjust to walking on ice (which is mad dangerous and scary). I think I prefer the bad winters though to Arizona bad summers. Humidity in the summer though, is no joke.
During my time there, in addition to acting, I worked a lot on social justice and institutional changes to promote Equity, Diversity, and Inclusion and founded a student group called The Student Resource Board that allows students from all three years to commune together and have agency in the way they are educated. Over the past few years, because of our work, my MFA program has seen almost twenty institutional changes and now has the most diverse student body it has ever seen.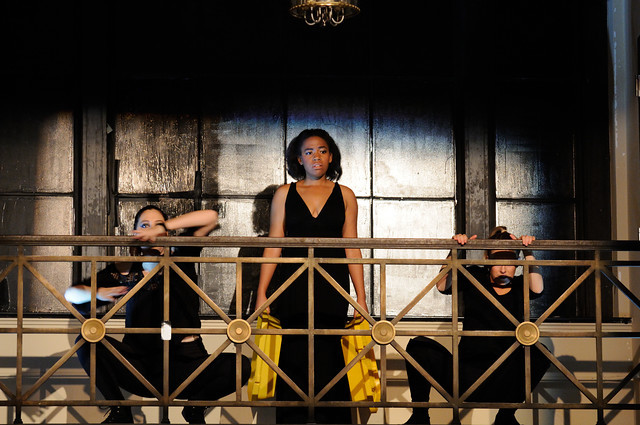 I'm officially blown away. It sounds as if your ability is beyond exceptional to think critically and engage in activism at the micro and macro levels simultaneously. How do you keep all those balls in the air at once?
I'm honestly happier when I'm focusing on multiple things. I trained myself in this way when I was at ASU- going to school full-time while also working two jobs and acting in the evening. I also find it impossible to be in effective conversations with leadership without being able to see the full picture. You get dismissed almost immediately if you're only thinking from one perspective.
As an artistic director, I've spent a lot of time auditioning young actors all over the country. It is rare that anyone seems interested in more than their own positioning in the "industry." You seem much more concerned about the overall health of the field. To what do you attribute your unique perspective/approach?
I'm just uninterested in self-serving artistic practices. I don't feel like it's a sustainable way to approach the work. One of my colleagues at Brown/Trinity last year following the election spoke about how we have so many tools as theatre artists outside of creating plays and therefore have a lot of power to promote dialogue and change. I also believe I have a lot to offer in addition to being an actor, and I am more interested in positioning myself a leader of the industry than following some set a schematics that is supposed to apply to all of us.
If I could point to a moment, I would say the death of Michael Brown solidified this path for me. My classmates and I sat in our voice class in tears and silence that week. The question we kept asking was, "What can I do?". Some people voiced feeling selfish for being an actor. I felt that way too. However, I also feel like I've been blessed with a set of gifts, and I can use them to contribute to the world in a positive way.
Are you running for president in 2020? I sure hope so.
Haha, let's just start with running a company. I can get on board with that.
This is work I intend to continue. Since graduating in May, I have worked in Seattle, become a board member for a new theatre company, and I now live in Chicago where I'm now pursuing life as a theatre artist.
Can you tell us about the Seattle theatre company for which you're a board member?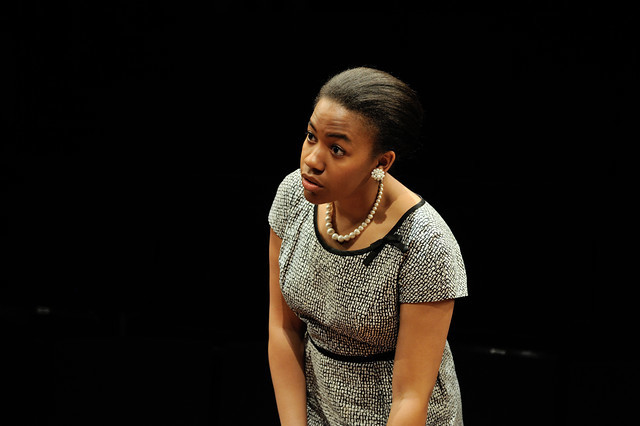 It's called The Williams Project. It was founded by Ryan Purcell, who is an alumnus of my graduate program. They just completed their fourth season with a production of James Baldwin's Blues For Mister Charlie in which I played Mother Henry. We have a really unique model where the actors, who are from all over the country, go on a 10 day retreat in Longview, Washington and live together while rehearsing during the day and cooking meals for each other at night. We then transfer the production to Seattle, and this year performed in a church during one week and high school during the second week. It was really special.
I'm on the board of a company called Notch Theatre Company. It was started by a classmate of mine, Ashley Teague, and works under a community engagement model where they partner with community organizations to do work that promotes dialogue around social issues and provides a platform for underrepresented groups.
Okay, wow. Well, if that's not enough for our readers to digest, let's talk about your current project here at BTT.
August Wilson's Pittsburgh Cycle is incredible, epic, uniquely American and signature Wilson. How do you feel about this 1940s piece - it's significance historically and contemporary relevance?
August Wilson did what no other playwright has managed to do- he wrote the evolution of an entire culture of people. And when I say culture, I think that word is unique to his work. He didn't write to "wow" us with plots or special effects. He wrote Black American life and Black American people. The way the characters in his plays behave together and grapple with their own circumstances is why we continue to engage with his work. There's nothing more thrilling to watch on stage, I feel, than real life as people struggle through it together. He took these snapshots of the Black American experience represented in these characters. Because they are so vivid and accurate, I don't see how his work will ever not be relevant. Even more so in our current climate though, it is important to uplift these underrepresented stories and give our audiences a better understanding of the vast array of definitions that fall under the term "American".

How does your role resonate within the overarching themes, and how do you keep it real in a moment-to-moment way?
It seems like a huge theme of the play to me is this idea of "The American Dream" and how Black America fits into that equation. Vera has a lot of text about the transgressions that seemed like "nothing" to Floyd were "something" to her. I believe this is exactly what America is eternally grappling with. People of Color can shout from the rooftops and provide mounds of evidence that racism is real, that it is "something", but we are constantly accused of being too sensitive and that what we're experiencing is "nothing". I think Vera makes the choice in this play to be heard. She makes the choice to define her own path, even if it's a risky one.
Staying in the moment for me is just about listening- not only to my fellow actors but also to myself. Everything we speak into the space has weight. It has cost. If I'm saying a phrase like "I searched my body for your fingerprints," I feel what that means when I let those words roll out of me. August Wilson was no fool. He wrote every word he wrote with a purpose so it's my job to make that clear. That's work enough to keep me in the moment.
How you work, as an artist, to live in her skin and make her "real"?
Acting, for me, is about empathy, so I always start with what the character and I share and tap into that. Vera is referred to as a quiet woman, but she's also in the process of evolution through love and loss which affects that demeanor. This is my jumping off point. I'm fortunate with this role to actually feel very close to who Vera is, so my job in this show is an easier one. After empathy, I look at language. I'm a voice and speech nerd, so I need to thoroughly comb through how words are being used, how rhythm is working, and how the character is using their voice. Vera, for the most part, is pretty subdued and her language is mostly minimal and simple, so it really means something when she gets descriptive or long-winded whereas other characters in the play frequently go into lengthy speeches. My job then becomes about calibration and finding the right moment for her to expose her heart. After I understand these things, I can start to release into the role.
Much respect and gratitude, Alexis. I look forward to seeing the show.

It was my pleasure!
---
---

Performances of Seven Guitars are October 27 - November 12, at the Helen K. Mason Performing Arts Center, 1333 E. Washington St. in downtown Phoenix. Showtimes are Friday and Saturday evenings at 8:00 pm, Saturday matinees at 2:00 pmand Sunday matinees at 3:00 pm and a special 2 pm matinee on Thursday November 2nd. Tickets are $38 and available at www.blacktheatretroupe.org or by calling 602-258-8129.
Seven Guitars features Ríco Burton as Louise Canewell, Calvin J. Worthen as Canewell, Rapheal Hamilton as Red Carter, Alexis Green as Vera, and Mike Traylor as Hedley. Cornelius Williams and Dzifa Kwawu round out the cast as Floyd and Ruby. Seven Guitars is directed by David Hemphill.