Review: REP's MIONG Tells Its Side of the Story
Manila, Philippines--They say that history is written by the victors, its integrity dependent on who actually wrote it.
Repertory Philippines' (REP) Joy Virata, whose husband, Cesar Virata, is a direct descendant of General Emilio Aguinaldo, first president of the Philippine Republic, did what she was supposed to do: write the young general's story, which, according to the musical's playbill, "has not been fairly told, or has never been told at all." And what better way to tell his story than a modern musical that bears his lesser known nickname--Miong.
In "Miong," REP's 2019 season opener, Virata (Book, Direction, Lyrics) has created a commemorative piece centered on the young general's life and love. Her intent is somewhat clear: to simply celebrate a forebear who happens to be a historical icon.
"Miong" was first staged in 1998 to celebrate the centennial of the Declaration of Philippine Independence from Spain. From the original three-hour saga, the two-hour reworking is pleasantly tight and fast-paced. Its score and choreography being the musical's come-on, the shortened version, according to Virata herself, targets millennials. And it works--the aural-visual generation could now actually sit through two hours of nonstop song-and-dance showcase.
But going beyond the superficial, does Virata's progeny stir up empathy and conviction in its intended audience?
Miong's backstory is heavy in political context. Up to this day, Philippine politics has always been a struggle between the educated elite (taga-bayan) and the uneducated poor (taga-bukid). Taga-bayan are literally the town-dwellers, and the taga-bukid are from the farms.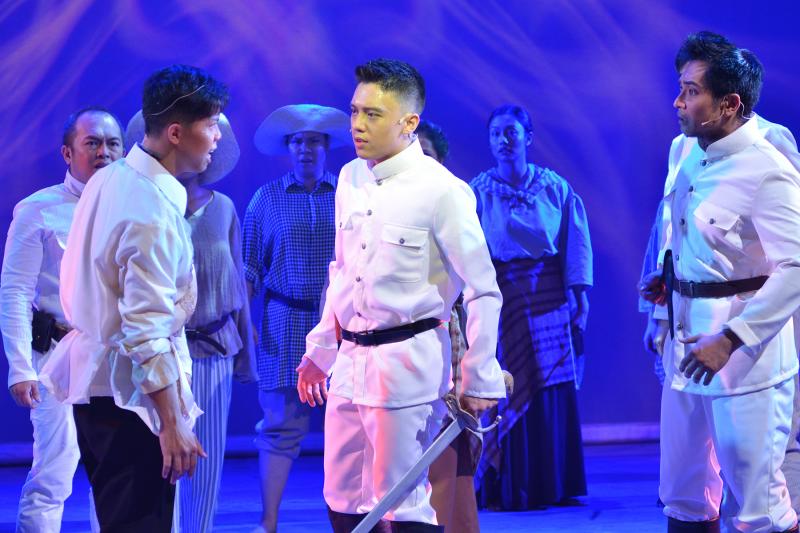 Aguinaldo's presidency is fraught with intriguing narratives that pit him against his fellow revolutionary, Andres Bonifacio. Bonifacio was acknowledged by the Spaniards as the president of the Tagalog Republic, long before Aguinaldo became the first president of the Philippine Republic. Both Bonifacio and Aguinaldo were members of the Katipunan (assembly/association), a secret revolutionary society that fought for the independence of the Philippines from Spain from 1892 to 1898.
On March 22, 1897, the Tejeros Convention was called by the Cavite elites to dissolve the Katipunan to give way to a revolutionary government. The convention was to choose its leader in an election that was highly controversial. In the process, Aguinaldo in absentia was chosen as the new leader of the revolutionary government. Bonifacio was elected Director of Interior to which Daniel Tirona, a taga-bayan, objected, calling Bonifacio uneducated.
Furious at Tirona, Bonifacio declared the election null and left thinking he was still the leader of the revolution. Those who were left behind, however, elected Aguinaldo as the revolution's new leader. In the violent power struggle that ensued in the days after, Bonifacio was killed.
The argument on who's the rightful "first president" of the Philippines is a favorite topic among historians and researchers even to this day--a potent theatrical subject just waiting to be tapped into. Fortunately, or unfortunately, this is the very question that "Miong" cleverly dodges.
"Miong," just like any musical, has its challenges and strengths. It starts promisingly--a rousing opening scene (Under the Bells) that foreshadows a potentially moving albeit dark story of Spanish invasion and their 300-year-rule of the Philippines. The story then jumps to an eight-year-old boy being admonished by a dying father for his lack of interest in school. From there, the narrative careers through Miong's trading ventures, puppy love, early political jousts as Cabeza de Barangay, and his induction into the Katipunan and Masonry. Before you know it, Act One closes with a sentimental set of reckoning and soliloquy (What Now/One Step at a Time), leaving the audience with a feeling of want.
Act Two sees the general marrying Yayang, his puppy love (Rigodon De Amor), and his rising leadership in the armed struggle in Cavite. The narrative then resumes its relentless drive through Miong's own unsuccessful attempts within the revolutionary movement to unite his own council Magdalo, and Bonifacio's supported Magdiwang. With Bonifacio's arrival into the narrative, the story complicates at a steady pace as in the previous act.
By the end of Act Two, that feeling of want turns into need--a deeper expose of the man and his inner demons. The musical seemingly attempts to do that, but what comes across, however, is rather an all-too-careful depiction of the man. If the musical creators wanted Miong to be understood, they should have done so firstly by working on that critical element for any theater experience: audience empathy.
The production's decision to quicken the pace by paring down the musical to bare essentials is admirable. However, in doing so, it runs short of its noble intent to tell the story clearly. The book itself is in dire need of significant turns, slowdowns, and nuances to allow characters, most especially Miong and Bonifacio, to fully develop and effect empathy on the audience. The haste, needless to say, renders the storytelling unhinged, given the fact that a millennial, or any audience member, may not be well versed in this part of our history. The before-show reminder to read the playbill does help, and somehow cures this challenge.
Despite such challenge, Ian Monsod's music [re-arranged by Ejay Yatco] is the strongest element of the musical. It's a fusion of Broadway and Disney borrowings, all right, but it does connect with the young audiences. REP has been known for its penchant for Broadway and West End shows, and at least in this aspect, has remained consistently so, putting forth a delectable Broadway-sounding musical with Philippine characters and setting.
In "San Bartolome" and "Genoveva," Monsod's music and Virata's lyrics are a sinful indulgence of wit and harmony. The Miong-Yayang duet "Is He Looking at Me" captures the flirtatiousness and melancholy of puppy love. The numbers "What Now", "One Step at a Time" and the finale "How Beautiful is Our Flag" will surely be etched in the audiences' memory.
Monsod's music is successfully complemented by Dexter Santos' choreography, another cause for celebration. If there's anything the millennials should be thankful for, it's Santos' ability to put to great use the vocally and physically able ensemble, who are instrumental in sustaining that energy and pace.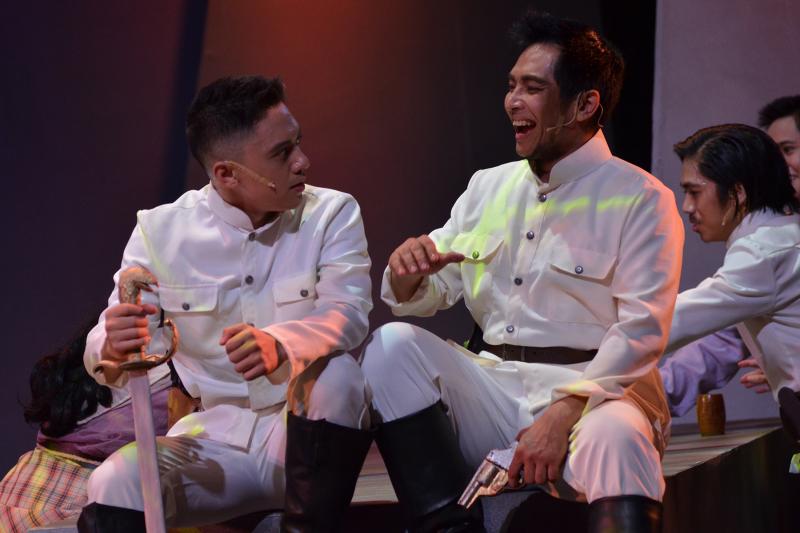 The limitations of the material, luckily, does not stop some actors from delivering commendable performances. Tim Pavino in the title role rises above the problematic script and backing tracks (the musical makes use of canned music instead of a live orchestra). A product of "The Voice of the Philippines" under team Lea (Salonga), his beautiful and expressive voice and admirable clarity compel the audience to stick to the story. However gallantly he might have attempted, the rickety canned music occasionally persists in its business to distract, robbing the audience of a rather holistic theater experience. Pavino's Miong, for all its worth, challenges and all, is commendable and worth that applause.
Another Jewel of the musical is Cara Barredo. Her sweet, dramatic voice is on full display as Yayang. Barredo displays an admirable charm that is hard to ignore. Thankfully, her character, no matter how briefly, is given the chance to transform from a clueless teenager to a consummate wife, and finally to being a woman-Katipunero.
Noel Rayos' Berong (narrator-participant) speaking in poetic verse could resonate well with today's spoken poetry popularity. His is the only Filipino character in the musical with a distinct Filipino accent. This could be good; however, amidst Pavino's and Barredo's American accent, Rayos' Berong becomes the distraction.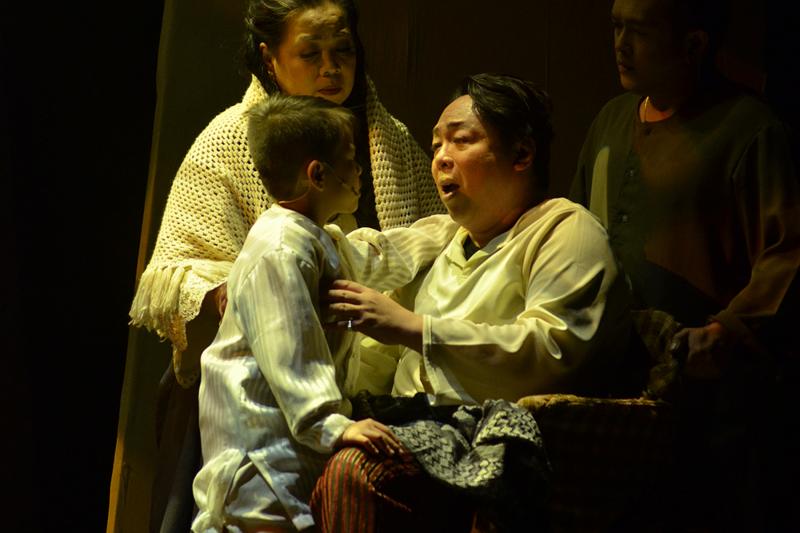 Other notable performances are from Meynard Penalosa (Father Blas), Kuya Manzano (Spanish General), and Lani Ligot (Kapitana Teneng).
"Miong" may not be your perfect Filipino musical, but from a wider perspective, it appeals to a general audience who have already developed an acquired taste for western theater. If "Miong" wants to tell its own story, so be it. After all, all sources and writers of history deserve to be heard and evaluated for their stories' own merits.
"Miong" plays at the Onstage Theatre, Greenbelt 1, Makati City, now through March 10, 2019.
Get tickets (P1,000-P1,500) from TicketWorld.com.ph.
Photos: Repertory Philippines
| | |
| --- | --- |
| Vote Now for the 2022 BroadwayWorld Philippines Awards | |
| voting ends in | |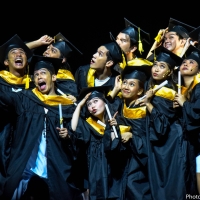 Review: One's Triumph Could be a Saving Grace for Many

October 18, 2022

'I Will, the Musical' successfully premiered at the iconic Manila Metropolitan Theater stage on October 14, almost a year after it was filmed at the Music Museum and streamed online in 2021.
---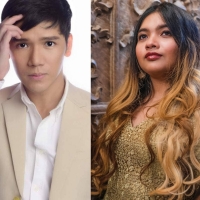 Review: Nina Campos, with Guest Gerald Santos, In Concert at Pinto Art Museum

May 4, 2022

A summer night couldn't be more propitious: an amphitheatre sitting loftily atop rugged Antipolo terrains adorned with humongous homalomenas, philodendrons, and alocasias growing uninterruptedly, a buzzing crowd of guests gushing over the museum's Castillan-influenced architecture jutting into the night sky, and an impressive lineup of performers headlined by one of the most exciting classical singers to have emerged in the past decade joined by an international musical theater artist-guest who has won countless hearts with his dashing good looks and smooth, dramatic voice.
---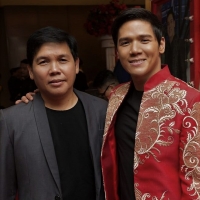 '10 and 10' with Gerald Santos and Composer-Director Rommel Ramilo

April 4, 2021

We recently sat down with "Miss Saigon" alum Gerald Santos and his award-winning composer-writer-director-manager Rommel Ramilo to talk about their wins at the 2020 Aliw and BWW Philippines Awards, recent and upcoming works, finding the creative oasis and breaking new grounds on the virtual platform, and more. Dubbed '10 and 10,' here are the excerpts of the conversations that focus on 10 questions that matter to each of them.
---