Click Here for More Articles on Fun Home
BWW Review: International Premiere of FUN HOME, Starring Lea Salonga, Eric Kunze
Welcome to our house on Maple Avenue
See how we polish and we shine
We rearrange and realign
Everything is balanced and serene
Like chaos never happens if it's never seen...
Manila, Philippines--Atlantis Theatrical Entertainment Group's (ATEG) Manila production of the 2015 Tony© Best Musical FUN HOME opens and unravels with no fanfare: a minimalist set, a meager ensemble of ten actors, musical numbers that do not play to spectacular choreography and exploding lights, and a venue so small the performers and spectators are actually within an awkward spitting distance.
However, the overall effect is far from diminished--it is, in fact, impactful. In its simplicity, the musical successfully comes across sincere and direct, its message heard in such an absurd crystalline clarity.
Fun(eral) Home
The musical dissects the struggles of the Bechdel family through the eyes of a young Alison with a special focus on her father, Bruce Bechdel, and his love for his Victorian house, antiques, literature, and men.
Seems like total un-fun. Hell, yeah. But is there fun to be had in FUN HOME?
Anyone who has soaked in the formaldehyde sarcasm of the "family tragicomic" may find its theatrical progeny somehow watered-down. But no, this watering down does not mortify; it actually humanizes, both the characters and the message. Yes, there is fun in FUN HOME, and you don't need smelling salts to experience it.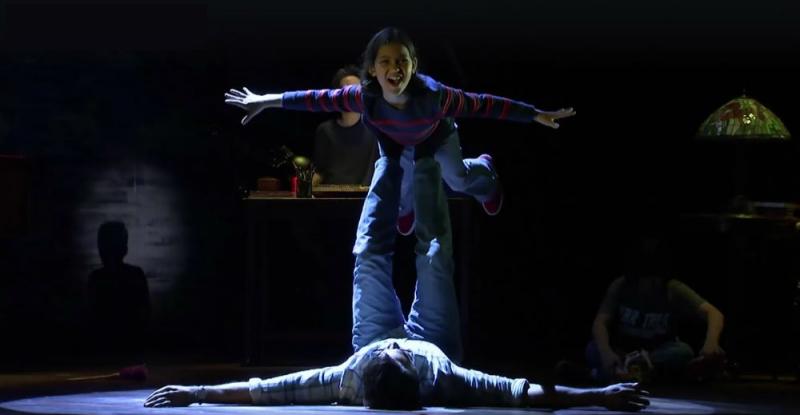 Alison Bechdel
Cris Villonco as the adult Bechdel does not possess the acerbic tongue of her graphic novel alter ego. In fact, hers is one with more humane qualities. Simply put, she is more real here, onstage. Here is Bechdel in her entire flawed persona rambling on and on in a language that general theater audiences can easily relate to.
Villonco's portrayal of Bechdel, a role whose narrative is central to the melding of three time zones, is a slow but sure progression from a skeptical outsider-observer-participant to an empathetic lesbian daughter. Her homosexuality comes in collision with her father's very own, and when a denouement is finally reached, Villonco delivers it with bravura and painful rendition that it is impossible not to cry with her in her last act of love and sympathy for her father (caption: This is What I Have of You).
The young Alisons played by Andee Achacoso (Small Alison) and Mikkie Bradshaw-Volante (Medium Alison) provide the necessary expository commentary into the complex character of Bruce Bechdel. The random shifts in time zone are actually a challenge for both the comic book fans and the musical audience. However, Achacoso and Volante provide the much-needed clarity via their on-point portrayals. Special mention goes out to Volante whose flair for the comedic does not escape the nod of the discriminating audience.
Helen Bechdel
Lea Salonga had single-handedly broken hearts in portraying tragic female characters, most notable of which are Kim in "Miss Saigon," Eponine, and Fantine in "Les Miserables," both on West End and Broadway. These roles, no doubt, tested her pipes and pathos. And the results were either award-winning or just simply iconic.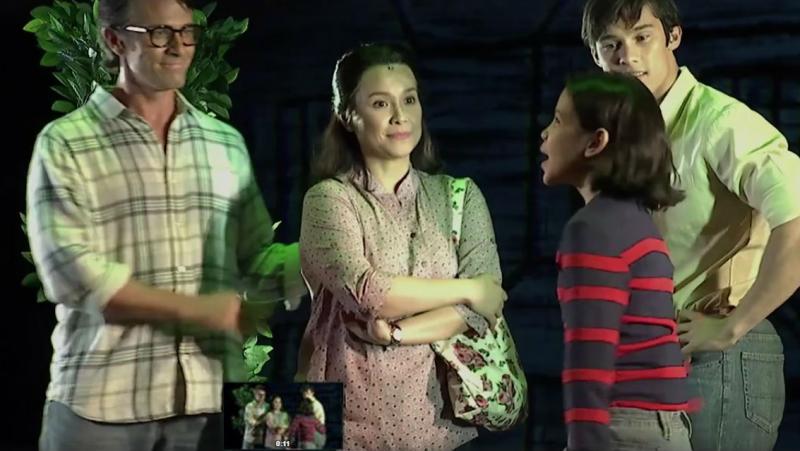 Salonga here essays a different role, an even more difficult role--that of a woman whose love for her family has kept her marriage intact despite her husband's queer indiscretion. Worse, Helen's struggles are closeted in a casket of indifference and pretense, and Salonga plays her dilemma out so well with enviable control and adept use of eyes and nuances.
Salonga, best known for her crystal-clear tones, has only one solo song (caption: Days and Days) to boot, and she owns it as if it were one of those signature torch songs she perennially sings in perfection. Yes, you will be tempted to clap in the middle of this number. Despite her stature as a Tony and Olivier laureate, she plays a supporting role, and a role she delivers so well.
Bruce Bechdel
Eric Kunze, a veteran Broadway actor like Salonga, is, easily, the real star of the musical. He plays the role by the book--one that any cult follower of the graphic novel would readily and happily approve. Kunze switches gears without any hitch: one time caring, controlling and temperamental the next, pathetic and piteous in the end.
A closeted gay in such a difficult time, Bruce struggles to juggle his relationship with his family and his house, while keeping discreet relationships with his men, and when the corpse can no longer hold its smell, he does the unthinkable. Kunze portrays these complexities with full emotional detail and the result is astounding: the duet with Alison in the car (caption: Telephone Wire) is a moment of palpable awkwardness, yet beautifully heartwarming. His finale (caption: Edges of the World) is emotionally charged and a complete outing of a man so misunderstood by those around him. Bookmark this for a hanky.
Family and Friends
The fun element of FUN HOME is actually in the Bechdel kids (Ronan Crisologo and Albert Silos) who provide light moments and the much-needed distraction from the adult angsts permeating the story. Their commercial (caption: Come to the Fun Home) is a joy to behold--a candid lens into the delicate and impressionable world of children whose view of the adults becomes their model and scaffold for their own adulthood.
Yanah Laurel as Joan (Alison's lover) is yet another joy to behold--a star waiting for her turn at stardom. Pretty and talented, her talent is not limited to drama solely. Here, she provides the humor, like the kids, with the right blend of timing and honesty. If you saw her in "Jersey Boys" (Atlantis Theatrical), you would know what I mean.
Laurence Mossman (Bruce's lover, and more) is one skillful ensemble actor who also deserves a special mention. He is seductive as Roy and dangerous as a teenage fling. And yes, Mossman can dance and sing--in stilettos.
The Naked Corpse
FUN HOME is minimalist in approach but heavy on the cleverness of the creative and production team behind it. Bobby Garcia's direction is consistent with the musical's intent. From actors to orchestration, every element of the production contributes to the down-to-earth whole. Garcia's direction does not rely on hysterics; it banks on talent and honesty.
The same may be said of the orchestra. The musical direction by Ceejay Javier is in context with Garcia's intent, and it does nothing but present the music (Jeanine Tesori) and lyrics (Lisa Kron) in digestible honesty.
Perhaps the only extravagance that the production is guilty of is its Dali-ish proscenium of chairs and lamps, flying in choreographed disarray --done so tastefully by Faust Peneyra. These creative contraptions serve as the only flagrant link to the loud and surreal world of Alison Bechdel and her family's funeral home in its original graphic novel form.
The Verdict
If you liked "Jersey Boys" (Atlantis Theatrical), this one you will embrace à coeur ouvert.
FUN HOME plays the Carlos Romulo Auditorium (RCBC Plaza, Makati City) until November 27, 2016.
For tickets, visit TicketWorld.com.ph.