BWW Review: Eheads Fan or Not, Find Time to Watch ANG HULING EL BIMBO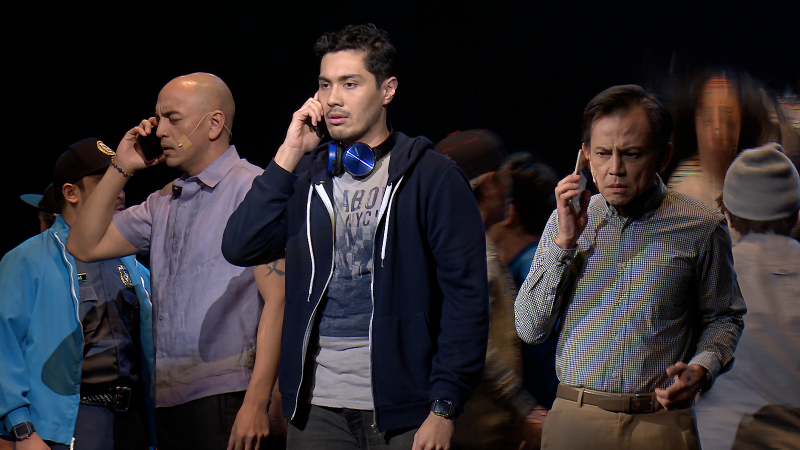 Manila, Philippines--Whether you're up for it or not, jukebox musicals are back in full swing. The genre assumes a new swagger--aimed not merely to regale, but ostensibly to prove artistic legitimacy.
The surprisingly upbeat reception of "Mamma Mia: Here We Go Again" indicates a movement in the right direction, where plot and character might begin to rival the significance of the songs on which they revolve.
That's good news for local theater.
This season marks a rare occasion in Manila's theater community, where three major companies are splurging on homemade musicals based on a treasured collection of Filipino songs, each show paying homage to an eminent musical band that captured a generation. Whatever that's about, there's a delectable whiff of nostalgia in the air.
Currently running at Resorts World Manila is Full House Theater Company's production of "Ang Huling El Bimbo," from the quintessential '90s sound of the Eraserheads (Eheads). On the other side of town, a sixth season of the record-setting hit "Rak of Aegis" features a new cast at Philippine Educational Theater Association (PETA). Also opening this weekend is "Eto Na! Musikal nApo," a fresh take on the iconic '70s music of APO Hiking Society, courtesy of 9 Works Theatrical and Globe Live.
The venerable bands of old may be defunct, but Filipino music is alive and well--and ever so vibrant with a hip new arrangement.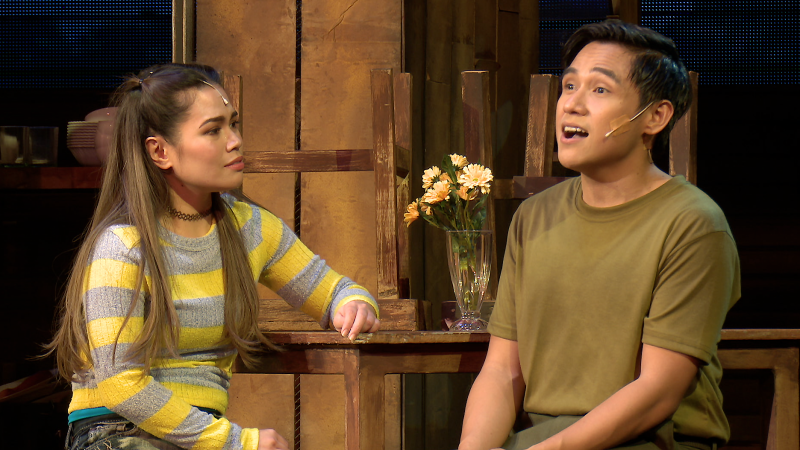 In "Ang Huling El Bimbo," Dexter Martinez-Santos, once again, directs and choreographs a difficult show with aplomb. A big fan of the Eraserheads' music, he collaborates with playwright Dingdong Novenario who crafts a bold and ambitious book, albeit still a work in progress. It's hot off the press and unfurls a sprawling yarn that reimagines the lives of familiar characters we've gotten to know from the band's vivid storytelling.
The emotional commitment is palpable, evinced by a talented cast that clearly takes pride in the project. In fact, the large, busy ensemble is the best part of the show: solid voices in tight harmonies, brisk and exuberant dance sequences, and versatile character transitions on the fly.
It would be really tricky to negotiate such a grand performance if it weren't for Gino Gonzales' smart scenic design, which utilizes a set of multi-purpose units that make for easy transition on a turntable centerstage. A vast and open (raked) platform upstage allows for some of the show's biggest numbers.
The plot is a bit of a challenge to navigate, though, given the playwriting decision to meander between two time periods (the present time being represented mostly downstage right and left). But it's an honest effort to provide a presumably grown-up perspective from three men who reflect longingly on their young, impetuous years.
It's a forced reunion, mind you, in the precinct where these old friends have been summoned to confirm the identity of a dead woman. Her name is Joy, a mutual dear old friend whom they hadn't seen for twenty-odd years--until now. She was hit by a car while walking in the dark of night. Her death brings a collective recognition of the value of one's life and how they have all been remiss in preserving the friendship that had once sustained them through their trying college years.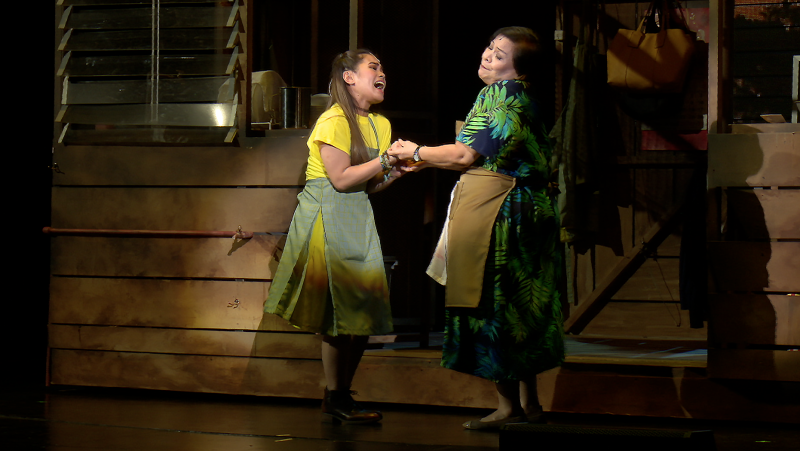 If you haven't already ascertained, Joy is the name assigned to the woman in Eheads' famous song of the same title, "Ang Huling El Bimbo." It's a heartbreaking account of a precious life gone too soon. Joy's death is a fortuitous interruption in the hectic lives of our male protagonists. It's a harsh lesson in carpe diem--for what you put off today may cost you dearly tomorrow. We don't always get a second chance.
"Ang Huling El Bimbo" is a story that extols the virtue of living in the present and embracing the simple joys of being part of a safe community. The song, while ultimately tragic, has always been a reminder of that, but the theater has the gift of physical dimensions necessary for an immersive experience.
For obvious reasons, the story's scenes from the past are far more engaging than those in the morose present. Such is nostalgia's allure: life perceived in hindsight seems less complex and more manageable. In the story, it's where our dynamic ensemble delivers the most colorful numbers and unbridled fun. Lifelong friendships are forged. Romantic love is discovered. Hearts are broken. That one hits home, because who among us can't resonate with our first love and its eventual demise?
In a nutshell: Hector, Emman, and Anthony meet in a college dorm where they start to form a strong bond. Their lives as young adults are enriched by their shared experiences on and off campus: military training, college crushes, and leisure hours at their favorite diner, Tonyang's, where they meet the proprietor's niece, Joy. The four of them become an inseparable unit and vow to keep their friendship alive long after graduation.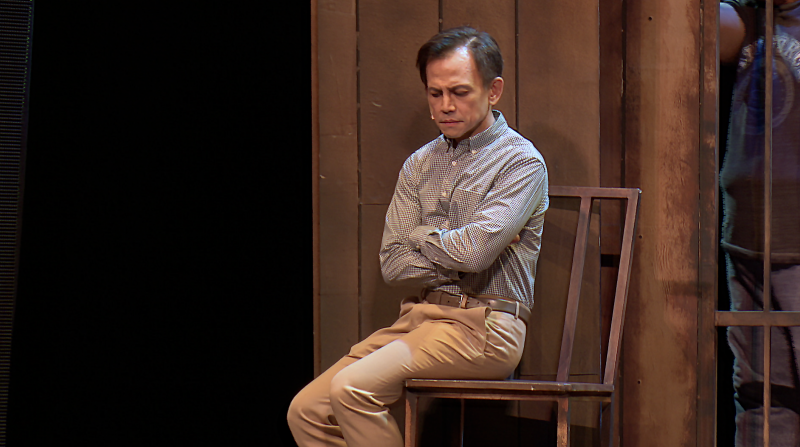 There lies the rub. One wonders just how much life experience ensued after graduation, other than the fragmented clues we obtain from the men's current lives (a struggling marriage, a disillusioned career, an identity crisis). And while the narrative is driven by these men and their search for meaning, the women in their lives are left with no other choice than to defer and take the backseat. They can muster sufficient angst to create the requisite tension, yet their perfunctory placement keeps them in the shadow. A cultural truism, perhaps, but it remains a soap opera that betrays the script's progressive potential.
It bears noting that the "younger" men have a more developed sense of character than their older counterparts. Perhaps by default, because the older men in the precinct exist to recall the story of their lives, and there's no acting scenario more frustrating than having to relive the past.
That's the inherent challenge of creating a book around individual songs. Musical numbers make a great story in and of themselves--and the moments that lead to those numbers are manifestly justified. But much of the dialogue at this point reads like improvisation as opposed to a finished draft. A cohesive arc remains elusive, and we suspect it's an issue tied to the tentative connection between time periods. It feels odd that we care less about the characters as they age, but that's probably because 20 years without adequate information can do that. It's not always on the audience to fill in the blanks.
That said, there's ample material to chew on here. Without the benefit of a public workshop or a staged reading beforehand, the show remains promising and the creative team deserves enormous credit for pulling off a herculean task. This musical has greatness written in the future and we look for the show to continue for years to come.
Standout performances are aplenty. Kudos to the members who played the younger characters and carried the brunt of the show: Tanya Manalang as Joy, Boo Gabunada as Emman, Topper Fabregas as Anthony, and Reb Atadero as Hector. Playing their older version with controlled nuance and sheer musical eloquence are Gian Magdangal as Hector, OJ Mariano as Emman, Jon Santos as Anthony, and Menchu Lauchengco-Yulo as Joy. In the role of Tiya Dely, in her grounded and ever-dependable stage presence, is Sheila Francisco. Rounding out the cast are theater stalwart Jamie Wilson as Arturo Banlaoi and longtime theater journeyman Chino Veguillas as the stern, no-nonsense desk sergeant.
Whether you're a fan of the Eraserheads' music or not, you're strongly encouraged to find the time to see the show. It's a brave and earnest production typical of the collaboration seen at Resorts World Manila. And if you're an Eheads disciple, get this: Myke Salomon's musical direction is a thing of beauty, and it's worth the cost just to hear the songs rendered by Manila Philharmonic Orchestra, under the reliable baton of Maestro Rodel Colmenar.
You don't have to take my word for it. Take it from the Eraserheads frontman and songwriter Ely Buendia--an avid theatergoer himself--who surprised the cast and roused a packed house to a lengthy standing ovation during the curtain call of last week's gala performance: "Don't miss this show. This is the best time you'll have this year in Filipino theater. I highly recommend it," said Buendia.
"Ang Huling El Bimbo" plays at the Newport Performing Arts Theater (Resorts World Manila, 10 Newport Blvd., Newport City Complex, Pasay City) now through August 26, 2018.
Buy tickets (P1,000 to P3,500) from TicketWorld.com.ph.
Photos: Resorts World Manila