The 2019 Barrymore Awards Recipients Announced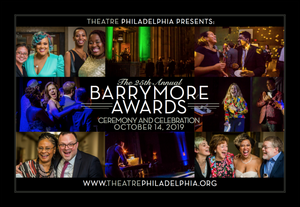 The 25th Annual Barrymore Awards were held in South Philly and awarded $92,000 in grants to artists and organizations.
The 2019 ceremony included a new Outstanding Outdoor Theatre Production category, and a new trophy designed by Sharif Pendleton, Philadelphia Laser & Industrial Design.
In addition, the Honorary Committee pre-show reception featured Martha Stuckey and the rooftop after-party Celebration showcased Alain "DJ AQ" Adams.

2019 Barrymore Award Recipients
Outstanding Supporting Performance in a Play:
Danielle Leneé,
Gem of the Ocean, Arden Theatre Company
Brian Anthony Wilson, Gem of the Ocean, Arden Theatre Company
Outstanding Supporting Performance in a Musical:
Ebony Pullum, The Color Purple, Theatre Horizon
Brett Ashley Robinson, The Appointment, Lightning Rod Special
June and Steve Wolfson Award for Evolving Theatre Company:
Lightning Rod Special
Outstanding Media Design:
Sadah Espii Proctor, Carlos Del Castillo Aceves
Morir Sonyando, Passage Theatre Company
Earl Girls Award for Outstanding Lighting Design:
Thom Weaver, Gem of the Ocean, Arden Theatre Company
Outstanding Costume Design:
LeVonne D. Lindsay, Gem of the Ocean, Arden Theatre Company
Bauder Audio Award for Outstanding Sound Design:
Daniel Ison, Gem of the Ocean, Arden Theatre Company
Outstanding Scenic Design:
Thom Weaver, Gem of the Ocean, Arden Theatre Company
Outstanding Choreography/Movement:
Nicole Burgio and Ben Grinberg, xoxo moongirl, Almanac Dance Circus Theatre
Outstanding Music Direction:
Amanda Morton, The Color Purple, Theatre Horizon
Outstanding Original Music:
Zak Berkman & Jessie Fisher, Such Things As Vampires, People's Light
Lifetime Achievement Award:
Edgar J. Shockley III
Victory Foundation Award for Outstanding Theatre Education Program:
Theatre Horizon's Autism Drama Program
Outstanding Leading Performance in a Musical:
Sarah Gliko, The Bridges of Madison County, Philadelphia Theatre Company
Jessica Johnson, The Color Purple, Theatre Horizon
Charlotte Cushman Award Outstanding Leading Performance in a Play:
Brandi Burgess, Cry It Out, Simpatico Theatre
Justin Jain, The Great Leap, InterAct Theatre Company
Brown Martin Philadelphia Award:
The Color Purple, Theatre Horizon
F. Otto Haas Award for Emerging Philadelphia Theatre Artist ($15,000 to recipient, $2,000 to four finalists):
Jaylene Clark Owens
Outstanding Direction of a Musical:
Amina Robinson, The Color Purple, Theatre Horizon
Outstanding Direction of a Play:
James Ijames, Gem of the Ocean, Arden Theatre Company
Outstanding Overall Production of a Musical:
The Color Purple, Theatre Horizon
Outstanding Overall Production of a Play:
Gem of the Ocean, Arden Theatre Company
Independence Foundation Award for Outstanding New Play/Musical:
Boycott Esther by Emily Acker, Azuka Theatre
Outstanding Outdoor Theatre Production Award:
Contradict This! A Birthday Funeral for Heroes, Bearded Ladies Cabaret
Related Articles View More Philadelphia

Stories

Shows
More Hot Stories For You