Latest News on Kerry Warren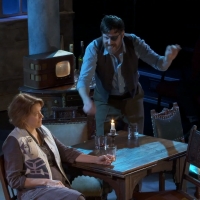 VIDEO: A BRIGHT ROOM CALLED DAY at The Public Theater
by Stage Tube - Dec 16, 2019
Take a look at video from The Public Theater's A BRIGHT ROOM CALLED DAY, written by Pulitzer Prize-winning playwright Tony Kushner and directed by Public Theater Artistic Director Oskar Eustis. This scorching new version of Kushner's first play began performances in the Anspacher Theater on Tuesday, October 29 with an official press opening on Monday, November 25. A BRIGHT ROOM CALLED DAY was originally scheduled to close on December 8, but has now been extended twice through Sunday, December 22.

VIDEO: Hear Director Lisa Peterson Give Her Thoughts on OFFICE HOUR at Berkeley Rep!
by Leah Windahl - Feb 16, 2018
Berkeley Rep presents Julia Cho's OFFICE HOUR. This touching and timely play examines what happens when a teacher is tasked with reaching out to the withdrawn, intimidating student that has the rest of the school incredibly nervous. Though difficult, gaining his trust leads to shocking revelations.