Latest News on Joe Brancato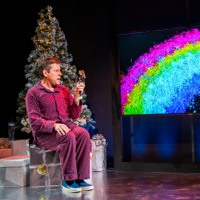 VIDEO: THE SANTA CLOSET At Houses on the Moon Theater Company
by Stage Tube - Dec 12, 2019
Houses on the Moon Theater Company presents THE SANTA CLOSET, written and performed by Jeffrey Solomon and directed by Joe Brancato (Daniel's Husband) and Emily Joy Weiner (The Assignment), now playing a limited holiday engagement through Sunday, December 22, 2019 at Teatro Círculo Theater (64 East 4th Street in the East Village, NYC).
STAGE TUBE: Andrea Maulella, Andy Prosky and More Talk Penguin Rep's HOW THE WORLD BEGAN
by Stage Tube - Jun 29, 2013
Penguin Rep Theatre presents How the World Began, Catherine Trieschmann's thought-provoking new play examining contemporary America where religion, science and irreconcilable beliefs collide, beginning last night, June 28 in Stony Point (Rockland County), New York, directed by Penguin Rep founder and Artistic Director Joe Brancato will direct. Click below to watch interviews with the cast and creative team!