Latest News on Yarden Barr
Stage Credits
Fiddler on the Roof (Non-Equity)
  [US Tour]
2019 Revival Tour, 2019
Chava [Replacement]
Yarden Barr News
Review: National Tour of FIDDLER ON THE ROOF Establishes a New 'Tradition' at DCPA
by Jon Bee - Mar 16, 2023
What did our critic think of NATIONAL TOUR OF FIDDLER ON THE ROOF at DCPA? The summer after high school, I was in a local community theatre production of Fiddler on the Roof. Though the show was already an established classic, I generally remember that summer as one where I watched the other 'sons' and 'daughters' my age bond while the director felt my baby-face would be better used as a 'papa.' Needless to say, it was not my favorite musical experience. The First National Tour, however, is a production I will carry with be for the rest of my life.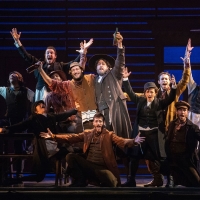 Review: Central Arkansas is Toasting To Life with FIDDLER ON THE ROOF at Robinson Center
by Theresa Bertram - Nov 29, 2022
What did our critic think of FIDDLER ON THE ROOF at Robinson Center? Thanks to 'Rona it took a Miracle of Miracles for FIDDLER ON THE ROOF to make it to Robinson Center, 426 W. Markam St., in Little Rock, Friday through Sunday, Nov. 25-27, but it was definitely worth the wait. Celebrity Attractions brought a powerhouse production that handled this classic delicately, yet fiery at the same time. With original direction by Bartlett Sher and recreated by Sari Ketter, time passed without notice from beginning to end of the musical- It was pure magic.
CARBONELL AWARDS Previews Ceremony At Lauderhill Performing Arts Center Next Month
by Stephi Wild - Oct 26, 2022
For its first in-person ceremony since April 2019, the Carbonell Awards—South Florida's Theater & Arts Honors—promises "a truly joyous celebration packed with music, laughter and applause as we recognize talented members of our theater community for shows produced in Broward, Miami/Dade and Palm Beach Counties during the 2021-2022 season," according to Carbonell Board President Gary Schweikhart.
CARBONELL AWARDS Issue Revised List of Nominations for 2021-2022 Theatre Season
by Stephi Wild - Oct 11, 2022
After announcing this year's list of Carbonell Award nominations last Friday, the organization quickly realized that clarifications and additions were necessary. This invariably happens with any complicated, first-time process, so the nonprofit organization ordered a recalculation of the scores in all 20 categories.

BWW Review: WEST SIDE STORY CONCERT in Norwalk
by Sherry Shameer Cohen - Feb 11, 2019
See one of your favorite Broadway shows in a world class concert hall. Stars Broadway performers Evy Ortiz and Bronson Norris Murphy.