Latest News on Sean Ricketts
Sean Ricketts News
Photos: Sharon D. Clarke and Wendell Pierce Get Honored With Portraits at Sardi's
by Bruce Glikas - Jan 18, 2023
Death of a Salesman stars Sharon D. Clarke and Wendell Pierce recently were honored with portraits at the iconic Sardi's. BroadwayWorld was there for the unveiling and you can check out photos here!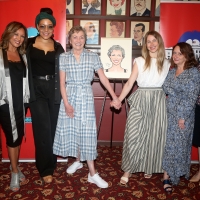 Photos: Julie White Receives Her Portrait at Sardi's
by Bruce Glikas - Jun 24, 2022
Julie White recently received a coveted portrait at Sardi's. During the unveiling, she was surrounded by her friends, including her castmates from POTUS.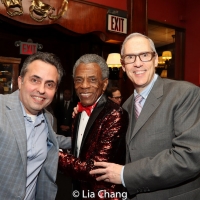 Photo Flash: Andre De Shields, Philip Pearlstein, and Sandra DiPasqua Receive 2019 Father George Moore Artistic Impact Awards
by Stephi Wild - Dec 1, 2019
Three-time Tony Award winning Director Jack O'Brien presented Actor André De Shields, who celebrated the 50th year of his acting career in 2019 by scoring his first Tony Award, for Best Performance by a Featured Actor in a Musical for his role as Hermes in Hadestown, with the 2019 Father George Moore Artistic Impact Award at Encore Ovation – A Celebration of Aging Through Art at Sardi's on November 18. O'Brien directed De Shields in The Full Monty and Impression on Broadway.

Photo Flash: The Lambs Proclaims Sardi's Its Favorite Watering Hole
by BWW News Desk - Aug 31, 2017
The Lambs, America's first professional theater club and one of the oldest professional theatrical organizations in the U.S., marked its 90-year association with Sardi's proclaiming it the Club's favorite watering hole...outside The Lambs. A framed copy was presented to Sean Sardi Ricketts, a grandson of Vince Sardi. Scroll down for photos!
Photo Coverage: Inside Career Transition For Dancers' Inbetween Show Dinner!
by Linda Lenzi - May 21, 2015
The Shubert Organization and Career Transition For Dancers along with the host committee: Andy Blankenbuehler, Graciela Daniele, Mercedes Ellington, Donna McKechnie, Jerry Mitchell, & Chita Rivera welcomed The Broadway Dance Community for a Buffet Dinner & Between-Shows-Get-Together at Sardi's, Eugenia Room (234 West 44th Street) on Wednesday, May 20, 2015 (5:00pm-7:00pm).  This event is generously underwritten by The Shubert Organization.  Past client Andy Blankenbuehler (award-winning choreographer of the hit musical 'Hamilton') addressed the group on his relation with the organziation and how beneficial they have been for him and thousands of others.
Photo Coverage: Round II Sardi's Industry-Social
by Genevieve Rafter Keddy - Jan 18, 2008
Amy Birnbaum, Ryan Hill and Allison Estrin hosted 'Round II' at Sardi's Upstairs on Tuesday, January 15 at 6:30PM. The invite-only event aims to bring young artists within the Broadway community to mix business and pleasure, to maintain old relationships, and establish new ones.
National Museum of Patriotism Awards Sardi's Restaurant
by BWW News Desk - Dec 11, 2007
The National Museum of Patriotism, a nonprofit research center for exploring the development of patriotism through educational displays and exhibits, founded in July 2004 in Atlanta, GA, will present its Patriotism Award to the legendary Sardi's Restaurant in New York City at a special ceremony at the restaurant on Tuesday, December 18, at 2PM. The award will be accepted by Sean Ricketts, great grandson of Sardi's founder Vincent Sardi, Sr.