Latest News on Roberto Perlas Gomez
Roberto Perlas Gomez News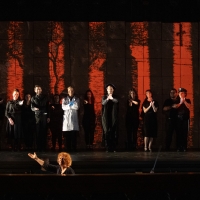 San José Chamber Orchestra Presents OURLAND: A Dystopian State This Month
by Stephi Wild - Oct 13, 2022
The San José Chamber Orchestra, under the baton of Maestra Barbara Day Turner, makes its second foray into chamber opera, presenting OURLAND: A Dystopian State, an opera in 12 scenes recently composed by Paul Davies with a libretto by Daniel Helfgot.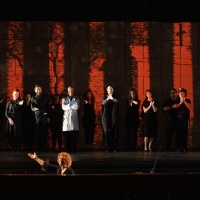 San José Chamber Orchestra presents OURLAND: A Dystopian State in October
by Stephi Wild - Sep 30, 2022
 San José Chamber Orchestra presents OURLAND: A Dystopian State. A World Premiere of an Opera with music by Paul Davies and libretto by Daniel Helfgot.
BWW Review: DER ZWERG at THEATRE AT ACE HOTEL
by Maria Nockin - Jun 4, 2019
Numi Opera began its inaugural season with Alexander Zemlinsky's almost forgotten Der Zwerg (The Dwarf), a piece once condemned by the Nazi Third Reich. In Los Angeles, the dark and cavernous ground floor of the Theatre at Ace Hotel was more than half full for the matinee performance on Sunday, June 2, 2019.
Long Beach Opera to Present the Southern California Debut of THE DEATH OF KLINGHOFFER, 3/16-22
by Diana Heisroth - Feb 19, 2014
Perhaps the most controversial opera of the 20th century makes its Southern California debut when Long Beach Opera (LBO) stages John Adams' The Death of Klinghoffer on March 16 and March 22 at the Terrace Theater in downtown Long Beach. This powerful and unsettling work chronicles the 1985 hijacking of the Mediterranean cruise ship Achille Lauro by Palestinian terrorists and the murder of disabled Jewish-American passenger, Leon Klinghoffer. LBO's production is a partner presentation of the Los Angeles Philharmonic's 'Minimalist Jukebox' Festival.
Meet the Cast of NOLI ME TANGERE Opera; Show Runs 10/4-6
by Oliver Oliveros - Sep 13, 2013
This year's The Outstanding Filipino Americans in New York Heritage Award recipient The Foundation for Filipino Artists Inc., together with executive committee members Loida Nicolas Lewis, Aida Bartolome, Jerry Sibal, Michael Dadap, Dr. Angie Cruz, Edwin Josue and Robert Perlstein, brings to New York Felipe Padilla de Leon, Philippine National Artist for Music, and Guillermo Tolentino's 1957 opera 'Noli Me Tangere,' based on the 1887 classic romantic novel by Dr. Jose Rizal, the Philippines' national hero.
Long Beach Opera to Present Peter Lieberson's KING GESAR, Begin. 9/7
by Tyler Peterson - Aug 20, 2013
Long Beach Opera (LBO) takes opera onto the shores of Long Beach for Peter Lieberson's King Gesar. One of the greatest adventure stories ever told plays out atop galloping flourishes, prayerful melodies and percussive battle cries in this1991 chamber work recounting the desert trials, grand horse race and fierce battles of the legendary Tibetan warrior King Gesar's journey toward enlightenment. Douglas Penick's libretto is drawn from the 12th century epic poem of the same name. The setting sun and crisp sea air of Harry Bridges Memorial Park augments LBO Artistic and General Director Andreas Mitisek's marriage of the oral rituals of the past with LBO's look at opera of the future. King Gesar arrives in Long Beach September 7, 13, 14 at 8:00PM.