Latest News on Robert Hayes
Robert Hayes News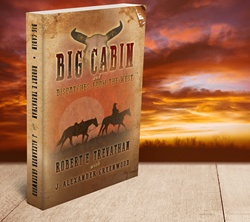 Twenty-Five Years Later, Grandson Finishes Grandfather's Final...
by Robert Diamond - Sep 29, 2018

BWW Review: THE EXONERATED at Vagabond Theatre Company
by Sean Fallon - Feb 26, 2018
Moving true stories of six people who were wrongfully convicted of murder get told from a first person perspective by a brilliant cast whose powerful portrayal of the exonerated evokes deep emotions from the audience, in THE EXONERATED.
BWW Review: AN ACT OF KINDNESS, The Vaults
by Cindy Marcolina - Feb 12, 2018
Two worlds collide at a bus stop. Martin (Robert Hayes) is a young professional whose life clashes with Leila (Helena Westerman), a bubbly and energetic 23-year-old woman who works in a coffee shop (and hates it). He takes his mum to chemotherapy sessions and she's always rushing off. The discuss gender pressure and stereotypes, family issues and jobs. An Act of Kindness is a feel-good play which resembles but never becomes a romantic comedy.
NBC Launches Official AMERICA'S GOT TALENT App
by Caryn Robbins - Jul 9, 2015
NBC Entertainment has announced the official launch of its new "AGT" App, the perfect accompaniment to the network's summer hit series "America's Got Talent." The App will be available on the App Store and Google Play starting today.
NBC Orders Second Season for David Duchovny Drama AQUARIUS
by Caryn Robbins - Jun 25, 2015
NBC has given a second-season renewal for its 1960's-themed drama "Aquarius," starring David Duchovny as an LAPD cop on the hunt for Charles Manson, it was announced today by Jennifer Salke, President, NBC Entertainment.
NBCUniversal Unveils Original Video Programming Initiative
by Caryn Robbins - Apr 15, 2014
NBCUniversal today announced the launch of a robust, original video programming initiative that will be promoted across the company's unique portfolio of television networks and featured on its extensive collection of digital platforms as well as on national video-on-demand.
NBC Digital Launches TONIGHT SHOW STARRING JIMMY FALLON Website & App
by Caryn Robbins - Feb 13, 2014
NBC Entertainment Digital announces a mobile-first interactive website and dedicated mobile app for "The Tonight Show Starring Jimmy Fallon." The App is available for iPhone, iPad and iPhone touch today and for Android beginning February 17th when the show premieres
THE VOICE teams Up with Twitter For 'Instant Save' Today
by TV News Desk - Nov 12, 2013
NBC's 'The Voice' and Twitter are combining forces to give viewers and fans of the Emmy Award-winning reality competition show a chance to instantly save their favorite artists from elimination.