Latest News on Paul Henreid
Stage Credits
  [Broadway]
1973
Commander
Paul Henreid Movies
Joan of Paris
[1942]
Paul Lavallier
Now, Voyager
[1942]
Jeremiah Jerry Durrance
The Conspirators
[1944]
Vincent Van Der Lyn
Hollywood Canteen
[1944]
Paul Henreid
Between Two Worlds
[1944]
Henry Bergner
In Our Time
[1944]
Count Stefan Orwid
The Spanish Main
[1945]
Captain Laurent Van Horn
Of Human Bondage
[1946]
Philip Carey
Devotion
[1946]
Rev. Arthur Nicholls
Deception
[1946]
Karel Novak
Song of Love
[1947]
Robert Schumann
Hollow Triumph
[1948]
John Muller, Dr. Victor Bartok
Rope of Sand
[1949]
Commandant Paul G. Vogel
Last of the Buccaneers
[1950]
Jean Lafitte
The Lady from Boston
[1951]
Paul Rencourt
Stolen Face
[1952]
Dr. Philip Ritter
Thief of Damascus
[1952]
General Abu Amdar
Dans la vie tout s'arrange
[1952]
Paul Rencourt
For Men Only
[1952]
Dr. Stephen Brice
Man in Hiding
[1953]
Hugo Bishop
Siren of Bagdad
[1953]
Kazah the Great
Deep in My Heart
[1954]
Florenz Ziegfeld
Cabaret
[1954]
Konrad Hegner
Pirates of Tripoli
[1955]
Edri al-Gadrian
Meet Me in Las Vegas
[1956]
Pierre
A Woman's Devotion
[1956]
Captain Henrique Monteros
Ten Thousand Bedrooms
[1957]
Anton
Holiday for Lovers
[1959]
Eduardo Barroso
The Four Horsemen of the Apocalypse
[1962]
Etienne Laurier
Operation Crossbow
[1965]
General Ziemann
Ballad in Blue
[1965]
writer
The Madwoman of Chaillot
[1969]
The General
Exorcist II: The Heretic
[1977]
The Cardinal
Paul Henreid News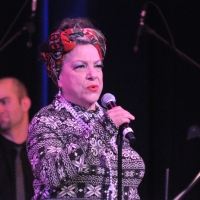 Services for Camille Saviola to Be Held at Feeny Funeral Home Later This Month
by Blair Ingenthron - Oct 2, 2022
Services will be held for Broadway and television actress Camille Saviola on October 23, 2022, 1:00 - 3:00pm at Feeney Funeral Home in Ridgewood NJ.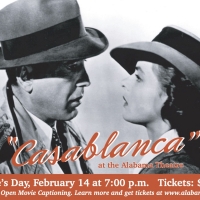 Alabama Theatre Will Screen CASABLANCA on Valentine's Day
by Stephi Wild - Feb 10, 2022
The Alabama Theatre will screen Casablanca presented with Open Movie Captioning on February 14 at 7:00 pm.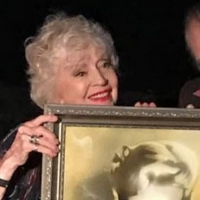 Kathleen Hughes Receives Lifetime Achievement Award
by Stephi Wild - Jun 27, 2020
Festival Founder Clinton H. Wallace of The Cote D' Azur 2020 Web Fest is thrilled to honor Silver Screen Legend Kathleen Hughes with A Lifetime Achievement Award.  The Web Fest is hosted by BJ Korros, best known for That Hollywood Moment.  

2018 Annual Garden State Film Festival To Launch With Screening of THE WANDERERS: QUEST OF THE DEMON HUNTER
by Macon Prickett - Mar 2, 2018
Asbury Park, New Jersey, February 28, 2018 - The 16th Annual Garden State Film Festival (GSFF) will kick off this year's screenings of over 245 fabulous films from 22 countries with the feature 'The Wanderers: Quest of the Demon Hunter' on Friday evening, March 23rd at 8:30 p.m. at the iconic Paramount Theater in Asbury Park. Directed by Dragos Buliga, the film stars esteemed actor Armand Assante who will be in attendance, along with fan favorite, New Jersey's Xander Berkeley of 'The Walking Dead.' The Festival promises an incredible evening filled with fun, frolic and fantasy. Both Assante and Berkeley are 2018 GSFF Honorees and will be on hand for the Festival's spectacular four-day 16th Anniversary Celebration, which runs from March 22nd to March 25th. 

Garden State Film Festival To Welcome Celebrities, Filmmakers and Fans To Asbury Park
by Rebecca Russo - Jan 18, 2018
The Garden State Film Festival (GSFF) will welcome celebrities, filmmakers and fans back to its original home in Asbury Park, from Thursday, March 22nd through Sunday, March 25th at many local venues for the Festival's spectacular 16th Anniversary Celebration. The dazzling four-day weekend event celebrates the best in international and local cinema and will feature exciting networking opportunities, instructive hands-on workshops, an open talent casting call, screenplay competition winner reading, intriguing and informative panel discussions, and entertaining and fun parties - all in addition to the over 220 fabulous film screenings scheduled throughout the Festival. GSFF is New Jersey's Premier Independent Film Festival and was named winner of the 2017 Global Excellence Awards 'Best Independent Film Festival - East Coast' by TMT News.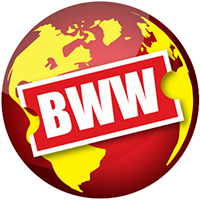 Check out Artis-Naples' Upcoming Events for the New Year
by Stephi Wild - Jan 2, 2018
Start 2018 with the Naples Philharmonic!
Sarasota Opera Announces New Opera House Film Series
by BWW News Desk - Jul 25, 2017
Sarasota Opera announces an expansion of their "HD at the Movie House" series entitled "Classic Moves at the Opera House." Originally designed as a movie house and vaudeville theater, Sarasota Opera is embracing the history of the building by bringing many of the classic films that once played at the theater when they originally premiered.
VTA Sets 2016 Cool Films Series
by Tyler Peterson - Mar 31, 2016
Victoria Theatre Association's annual Summer Cool Films Series continues 2016's celebration of Victoria Theatre's 150th Anniversary with a special line up of films celebrating the time when generations of Daytonians came to the "Victory" to see the latest movie release. The Summer Cool Films Series runs July 8-August 28 and includes Reel Late at the Vic late night movies and daytime Family Films!  Beginning July 8, VTA will set out the popular FREE popcorn and FREE soda plus some FREE nostalgia at the historic Victoria Theatre. Passbooks for the series are on sale now at Ticket Center Stage.  Call (937) 228-3630, toll free (888) 228-3630 or purchase online at www.ticketcenterstage.com.
BWW Review: SOMETHING TRULY MONSTROUS Takes You on a Wickedly Wild Ride!
by Shari Barrett - Oct 6, 2015
Legends about Hollywood stars are often difficult to prove or disprove. Such is the case about what happened to famous Shakespearean actor John Barrymore after his death. What can be substantiated is that on May 19, 1942, while recording a line from Romeo and Juliet for the show, Barrymore collapsed. He was taken to the Hollywood Presbyterian Hospital and died there on May 29 from cirrhosis of the liver and kidney failure, complicated by pneumonia. It is at this point the legend begins and turns into something truly monstrous.
Paul Henreid Frequently Asked Questions
How many Broadway shows has Paul Henreid been in?
Paul Henreid has appeared on Broadway in 1 shows.
How many West End shows has Paul Henreid been in?
Paul Henreid has not appeared in the West End