Latest News on Miles Silverman
Miles Silverman News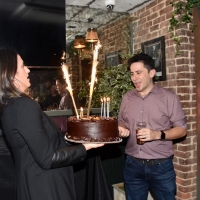 Photo Coverage: BroadwayWorld Founder Robert Diamond Celebrates 40th Birthday with Broadway's Best!
by Genevieve Rafter Keddy - Nov 4, 2019
Friends, family & more got together on Sunday evening November 3rd at Haswell Green's (240 W 52nd St) to celebrate the 40th Birthday of BroadwayWorld's founder - Robert Diamond and we couldn't resist sharing a few shots!
Photo Coverage: Jennifer Diamond Makes A Dazzling Feinstein's/54 Below Debut with IT'S MY FIRST TIME (PLEASE BE GENTLE)
by Genevieve Rafter Keddy - Nov 9, 2015
Just last night, Feinstein's/54 Below presented the debut of Jennifer Diamond, currently co-starring in the smash hit musical RUTHLESS!. Jennifer's new show IT'S MY FIRST TIME (PLEASE BE GENTLE) was directed by Broadway veteran Richard Jay-Alexander. The two first worked together on LES MISERABLES and a number of benefits and Jay-Alexander found her uniquely talented and versatile enough to put a special spin on a debut act for her, recounting her arrival in the business, her story as an up-and-coming actress and all the good (and bad) that goes with it.
Edie Falco & Grant Shaud to Lead Reading of THRILLSVILLE at George Street Playhouse
by Tyler Peterson - Oct 23, 2015
George Street Playhouse announced today that Edie Falco, an Emmy Award winner for her leading roles in The Sopranos and Nurse Jackie, and Grant Shaud, well known to TV audiences from his role of Miles Silverman on Murphy Brown, will perform a special reading of Matt Hoverman's new play, Thrillsville, directed by Michael Mastro, at the New Brunswick theatre on Thursday, November 19, 2015, at 7 pm. Proceeds of the one-night-only performance will benefit George Street Playhouse.
Photo Coverage: BroadwayWorld.com and Fathom Events Honored at The Theatre Museum Awards - Cocktail Party
by Walter McBride - May 28, 2014
The Theatre Museum awarded its 2014 Theatre Museum Awards for Excellence at the Players Club, on Tuesday May 27, 2014. The mission of The Theatre Museum is to preserve, protect, and perpetuate the legacy of the theatre. It is the first and only chartered non profit museum dedicated to the history of Theatre. Since 1995 The Awards for Excellence have recognized individuals and organizations for their contribution to theater arts, education, theater history and preservation.