Latest News on Matt Peover
Matt Peover News
Review: A CHRISTMAS CAROL-ISH, Soho Theatre
by Laura Jones - Dec 9, 2022
What better way to get into the Christmas spirit than to indulge in arguably Charles Dickens' best known tale, A Christmas Carol. You might think you'll be spending the evening watching Ebenezer Scrooge redeem himself after realising the error of his ways, but Mr Swallow's A Christmas Carol-ish is a much more fun take on a Christmas classic.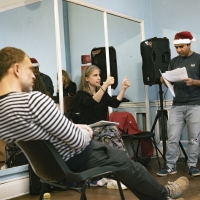 Photos: Inside Rehearsal For A CHRISTMAS CAROL-ISH At Soho Theatre
by A.A. Cristi - Oct 25, 2022
See photos from inside rehearsal for A Christmas Carol-ish starring critically acclaimed actress Sarah Hadland, Mr Swallow (writer/star and double Emmy award nominee Nick Mohammed) and co.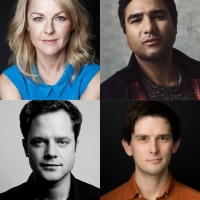 Sarah Hadland Joins Cast Of A CHRISTMAS CAROL-ISH
by Stephi Wild - Sep 26, 2022
Berk's Nest has announced the full cast for A Christmas Carol-ish as critically acclaimed actress Sarah Hadland joins Mr Swallow (writer/star and double Emmy award nominee Nick Mohammed) and co.
TED LASSO Star Nick Mohammed Brings A CHRISTMAS CAROL-ISH to Soho Theatre This Holiday Season
by Stephi Wild - Jul 20, 2022
Berk's Nest and double Emmy award-nominated actor, comedian, and writer Nick Mohammed - in association with United Agents - have announced that the beloved character Mr. Swallow is preparing to spread Christmas cheer as A Christmas Carol-ish kicks off at London's Soho Theatre from 7th  December until 23rd December 2022 . Tickets go on sale Thursday 21st July.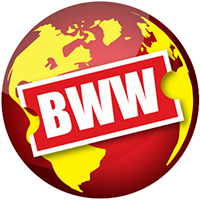 Cast Announced for WHAT THE HEART WANTS at Edinburgh Fringe
by A.A. Cristi - Jun 14, 2022
Casting has been announced for Bert Tyler-Moore's What The Heart Wants, which receives its world premiere at The Edinburgh Fringe this August. The role of Frank Sinatra will be taken by Richard Shelton, whilst Simon Schatzberger will play Woody Allen.  The production is directed by Matt Peover.
Soho Theatre Announces Soho Six, Record Verity Bargate Award Submissions, Three New On Demand Plays, and Masterclasses
by Stephi Wild - May 14, 2020
The Soho Theatre has announced  Soho Six, Record Verity Bargate Award submissions, plus new on-demand plays and masterclasses.
BWW Review: GOOD GIRL, Trafalgar Studios
by Cindy Marcolina - Mar 7, 2018
After successful runs at Edinburgh Fringe and Vault Festival, Naomi Sheldon brings Good Girl to Trafalgar Studios. Her one-woman-show picks apart and analyses what it's like to go through the discomfort and insecurity of growing into a woman. A liberating and honest comedy with a big heart, it shines a light on the perils of growing up a member of Generation Y.
Naomi Sheldon To Be Joined By Hayley Atwell, Jess Phillips MP and More For GOOD GIRL Post-Show Panels At Trafalgar Studios
by Stephi Wild - Feb 23, 2018
As part of the Trafalgar Studios run of the award-winning debut show Good Girl, writer & performer Naomi Sheldon will be joined by guest panelists for a series of post-show discussions tackling some of the key issues surrounding gender politics. Good Girl is a timely and distinctive piece that offers a vital new perspective and these discussions will widen the conversation surrounding the female experience and stimulate debate about the issues raised.

Edinburgh Festival Fringe Smash Hit GOOD GIRL To Preview At Vault Festival Prior To West End
by Stephi Wild - Jan 17, 2018
Naomi Sheldon's award-winning debut play Good Girl will preview at VAULT Festival from 28th February to 4th March prior to transferring to Trafalgar Studios 2 from 5th to 31st March.
Edinburgh Fringe Hit GOOD GIRL Transfers to The Old Red Lion Tonight
by BWW News Desk - Dec 1, 2017
Bold and provocative, Good Girl tells the darkly comic coming of age tale of GG, a good girl who finds herself in a bad situation. Naomi Sheldon (Sex with a Stranger, Peter Pan Goes Wrong, The Pride) returns to London's Old Red Lion Theatre following a sellout Edinburgh Fringe run with this brutally open and hilarious hour of storytelling about learning how to live un-apologetically.