Latest News on Maria Lawson
Stage Credits
  [Off-Broadway]
Original Off-Broadway Production, 2022
Gloria [Replacement]
  [West End]
West End Transfer, 2021
Acrobat
  [West End]
Lincoln Center Revival [West End], 2011
Nurse
  [West End]
Donmar Warehouse Production, 2011
Marcy Park
  [West End]
Original London Production, 2006
Performer (Swing)
Stage
Performances
  [Off-Broadway]
Original Off-Broadway Production, 2022
Gloria [Replacement]
  [West End]
West End Transfer, 2021
Acrobat
  [West End]
Lincoln Center Revival [West End], 2011
Nurse
  [West End]
Donmar Warehouse Production, 2011
Marcy Park
  [West End]
Original London Production, 2006
Performer (Swing)
Maria Lawson News
Interview: John Riley Talks Law, Lyrics, and His New Musical A GIRL I KNOW
by Carissa Chesanek - Jun 21, 2022
We spoke with the lawyer-turned-musical theatre writer about his career, writing musicals, and what the audience can expect about his latest venture, 'A Girl I Know.'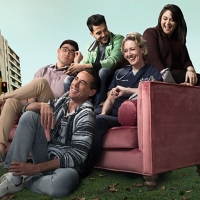 BBC One Acquires Australian Drama THE HEIGHTS for Daytime
by Kaitlin Milligan - Jun 3, 2020
BBC One has acquired the first two series of the critically-acclaimed Australian serial drama The Heights, with the first series confirmed to begin in a daytime slot on 15 June and the second series coming later this year.
BBC One Announces New Daytime Series THE BIDDING ROOM
by Kaitlin Milligan - Nov 29, 2019
From the makers of The Repair Shop, comes a new BBC One daytime series, The Bidding Room.
Rylan Clark-Neal to Host All New READY STEADY COOK on BBC One
by Kaitlin Milligan - Sep 5, 2019
Cookery hit Ready Steady Cook is set to return to BBC One Daytime in 2020, with new host, Celebrity MasterChef finalist Rylan Clark-Neal. The new series will offer up fresh challenges to put the next generation of chefs through their culinary paces.
Casting Announced For Landor's FROM PAGE TO STAGE Season
by Carrie Dunn - Feb 5, 2014
Aria Entertainment is delighted to announce final casting today for the second annual From Page To Stage Festival, a season of new musical theatre at the Landor Theatre from Monday 10 February toSunday 9 March 2014.
SOUTH PACIFIC Tour to Make Final Stops in Woking and Sheffield
by Laura Meltzer - Jul 13, 2012
Since last October 2011, the most acclaimed production ever of Rodgers and Hammerstein's SOUTH PACIFIC has been thrilling audiences and breaking records in theatres across the UK, playing to well over half a million people, becoming the best-selling show of the Season in venues including Wimbledon and Stoke-on-Trent, and the best-selling two-week musical ever to play in Glasgow and Milton Keynes.
Samantha Womack Extends in SOUTH PACIFIC Tour
by Kelsey Denette - Oct 7, 2011
Samantha Womack is now confirmed to be playing Nellie Forbush for additional cities in 2012 on the current nationwide tour of the Rodgers and Hammerstein musical SOUTH PACIFIC. Originally, she was going to finish in Oxford, but it is now confirmed that she will continue in the tour in Southampton, Birmingham and Liverpool.
SOUTH PACIFIC Ends Run at Barbican Theatre October 1
by Nicole Rosky - Sep 29, 2011
The most acclaimed production ever of Rodgers and Hammerstein's SOUTH PACIFIC comes to the end of its seven-week season at London's Barbican Theatre this Saturday 1 October. SOUTH PACIFIC is currently playing to over 85% financial capacity at the Barbican and is already sold out several dates across the UK tour, where extra performances have had to be added.
WEST END's THRILLER LIVE Extends to 2010 and X Factor Finalist Joins Cast
by Robert Diamond - Apr 28, 2009
100,000 extra Thriller - Live tickets are to go on sale on Monday May 4 as the West?End box office smash celebrates becoming the highest grossing weekly show in the history of the?Lyric Theatre. Thriller - Live is extending its acclaimed run due to phenomenal public demand to Sunday January 3 - the first anniversary of its opening in the West End.
AVENUE Q to Close on the West End 3/28; Atherton Returns to Cast
by Faetra Petillo - Oct 20, 2008
Official London Theatre is reporting that Julie Atherton will be returning to the cast of AVENUE Q on December 1st, 2008. It has been announced that the show will be concluding its three year run in the West End at the Noel Coward theatre on March 28th, 2009.
Maria Lawson Frequently Asked Questions
How many Broadway shows has Maria Lawson been in?
Maria Lawson has not appeared on Broadway.
How many West End shows has Maria Lawson been in?
Maria Lawson has appeared on London's West End in 4 shows.
What was Maria Lawson's first West End show?
Maria Lawson's first West End show was Avenue Q which opened in 2006