Latest News on Lucy Martin
Stage Credits
  [Off-Broadway]
Original Off-Broadway Production, 2008
Marie
Angelina (Understudy)
  [Broadway]
Roundabout Revival, 2005
Barbara Fawcett (Understudy)
Mrs. Culver (Understudy)
  [Broadway]
Roundabout Revival, 2003
Grace (Standby)
  [Broadway]
Original Broadway Production, 2002
Nanny (Understudy)
Dixie (Understudy)
  [Broadway]
Roundabout Revival, 2001
Rummy Mitchens (Understudy)
Mrs. Baines (Understudy)
  [Broadway]
Broadway Production, 1999
Marlene Dietrich (Standby)
  [Broadway]
1993
Gorgeous Teitelbaum (Understudy)
Sara Goode (Understudy)
  [Broadway]
1990
Frosine (Understudy)
Dame Claude (Understudy)
  [Broadway]
1987
Pat Green (Understudy)
Sara Turing (Understudy)
  [Broadway]
Broadway Revival, 1987
Bystander
Mrs. Eynsford Hill (Understudy)
Mrs. Pearce (Understudy)
  [Broadway]
1980
Edna Klein
  [Broadway]
Original Broadway Production, 1973
Gloria (Standby)
Maud (Standby)
Stage
Performances
  [Off-Broadway]
Original Off-Broadway Production, 2008
Marie
Angelina (Understudy)
  [Broadway]
Roundabout Revival, 2005
Barbara Fawcett (Understudy)
Mrs. Culver (Understudy)
  [Broadway]
Roundabout Revival, 2003
Grace (Standby)
  [Broadway]
Original Broadway Production, 2002
Nanny (Understudy)
Dixie (Understudy)
  [Broadway]
Roundabout Revival, 2001
Rummy Mitchens (Understudy)
Mrs. Baines (Understudy)
  [Broadway]
Broadway Production, 1999
Marlene Dietrich (Standby)
  [Broadway]
1993
Gorgeous Teitelbaum (Understudy)
Sara Goode (Understudy)
  [Broadway]
1990
Frosine (Understudy)
Dame Claude (Understudy)
  [Broadway]
1987
Pat Green (Understudy)
Sara Turing (Understudy)
  [Broadway]
Broadway Revival, 1987
Bystander
Mrs. Eynsford Hill (Understudy)
Mrs. Pearce (Understudy)
  [Broadway]
1980
Edna Klein
  [Broadway]
Original Broadway Production, 1973
Gloria (Standby)
Maud (Standby)
Lucy Martin News
Donmar Warehouse to Stage UK Premiere of MARYS SEACOLE
by Marissa Tomeo - Apr 8, 2022
Artistic Director Michael Longhurst and Executive Director Henny Finch of the Donmar Warehouse today announce tickets are now on-sale for the company's first ever relaxed performance for the UK première of Jackie Sibblies Drury's MARYS SEACOLE. The production opens on 21 April, with previews from 15 April, and runs until 4 June with the relaxed performance being held on 26 May at 11.30am. The first relaxed performance forms part of the Donmar Warehouse's wider commitment to accessibility.   
BWW Interview: Catherine Porter of March 28th's VISIBLE INK: PERFORMANCE OF WORKS BY MSK PATIENTS
by Stephen Mosher - Mar 27, 2022
A live stream on Monday night will present the cancer-inspired artistic creations of patients from the Memorial Sloan Kettering Cancer Center's VISIBLE INK program.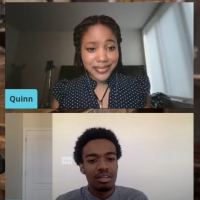 VIDEO: Watch WINTER BREAK on PLAYS IN THE HOUSE Teen Edition
by Stephi Wild - Jul 12, 2020
Stars in the House continued today with Plays in the House: Teen Edition, Winter Break, starring Klarke Armstrong, Sachi Dieker, Lex Garcia, Charlotte Gimlin, Avery Michael Johnson, Imahni King and Lucy Martin.  
Jodie Whittaker, Hugh Grant Among BAFTA's 2018 New Members - See Full List
by Kaitlin Milligan - Dec 12, 2018
BAFTA has revealed the intake of new members for 2018.

BWW Review: NEWSIES at Theatre Harrisburg
by Andrea Stephenson - Nov 3, 2018
While the 1992 movie Newsies received mixed reviews and did not perform well in movie theaters, it developed quite a following as a home movie. The inspirational movie, based loosely on the historical newsboys' strike of 1899, starred Christian Bale as Jack Kelly and David Moscow as David Jacobs. In 2011 Disney Theatrical Productions adapted Newsies for the stage, and it opened on Broadway in 2012, earning eight Tony Award nominations. Disney's Newsies: The Broadway Musical, with music by Alan Menken, lyrics by Jack Feldman, and book by Harvey Fierstein, has found its way onto stages in many schools and community theatres, building up a new generation of Newsies fans. With its rousing musical numbers and high-energy dancing, Newsies is sure to bring audiences to their feet. Under the direction of Adam Gustafson and Kyle Weary, Theatre Harrisburg's Newsies opened at the Whitaker Center on November 2nd, when I had the opportunity to view this delightful show.
2017 Nominees Announced for Shuler Hensley Awards
by Christina Mancuso - Mar 28, 2017
Today ArtsBridge announced the nominees for the 9th Annual Georgia High School Musical Theatre Awards - Shuler Hensley Awards - in a live streaming broadcast on GPB.org. 35 public and private schools from throughout the state were nominated in 17 categories. The awards show is the culmination of a year-long professional development program, and will showcase the next generation of Georgia's musical theatre talent. Presented by the Georgia Lottery, the awards show will air on Georgia Public Broadcasting (GPB) over its nine-station statewide television network live from Cobb Energy Performing Arts Centre on April 20, 2017 from 7-9 pm.
Lucy Martin Frequently Asked Questions
How many Broadway shows has Lucy Martin been in?
Lucy Martin has appeared on Broadway in 11 shows.
How many West End shows has Lucy Martin been in?
Lucy Martin has not appeared in the West End