Latest News on James Barrie
Latest News on James Barrie
James Barrie News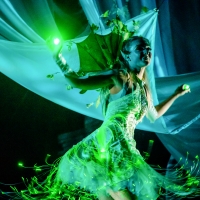 BWW Review: Synetic Streaming Version of THE ADVENTURES OF PETER PAN an Enduring Classic
by Andrew White - Feb 11, 2021
Soon – and very soon, we hope – we will all be able to gather together at Synetic's subterranean theatre in Crystal City and thrill to their latest exploits. But for as long as we may have to wait, Synetic's streaming service is a gift, and a great way to introduce newcomers to their unique, invaluable artistry.
Shuffles Presents PETER PANTOMIME: HOOKED! at The Kaye Playhouse
by Julie Musbach - Oct 21, 2019
SHUFFLES presents PETER PANtomime: Hooked!-its magical tap dancing and singing-filled holiday interpretation of the beloved Peter Pan tale-on Sunday, December 1, 2019 at 2:00 p.m. and 5:00 p.m. at the Kaye Playhouse at Hunter College. The rip roaring production is now in its 12th year.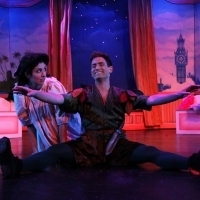 BWW Review: PETER PAN Soars at Candlelight
by Don Grigware - Jul 22, 2019
Peter Pan is an enchanting tale that delights children of all ages. Children dream of being able to fly and to live freely, without attachments or responsibilities. With the right casting, the show is pure magic. Now onstage through August 18 at Candlelight Pavilion Dinner Theatre, Peter Pan will never grow up, thank heavens! In this case there is not a famous star attached to the role....and director John LaLonde has cast a male in the lead. A refreshing change...and, let's face it, it must work. Peter is a boy, after all. Gavin Juckette is an immmensely talented triple threat who has played the role previously on the East coast. La Londe has cast this Peter Pan very well, making it soar.

BWW Review: A Whimsical and Breathtaking FINDING NEVERLAND at The Oncenter Crouse Hinds Theater
by Natasha Ashley - May 29, 2019
The touring production of Finding Neverland has now soared into Syracuse's Oncenter Crouse Hinds Theater as part of the Famous Artists Broadway Theatre Series. With an impressive book by James Graham and powerful music and lyrics by Gary Barlow and Elliot Kennedy, this inspiring musical is pure fun and magic on stage.
BWW Review: Fly High With Imagination in FINDING NEVERLAND at BJCC Concert Hall
by David Edward Perry - Apr 7, 2019
Finding Neverland is an imaginative look at the creative inspirations writer James Barrie molded into the magical world of Peter' Pans adventures. The play is full of heart and childlike wonder. It's not a children's show but it is one that children and adults will definitely enjoy.
BWW Review: Syracuse City Ballet Performs a Phenomenal Production of PETER PAN at the Crouse Hinds Theater
by Natasha Ashley - Mar 18, 2019
A powerful and passionate production of Peter Pan dazzled audiences this past weekend at The Oncenter Crouse Hinds Theater in Syracuse, New York. The Syracuse City Ballet out did their past productions with this high-flying adventurous ballet. The staging, the flying effects, and of course the dancing were all magnificent under the Syracuse City Ballet's Artistic Director Kathleen Rathbun (direction and choreography).

Harris Center to Feature The National Tour Of FINDING NEVERLAND
by Julie Musbach - Sep 25, 2018
Based on the Academy Award winning film, Finding Neverland is the timeless story behind one of the world's most beloved characters - Peter Pan - and how he was born from the sheer power of J.M. Barrie's imagination.  With "pixie-dusted perfection" (Entertainment Weekly), Finding Neverland follows the playwright and his introduction to four young brothers and their beautiful widowed mother. Spellbound by the boys' enchanting make-believe adventures, he sets out to write a play-and his classic tale springs to life. 

BWW Review: FINDING NEVERLAND at Theater League
by Alan Portner - Feb 28, 2018
Broadway Across America's "Finding Neverland" opens as a wonderful possibility, yet refuses to soar as we dare to hope it might.   "Neverland" is a pretty darn good show imbued with magical moments, yet somehow falls short of the special experience it might have been.
BWW Review: FINDING NEVERLAND Soars into Milwaukee's Marcus Center
by Kelsey Lawler - Feb 22, 2018
For the child in all of us, feet are (mostly) off the ground for this Peter Pan-inspired musical.
BWW Review: Davidson Takes Astonishing Flight on NEVERLAND Tour
by Perry Tannenbaum - Oct 6, 2017
Taking over the key supporting roles of Charles Frohman and James Barrie's charismatic villain, Captain Hook, John Davidson rescues FINDING NEVERLAND from shipwreck.
James Barrie Videos
Photos and Video: Inside Opening Night of FINDING NEVERLAND in Leicester - Plus a Special Preview!
by BroadwayWorld TV - Sep 24, 2012
The new musical FINDING NEVERLAND just premieredin Leicester on September 22, where it will run through October 13. The cast features Julian Ovenden as James Barrie, Rosalie Craig as Sylvia Llewelyn Davies, Liz Robertson as Mrs DuMaurier, and Clare Foster as Mary Barrie together with a cast of 20 and a live orchestra. Below, we bring you photos from opening night, as well as a special sneak peek of the new musical!
James Barrie Frequently Asked Questions
How many shows has James Barrie written?
James Barrie has written 1 shows including Peter Pan (Bookwriter).