Latest News on Emily Chadick Weiss
Emily Chadick Weiss News
Meet the Cast of KIMBERLY AKIMBO, Beginning Previews Tonight!
by Stephi Wild - Oct 12, 2022
Kimberly Akimbo begins previews on Broadway tonight, October 12, and officially opens November 10th. Meet the cast bringing this show to the stage here!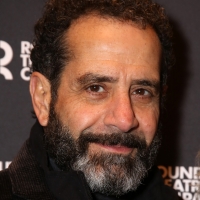 Tony Shalhoub​, John Lithgow, ​Marisa Tomei​ & More to be Featured on Theater Podcast PLAYING ON AIR
by Chloe Rabinowitz - Apr 3, 2020
a??Theater podcast a??Playing on Air is a??launching its spring season of short audio plays. Every Sunday from April 5 through the end of May, a new short play will arrive, free and instantly accessible, in subscribers' feeds and on Playing on Air's website.
Photo Flash: Ensemble Studio Theatre Celebrates Its 50th Birthday
by Julie Musbach - May 15, 2019
ENSEMBLE STUDIO THEATRE (EST) recently celebrated its 50th Birthday Gala honoring the people and legacy of EST's Marathon of One-Act Plays. The 50th Birthday Gala took place on Monday, May 13, 2019 at 6:30PM at the New York Museum of Contemporary Art (528 West 39th Street, 3rd Fl.).

Photo Coverage: On the Opening Night Red Carpet for BERNHARDT/HAMLET!
by Jennifer Broski - Sep 26, 2018
To Broadway, or not to Broadway? It's not such a question for Bernhardt/Hamlet, which celebrated a triumphant opening last night at the American Airlines Theatre.
The Future Is Now! Meet the Full Company of TIME AND THE CONWAYS, Opening Tonight on Broadway
by Meet the Cast - Oct 10, 2017
Roundabout Theatre Company presents the new Broadway production of J. B. Priestley's Time and the Conways, directed by Tony winner Rebecca Taichman (Indecent). The play returns to Broadway for the first time since its premiere in 1938 and opens officially tonight, October 10, 2017. This is a limited engagement through November 26, 2017 at the American Airlines Theatre on Broadway (227 West 42nd Street). Scroll down to learn more about the full company, plus check out the cast in rehearsal below!
EST's Youngblood Launches UNFILTERED with Brendan Hill's SH*TLOADS OF MONEY Tonight
by BWW News Desk - Nov 12, 2015
Ensemble Studio Theatre and EST's Youngblood are proud to present UNFILTERED 2015-2016, the annual festival series of brand new, full-length plays from emerging playwrights under the age of thirty. This year's Youngblood graduates are also the first beneficiaries of the new exit commission grant, donated this year by Tony-nominated playwright Robert Askins.
Emily Chadick Weiss Videos
BWW TV Exclusive: Meet the Nominees- HAND TO GOD's Steven Boyer- 'It Feels Like I'm on a Rocketship'
by BroadwayWorld TV - May 29, 2015
We are yet another day closer to the biggest night on every theatre-lover's calendar- the 69th Annual Tony Awards, which will be co-hosted by Kristin Chenoweth and Alan Cumming on Sunday, June 7 (8PM on CBS). Earlier this month, the 2015 Tony nominees gathered to meet the press and BroadwayWorld was on hand for the big day. Below, we bring you an exclusive interview with Steven Boyer, Best Performance by a Leading Actor in a Play nominee for Hand to God.