Latest News on Cynthia Crane
Cynthia Crane News
Vocalist and Performer Anita Michael Presents New Show at The Laurie Beechman Theater This May
by A.A. Cristi - Mar 11, 2022
Vocalist and performer Anita Michael returns to the Laurie Beechman Theatre with her new show on Sunday, May 15, 2022 at 1:00 pm.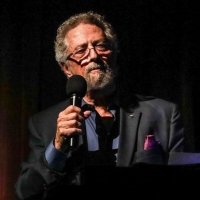 Composer and Musical Director Mike Renzi Dies at 80
by Stephi Wild - Sep 29, 2021
Renzi was musical director for Peggy Lee and Mel Torme for over 25 years. He also worked on Sesame Street as the music director for seasons 31 through 40 and recorded Our First Christmas with singer Cynthia Crane and leads the Mike Renzi Trio.
Longtime Downtown Theater Director George Ferencz Passes Away at 74
by Chloe Rabinowitz - Sep 23, 2021
Stage Director George Ferencz (1947-2021), passed away on September 14 following a long illness according to his wife of 35 years, Sally Lesser. For over a half century, Ferencz was a beloved fixture of New York's Off- and Off-Off-Broadway theatre scenes.
Piano Bar Live! Streams This Tuesday With Host Scott Barbarino, and More
by Stephi Wild - Dec 6, 2020
Featuring new performers with every show, the weekly, award-winning Piano Bar Live! (PBL!) streams this Tuesday, December 8 at 7:15 pm ET, with host Scott Barbarino.
VIDEO: Watch the 30th Annual MAC Awards!
by Nicole Rosky - Mar 30, 2020
With the Coronavirus stopping all social gatherings and causing the closing of Don't Tell Mama for the duration, MAC has made a change from the previously announced event which was to be held at the club.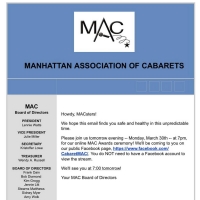 BWW Feature: MAC AWARDS Will Be Announced Live Via Facebook Monday. March 30th at 7 pm
by Stephen Mosher - Mar 29, 2020
The MAC Awards were scheduled to be celebrated on March 30th at Sony Hall. Instead they will be announced via Facebook Live from Lennie Watts' home. The times are a little different now, but the celebration of art is the same.
BWW Feature: Stephen Mosher's Pandemic Playlist Number Nine - The Stephen Sondheim Birthday Edition
by Stephen Mosher - Mar 22, 2020
For Stephen Sondheim's 90th Birthday Stephen Mosher makes a list of 90 cabaret-themed videos of his songs. It's Epic and it will be a great way to distract yourself during your time at home.
Andrea McArdle and Donna McKechnie, Max von Essen and More Nominated for MAC Awards
by Chloe Rabinowitz - Feb 25, 2020
The Manhattan Association of Cabarets (MAC) has announced the 2020 MAC Award nominees. The nominees were determined by votes cast by the active MAC membership, except for the four song and recording categories, which were determined by special committees.
Connect With Live Music With PIANO BAR LIVE! at Brandy's Piano Bar
by Chloe Rabinowitz - Feb 11, 2020
PIANO BAR LIVE! is lighting up screens worldwide from Brandy's Piano Bar, Mondays at 7pm. The Piano Bar is that special place where we can gather, entertain, support and create as we connect with live music. If you can't be in our live studio audience, you can watch PIANO BAR LIVE! produced by ScoBar Entertainment, streaming at www.facebook.com/PianoBarLive to chat on Facebook with old friends and new, as we all watch together.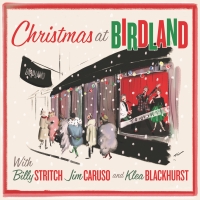 BWW Feature: The Twelve CD's Of Christmas
by Stephen Mosher - Dec 3, 2019
It's beginning to look a lot like Christmas. That's a sentiment that has been expressed for many years, sometimes merely through the utterance of the sentence, but usually through the singing of the popular song written by Meredith Wilson in 1951. While many attribute the song to the 1963 Broadway musical Here's Love, it was actually written simply as a Christmas song and singers have been crooning the tune ever since.