Date of Birth: August 16, 1915
Date of Death: April 24, 2001 (85)
Birth Place: Tyro, MS, USA
Latest News on Al Hibbler
Al Hibbler News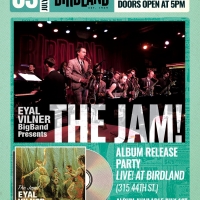 Review: EYAL VILNER BIG BAND - THE JAM! ALBUM RELEASE EVENT at Birdland by Guest Reviewer Andrew Poretz
by Stephen Mosher - Jul 12, 2022
Theater Pizzazz reviewer and jazz devotee Andrew Poretz joins Broadway World Cabaret for the night, as he covers the album release party for JAM!, the new CD from the Eyal Vilner Big Band.
Eyal Vilner's New Record, 'The Jam!' Released Today and Album Release Concert Announced At Birdland Jazz Club
by Grace Cutler - Jul 1, 2022
The Jam!, the latest sparkling release from the Eyal Vilner Big Band is out today. Multi-instrumentalist Vilner, founder and leader of one of New York's finest large ensembles, takes direct inspiration from New York's swing dance renaissance, presenting a selection of vibrantly swinging originals that further cement his status as an innovative voice on the modern day big band scene.
Earl Turner Is Back Home And He Is Very, Very Welcome
by Ellen Sterling - May 22, 2011
Not being one given to exaggeration, I can say in all honesty that Earl Turner is the best solo performer in Las Vegas. Well, sort of. Earl is certainly the best, one of the people who earned Las Vegas the name "The City of Entertainment." But, sadly, he's not here often enough these days. Like so many other talented people, the economy has sent him packing, to other cities, on cruises - and Las Vegas-based entertainers are a staple of cruises these days - to anyplace there is work. In his case, that is a pity. Earl Turner is his generation's Sammy Davis, Jr. (Remember, no exaggeration!) He can sing, he dances and is a fine actor, too. While his show doesn't feature the latter, it certainly showcases his singing and dancing. He is also the only man I've ever seen perform And I'm Telling You (from Dreamgirls) and do it as well as Jennifer Holliday did.
Al Hibbler Frequently Asked Questions
How many shows has Al Hibbler written?
Al Hibbler has written 1 shows including Sophisticated Ladies (Lyricist).