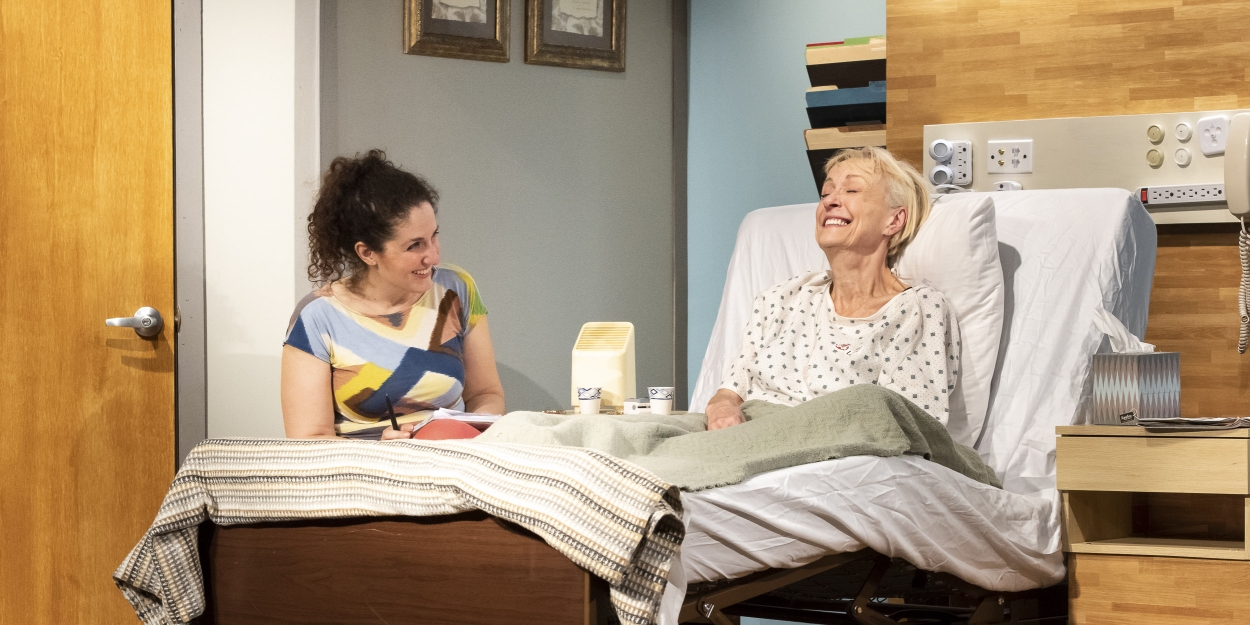 Review: A FUNNY THING HAPPENED ON THE WAY TO THE GYNECOLOGIC ONCOLOGY UNIT AT MEMORIAL SLOAN-KETTERING at Dezart Performs
Now on stage at The Palm Springs Woman's Club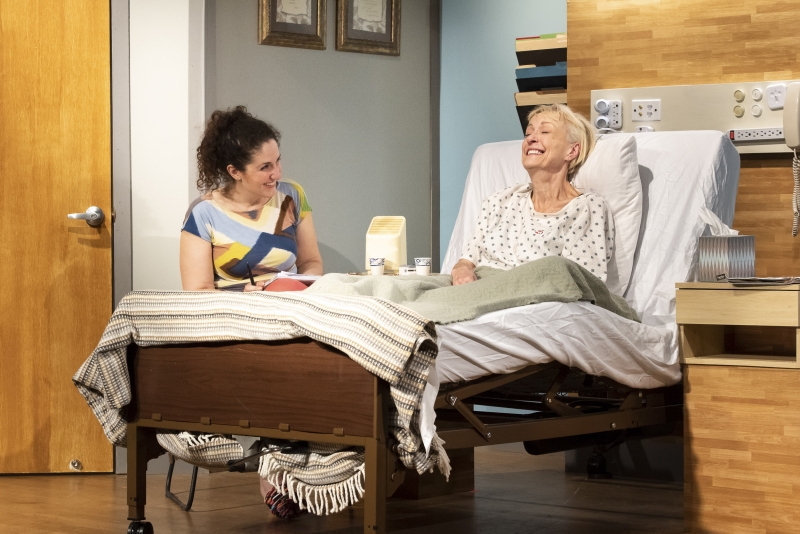 My first introduction to a comedy about terminal illness and familial dysfunction was back in 1990 when I saw my friend Tim Monsion in the world premiere of Marvin's Room at Chicago's Goodman Theatre. What a great play, the film did it zero justice.
In 2019 I saw Daniel's Husband at Dezart. It's a wonderfully glib chuckle fest of a first act followed by complete devastation in the second. It was not only gut wrenching, there was a message, and the ending left me broken hearted and in tears. Incredible theater.
A Funny Thing Happened on the Way to the Gynecologic Oncology Unit at Memorial Sloan-Kettering Cancer Center of New York City is not one of those types of plays. It is a full on laugh-out-loud comedy with a few "poignant moments" that keep it from falling into sketch comedy territory. To give this play more gravitas than that would be disingenuous. It is what Artistic Director Michael Shaw has called in the past, a palate cleanser. He likes to give his returning audience a break from the heavy.
Here's the plot: Karla (Aviva Pressman) is a stand up comic honing a new set at the bedside of her dying mother Marcie (Deborah Harmon). Marcie shares a room with another terminal patient, Geena (Barbara Niles) who also has a child, a son named Don (Erik Zak). All that separates them is a curtain. Both of the patients seem to be in pain medication limbo as our play begins. From the looks of them, and that they stir to nary a sound, it leads us to believe they might be in a coma.
Karla's brand of comedy is sexual single girl energy where she uses all the words and explores the wording of a rape fantasy joke about a sex toy. It's all very adult and dark and it is offending Don who is on the other side of the curtain with his mama, and he is quite offended, and tells her so. (He's not really over reacting. It's shock comedy that doesn't quite land. Those jokes lost humor with Cosby and Weinstein and the ensuing "me too" movement.)
All of the best rom/coms begin with a spat, and this is no different in that. The two dying mothers in a hospital room don't even put a kink in their armor as they get busy in the bathroom.
I could tell you the entire plot without blinking an eye and not because I don't do spoilers. The dialogue is what makes this play funny, which means it is contingent on the actors delivering the lines realistically. There is no real plot to fall back on.
Thankfully, these actors pull it off and keep us laughing for 95% of the play (the other 5% is two scenes that keep it from being that sketch comedy I talked about).
Harmon has great comedic chops and has the opportunity to show them off in this role. From the moment she opens her mouth and speaks, we know we're in for a fun ride. She gives off "Joan Rivers in a bad mood" vibes with a touch of Sweet Baby Jane when flirting with Don, and knocking down Karla's self worth.
Don, the man who regrets everything, goes through the biggest change out of everyone. By the end we are rooting for this sad sack whose means contradict his clothes so good job by Zak.
Geena (Niles) is pretty much comatose throughout the show, but when she does open her mouth she delivers one of the best comedic bits and line in the show.
Director Randy Brenner has an impressive resume but, in my opinion, misdirected Pressman. She also has an impressive resume that includes stand-up. She knows how to deliver a joke. If her character was a little darker, if her energy had matched her balls-out funny and sarcastic mother, I feel the character would have worked better. Think Nikki Glaser, or Kaitlyn Olson. Still, Pressman does good work given the direction.
Jimmy Cuomo's set and Phil Murphy's lights gave us what the play requires - it's kind of sitcom-y so there's no razzle dazzle - like I said, it's all about the writing and delivery. Clark Duggar's sound design picked up on the sitcom feel and we knew we were getting a comedy from the first sound cue.
I am going to pick at the costumes. Karla was wearing rainbow embroidered blue jeans, and had a rainbow 'duster' that she wore throughout much of the show. I initially thought we were going to find out that Karla was gay, so a romance either wasn't going to happen, or that grief makes strange bedfellows out of people. But it was neither. Just an odd choice with zero intention. As to Don, he absolutely looked like a homeless person - which is written into the script. I actually thought he was, that he'd fallen on hard times from paying his mom's hospital bills. But considering everything, his clothes would have been well-worn, high-end designer brands, and his suit of the same quality. Not sure what happened there.
I did enjoy myself, make no mistake about that, but this play is not what I have come to expect from Dezart. While I understand and concur with Shaw's "palate cleanser" plan, I will say that for me this wasn't what Maytag Virgin was to the 2018 season (which was one of my favorite shows that year, and that was a great year). That was a wonderful choice.
A quick peek at the overview of their next show, The Garbologists, has me happy to see they're back to their hard hitting commentaries on the human condition. And it's a comedy. Win/win.
A Funny Thing Happened on the Way to the Gynecologic Oncology Unit at Memorial Sloan-Kettering Cancer Center of New York City is playing 3/9-12 at the Palm Springs Woman's Club. Tickets
A Funny Thing Happened on the Way to the Gynecologic Oncology Unit at Memorial Sloan-Kettering Cancer Center of New York City - Halley Feiffer - Writer
Randy Brenner: Director
Michael Shaw: Producer
Clark Dugger: Producer
Cast:
Aviva Pressman: Karla
Deborah Harmon: Marcie
Erik Zak: Don
Barbara Niles: Geena
Production Team:
Jimmy Cuomo: Set Design
Phil Murphy: Lighting Design
Shon Le Blanc: Costume Design
Lynda Shaeps: Hair and Makeup Design
Tom O'Brien: Technical Director
Morrigan Gillespie: Lighting Technician
Greg Grisso:Lead Carpenter
Louise Ross: Props Master
Dennis Wodzisz: Graphic Designer
Clark Dugger: Photographer
David A. Lee: Photographer
Chet Cole: Voiceover Talent
Emma Ayeni: Voiceover Talent
David Atkisson: Set Crew
Stormy Rice: Set Crew