Review: WHITE CHRISTMAS Is an Alright Christmas at Dr. Phillips Center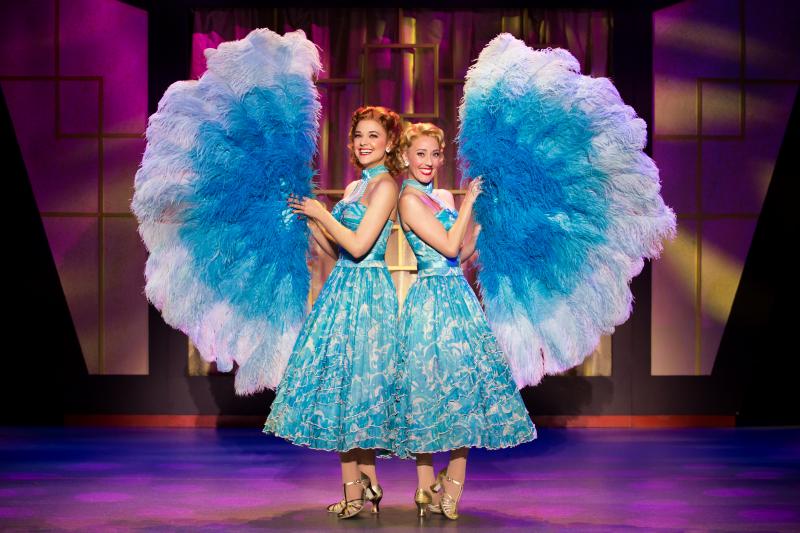 White Christmas is one of those movies you watch every year of your life, and yet, when someone asks for a plot summary, it's... "Well, they sing some songs..."
Still, you watch it every year.
For those who haven't seen it (and for those who have), here's what happens amidst all the song and dance: a couple soldiers come home from World War II and make it big in show biz. Bob's a stiff. Phil's a flirt. Ever randy, he takes a liking to two song-and-dance "sisters" (read: not sisters), Betty and Judy, who've booked a holiday gig at an inn owned by - miracle of miracles - the general who commanded Bob and Phil in the war.
The inn's in trouble. You know what'll save it? Song and dance.
There's enough story in the movie to fill out a one-act play. So how does IRVING BERLIN'S WHITE CHRISTMAS, now running at the beautiful Dr. Phillips Center in Orlando, turn it into a two-act stage musical?
You guessed it: more song and dance.
All the movie's numbers are by Irving Berlin, several written specifically for the film. When producers decided to adapt it for the stage back in 2000 (regionally at first, then on tour in 2004, followed by a brief Broadway engagement in 2008 and then again in '09), they dipped deep into the well of creativity and pulled up this idea: add a bunch of Berlin songs that weren't written for the movie. (Happily, the movie's minstrel number is gone.)
In fairness, White Christmas has always been a glorified jukebox, and that's what the stage show is too. All the songs are enjoyable by themselves - Berlin was a master. Some make sense and jive with the story ("Sisters," "Count Your Blessings," "Snow"). Others are merely filler. Case in point: the overlong and utterly irrelevant "Blue Skies," which closes Act I in lieu of a cliffhanger and had me dreaming of a white Christmas intermission.
While this is very much the movie on stage, it does have a few interesting ideas of its own. The boys' journey to the hotel is a little more complicated this time around, and when they get there, they meet Martha, a new character who effectively takes the place of Mary Wickes' Emma from the film. Martha is a delight, written as an Ethel Merman type, and probably the highlight of the whole show.
I would have called "White Christmas" the highlight, but after two hours of extraneous numbers, when the show finally gets around to the one you came for, Bob turns to the audience and invites us into a sing-along.
You don't want to hear me sing "White Christmas."
Chalk it up to opening night, I suppose, but there were quite a few technical mishaps during the show's Dr. Phillips debut. Spotlights repeatedly failed to hit the mark, sometimes dancing around the stage like Tinker Bell. Volume levels dipped on occasion. A feathered fan loudly brushed a microphone. Some transitions stalled, and once, the curtain wasn't sure whether it should rise or fall.
Despite all of it, the crowd kept high spirits. In fact, they were downright merry. Christmas sweaters were everywhere. I wore one myself. There was humming all around at intermission. A few people even cosplayed as elves.
So in taking WHITE CHRISTMAS to task for its fluffy-as-a-flurry narrative, I can't help but feel a little like the villain in any classic holiday tale. Have I missed the spirit of it all?
Maybe. Certainly, if you're looking for a festive night on the town with your family this holiday week, WHITE CHRISTMAS at Dr. Phillips Center is your ticket. There's something quaint about heading downtown for some simple entertainment to ring in the holiday. And to this production's credit, the set design is (for the most part) vivid, detailed, and impressive. Ditto the costuming, a distinctly 2000s interpretation of the 1940s and '50s. The grand finale is stunning in both respects.
As Phil, Judy, and Martha respectively, Jeremy Benton, Kelly Sheehan, and thrice-Tony-nominated Karen Ziemba stand out as especially talented. As General Henry Waverly, Conrad John Schuck lends the show some sorely needed dramatic heft, a reflection of his considerable résumé (having starred alongside Bette Midler in Outrageous Fortune on screen and Sarah Jessica Parker in Annie on stage). As Mrs. Snoring Man, Ann-Ngaire Martin's voice is the highlight of "Snow" (expanded here into a big ensemble number). And all of the show's dancing is excellent, if excessive. On the other end of the spectrum, Aaron Galligan-Stierle's broad turn as stage manager Mike Nulty is distractingly caricatured, though I suspect that has more to do with David Ives and Paul Blake's book - and Randy Skinner's direction - than anything else.
I don't think WHITE CHRISTMAS is exactly what any Broadway enthusiast has at the top of their Christmas list. (And if you had a Playbill on your Christmas list, you won't get that here either, as Dr. Phillips Center is using its own locally printed programs this season.)
But in the spirit of the show, I think I ought to count my blessings. WHITE CHRISTMAS isn't high art, but it also isn't hard to enjoy. And this being Orlando, it's the only white Christmas we're gonna get.
IRVING BERLIN'S WHITE CHRISTMAS runs in Orlando through December 23, part of The Holidays at Dr. Phillips Center. To get tickets, visit the Dr. Phillips Center website or call (844) 513-2014.
---
What did you think of IRVING BERLIN'S WHITE CHRISTMAS at Dr. Phillips Center? Let me know on Twitter @AaronWallace.
Photos Credit: IBWC National Tour Company. Jeremy Daniel Photography, 2016.