BWW Review: Rose Has One Hell of a Turn in GYPSY at Garden Theatre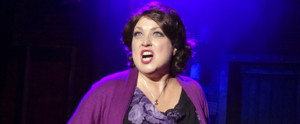 Out for a drive and singing along to the Angela Lansbury cast recording of GYPSY, I pulled back into my apartment parking lot and cut off the car.
"Funny, you're a man who likes children..." I gather my items, still singing to myself.
"...That's an important sign." I open the car door and step out.
"Lucky, I'm a WOMAN WITH CHILDREN," I belt, only to find a group of twenty-somethings standing one car over and staring back at me, myself a man of about 29 at the time.
Until this weekend, that was my favorite memory of GYPSY, a show I've obsessed over and seen in every incarnation except live on stage, it somehow having eluded me all these years despite being a staple of the community stage.
Mind you, a small local venue isn't where I'd hoped to see it for the first time. But there I was in the Garden Theatre of Winter Garden, FL - an old single-screen movie house from the 1930s converted long ago into a small but stately professional performance house in the middle of America's most charming downtown - on Saturday, September 15, 2018.
Don't get me wrong, I'm all about a local production, but the Garden's recent take on THE HUNCHBACK OF NOTRE DAME had left something to be desired, despite a strong cast and terrific material. More to the point, could a local actress really fill the shoes of Lansbury, LuPone, Merman, Midler, Peters, Staunton, and Daly all at once? Those were the Roses I knowses.
But now I can add to that list Andrea Canny, the actress who originated Belle in Disney-MGM Studios' BEAUTY AND THE BEAST - LIVE ON STAGE some 27 years ago and who is currently making a holds-her-own-and-that's-saying-something turn as Mama Rose in Winter Garden every night through September 22.
She was one verse into "Some People" the first time I got that electric feeling from her performance - that thing live theatre lights up inside you when it's really good, when something true about the human condition is coming through from actor to audience.
It happened again and again as Canny slowly and convincingly developed Mama Rose from a plucky stage mom you can't help but like to the tour-de-force of complexity, ambition, love, and regret that makes her one of the greatest characters of all time. It takes real chops and, as the song says, "Ya either got it, or ya ain't." Canny's got it.
Her voice is substantial and lovely, fully worthy of Rose, the mother of all stage roles. Making one intriguing vocal choice after another, she put her own stamp on Jule Styne's melodies Stephen Sondheim's lyrics, but always in a way that felt like art, not ego.
During intermission, I heard a group comparing her choices to those of the great leading ladies in the same way people compare Sinatra's phrasing to Martin's.
Most people in the crowd, though, seemed to be total newcomers to GYPSY. And by the time "Rose's Turn" came around, I found myself feeling proud that their first - and mine - was so outstanding. I could quite literally sense how impacted those around me were.
If you're also unacquainted, GYPSY is loosely based on the memoirs of real-life burlesque star Gypsy Rose Lee and her rise to fame from the doldrums of vaudeville's dying days. The real-life Lee credited her success (and that of her sister, actress June Havoc) to their domineering mother, Rose.
To that end, Mama Rose would be perturbed if I didn't acknowledge her daughters. They deserve it too. Louise is just as dynamic a character as her mom, and Andrea Stack (who some will recognize from Walt Disney World's FINDING NEMO: THE MUSICAL and HOOP-DEE-DOO MUSICAL REVUE) shows tremendous range both in her vocals and in her understanding of this shy young girl who somehow became the world's highest-paid ecdysiast. Meanwhile, Grace Flaherty (another NEMO notable) shines through June, such that it's obvious she has much more to offer than the character's cutesy affect allows.
Speaking of notables, the Garden is graced by a few actors from outside the area in this run. Michael Hartson, recently seen in a small role in HIDDEN FIGURES and on TV's SAINTS & SINNERS, is a bit of a Rex Harrison vocally, but he creates a Herbie you latch onto and feel for. Meanwhile, one of Broadway's Billy Elliots, Arcadian Broad (now all grown up), dazzles as Tulsa. During his big dance number, the woman seated next to me leaned over and said, "I guess they brought in a professional." Yeah, you could say that. (But you shouldn't. We're in a theatre!)
Even some of the supporting roles are still on my mind a few days later, from Cathy Merkel-Roddy's hilarious, Lina Lamont-esque turn as Tessie Tura to the outstanding character work by Ellie Roddy (Miss Cratchitt / Hollywood Blonde), Wendy Starkand (Mazeppa), Alexander LaFrance (L.A. / Uncle Jocko / Pastey), Justin Enrique Ortiz (Yonkers / Weber), and others.
I'll confess I'm somewhat reluctant to fill my very first Broadway World review with nearly unfettered praise, but when the long white glove fits...
Then again, seeing a show at the Garden means you're settling for recorded music. It's a shame, because with a live orchestra in the pit (were there a pit), you'd almost swear you were seeing GYPSY in all its glory. Let's hope Canny gets to unleash this level of talent as Rose on a bigger stage someday, strings and all. More people need to see her in action.
Still, best not risk it. Catch her while you can. Director Tom Vazzana's GYPSY is running at the Garden for a few more days. This show is widely considered one of the greatest in the history of musical theatre, and you'll walk away from the Garden understanding why.
To purchase tickets to GYPSY, visit the Garden Theatre's website or call (407) 877-4736.
---
What did you think of Rose's turn at Garden Theatre? Let me know on Twitter @AaronWallace.
Photo Credit: Garden Theatre