Review: Remarkable IN THE HEIGHTS is Revelatory, Can't-Miss Theatre
"Home" means many different things to many different people. For some, it is the physical structure in which they grew up; for others it is a town, state, or region; for others it is with the people that they care about most. No matter how you define the word, everyone is looking to find, maintain, or return to the "home" that allows them to feel safe and loved and be the best version of themselves. In one way or another, all of the characters in Lin-Manuel Miranda's bi-lingual, hip-hop infused musical IN THE HEIGHTS, are striving to get "home." Set in Miranda's beloved New York City neighborhood of Washington Heights, this cutting-edge show won four Tony Awards in 2008, including Best Musical. Now, the Greater Orlando Actors Theater and Baggy Pants Theater have collaborated on the Central Florida premiere of this deceptively challenging show, running through June 14th at the Orlando Shakespeare Theatre. While this engaging production never achieves the crispness of the Broadway original, the heart and love that makes IN THE HEIGHTS special is evident from the first note; this passionate ensemble has created a work that should be the example for what Orlando's professional theatres strive to achieve in musical storytelling.
The show spans two of the summer's hottest days in the primarily Latino Manhattan enclave of Washington Heights. Usnavi (Fredy Ruiz) is a young bodega owner who dreams of returning home to the Dominican Republic, but is stuck running his store with his cousin Sonny (Erick Perafan). On the block is Rosario's car service, owned by Kevin and Camila (Michael Acevedo and Leesa Castaneda respectively). Their daughter Nina (Ana Bateman), the pride of the neighborhood, has just returned home from her first year on scholarship at Stanford. Usnavi's best-friend Benny (Matthew Roman), one of the few non-Latinos in the neighborhood, works for the Rosarios. Next door to the bodega is Daniela's (Desiree Perez) Salon, where Carla (Fabiola Rivera) and Usnavi's crush, Vanessa (AlejandrA Martinez) work. Keeping an eye on everything that happens on the block is the barrio's beloved matriarch, Abuela Claudia (Alina Alcantara). As the block and its residents are changing, the relationships that have formed a tightly-bonded extended family come under immense stress.
As both a narrator and central figure, Ruiz creates an affable and relatable Usnavi. It is easy to understand why so many in the Heights come to him, not only for coffee, but for support and guidance as well; Usnavi is essentially a Dominican Tevye. Unlike, Miranda, who originated the role, Ruiz is far more adept at singing than "freestyle" rapping. Ruiz doesn't have the diction to make the rapid-fire hip-hop lyrics as clear as they should be, but the rare occasions in which he gets to sing a melody are fantastic. It takes a lot to step into the newsboy cap of the man who wrote and starred in a wildly successful musical, but Ruiz proves himself to be an entertaining and extremely talented leading man.
Usnavi aside, IN THE HEIGHTS is essentially an ensemble piece, with a dozen featured characters getting their chance to shine. Director Paul Castaneda has assembled a talented and charismatic performers that unite to create something that is increasingly rare, a musical comedy that is as touching as it is funny.
As the show's primary romantic pairing, Bateman and Roman are quite appealing as Nina and Benny. Though Roman struggles a bit with the rapping, and sometimes seems disconnected, he comes to life in song, displaying a sweet and powerful voice. Fortunately for him, he is aided by often playing opposite Bateman, who quickly becomes the show's standout. With a heart-breakingly tender voice and an honest insight into her conflicted character, Bateman drives more of the show's emotion than I am used to seeing from other Ninas; I defy anyone to not be moved by Bateman's first a capella notes to the chorus of "Alabanza."
As Vanessa, Martinez creates a sassy balance to Bateman's Nina. Where Nina provides loads of sweetness, Martinez supplies plenty of sex-appeal. Like many of the other characters, Vanessa is struggling to determine what home means to her, and Martinez does so with equal parts excitement and regret. While she doesn't seem to have the range to soar on some of her higher notes, when Martinez is able to utilize her chest voice, she was very impressive.
As Nina's parents, Acevedo and Leesa Castaneda create a powerful backbone to the show. While neither are as vocally dynamic as their younger co-stars, they both craft strong individuals who have scrapped and clawed for everything that they have in life. An important reminder of the immigrant life of so many of the Heights' residents.
Perez and Rivera are tremendous as Daniela and Carla. The silly repartee between the two stylists is a highlight of the show, and both display tremendous voices. I look forward to seeing them both in larger roles in the future. Perafan's charm and vocal talent as Sonny allows him to create a formidable foil for Usnavi.
Additionally, Erick Ariel Sureda provides some impressive dance moves as Graffiti Pete, and John Perez displays crystal clear interstitial jingles as Piragua Guy.
Now that I have completely buried the lede, Alcantara gives a near-perfect performance as everyone's Abuela Claudia. Not only does she convey the wisdom, grace, and humor of her character, but she does so with such innate charisma that you feel as if this role had been written especially for her. She has a tremendous voice; especially as she delivers her revelatory performance of "Paciencia y Fe." Alcantara communicates a deep insight, not only into Claudia, but, into the characters that she shares the stage with as well. Her performance alone, is worth the price of admission.
The young, energetic ensemble is fantastic as well. With all of the talent in the cast, when the entire group comes together on stage, the show takes off even higher than it already had.
Despite what might seem like barriers to some audience members, you don't have to be fluent in either Spanish or freestyle rap to fall in love with IN THE HEIGHTS. Despite the fairly revolutionary style that a handful of songs utilize, this is a quintessential American musical with influences of Gershwin, Rodgers and Hammerstein, Sondheim, and more masters of the art form.
What start out sounding like simple, Latino pop-inspired showtunes grow into much more as Miranda layers on musical, lyrical, and narrative complexities. Since the book, by Quiara Alegria Hudes, is fairly brief, much of the show's remarkable character development is done via song. While Miranda has admitted that you could easily find plot and character holes if you look closely enough, there is really no need, as IN THE HEIGHTS takes you on a journey that provides everything you could want to have a thoroughly entertaining and thought-provoking theatrical experience.
Though DeWitt Cooper's energetic choreography by multi-leveled the scenic design by Tom Mangieri are reasonable approximations of the originals, neither completely coalesces enough to rise to the level of the rest of the show.
What is as compelling about this show as anything else is the fact that it goes against so much of what we see in Orlando theatre. It is a big, new musical that doesn't carry the same name recognition (and perhaps built-in box office) of the Golden Era standards. Fortunately, this risky collaboration has resulted in a tremendous product, which is quite possibly the best musical I have seen since moving to the City Beautiful. Hopefully other local companies will see the success of this production and continue to challenge their audiences with new and exciting programming.
With just three shows left, do not hesitate to get tickets to this extremely special show. As tickets are selling fast, I recommend buying them online quickly.
---
Did you take 1 train up to Washington Heights? Did Lin-Manuel's musical ode to his home leave you cheering, crying, or both? Let me know what you thought in the comments below, or by "Liking" and following BWW Orlando on Facebook and Twitter. You can also chat with me about the show on Twitter @BWWMatt.
Photo Credit:
1) Fredy Ruiz and the cast of IN THE HEIGHTS: Elina Moon Photography
2) Matthew Roman and Ana Bateman: Elina Moon Photography
3) Desiree Perez, Fabiola Rivera, and AlejandrA Martinez: Elina Moon Photography
4) Alina Alcantara and Fredu Ruiz: Elina Moon Photography
Matt is a Senior Editor and Administrator at BroadwayWorld, regularly writing about Broadway real estate, TV, and film. He is a proud graduate of The Ohio State University and has worked in pr... (read more about this author)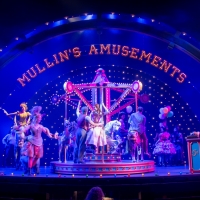 BWW Review: Riverside Theatre's Sparkling CAROUSEL Shines Light on All that Is Grand, Complicated in Classic Musical Theatre

January 11, 2022

Despite the complications that a modern perspective puts on the more prickly parts of the story, you can't help but be both moved and tickled by the show's iconic, perfectly crafted R&H songs. And fortunately, the beautiful and appropriately elegant production of 'Carousel' running at Vero Beach, Fla.'s Riverside Theatre now through Jan. 23 exemplifies why shows such as these continue to be revered staples in theaters around the country.
---