Review: RIVERDANCE at Orlando's Dr. Phillips Center is a Celebration of All Things Irish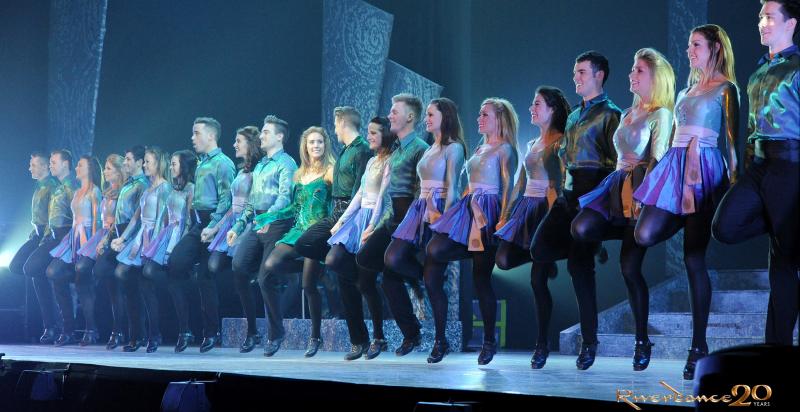 For 20 years the Irish step dancing troupe of RIVERDANCE has been bringing their "modern" version of the art form to audiences around the world, including to Orlando's Dr. Phillips Center for the Performing Arts through Sunday. The tour setting up shop in Central Florida is billed as "RIVERDANCE- The 20th Anniversary World Tour," and retains much of the original show's choreography, along with "updated" design elements and a new number for the female ensemble.
For the most part, this version of RIVERDANCE preserves the exhilarating precision and symmetry that are hallmarks of the show, while incorporating a bit more sass and elements from other dance styles to make it fresh for audiences new and returning alike. There is something remarkably visceral to watching and hearing a large collection of talented dancers seemingly moving as one to tell a single story-as convoluted as it might be.
In many ways, this version of RIVERDANCE is a time capsule back two decades to the late 1990s, featuring dancers with slicked and crimped hair, sequined and bedazzled costumes, and video and projections that look like they were created on Windows 98.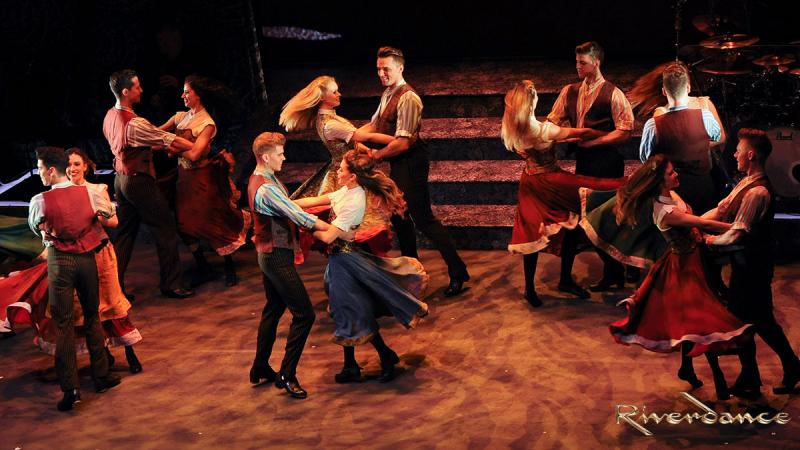 The anachronistic design elements do distract a bit at first, but eventually, the excitement and intensity of the dancing, and the perfectly synchronized sound of the clogging, become mesmerizing, and you are transported into a world that- especially during the first act- feels like an eerie, Irish version of OUR TOWN, thanks in part to a wake to after intermission and an ethereal chorus of singers, led by soloist Jennifer Murray.
Featuring lead dancers Maggie Darlington and Jason O'Neill, the opening act seems to focus on some sort of somber origin-story, which I assume is of Ireland, however, the second act, which expands from the first's presumably Irish focus, brings a far more buoyant and humorous turn as it looks at ways that citizens of other nations have influenced Ireland and Irish step dancing, and vice versa.
The highlight of the act- and honestly the night- is the incorporation of The Riverdance Tappers, DeWitt Fleming Jr and Tyler Knowlin. In what is essentially a tap battle between the "New York" hoofers and three traditional Irish steppers, all five of the dancers show an incredible ferocity that, at the opening night performance, caused Fleming's heel tap to come off. In addition to having already beautifully sang "Heal their Hearts-Freedom," Fleming handled the equipment malfunction with humor and professionalism, allowing it to eventually enhance the performance.
The show also incorporates a Flamenco dancer and Russian ensemble, however, mostly to its overall detriment, but the true heart of RIVERDANCE is in its Irish ensemble. While the lead dancers- especially the immensely self-satisfied O'Neill- receive more than their fair share of focus, the evening is at its best when most, or all, of the dancers are performing together; creating a community on stage that seems to transcend performance and become a metaphor for the tiny island nation banding together to celebrate all things Irish.
---
Did yo get swept up in the ethereal magic of RIVERDANCE? Let me know on Twitter @BWWMatt. You can listen to me on BroadwayRadio or on BroadwayWorld's pop culture podcast Some Like it Pop.
Images: RIVERDANCE cast. Photo Credit: Riverdance.