Lyric Theatre's JUNIE B. JONES Goes to the Head of the Class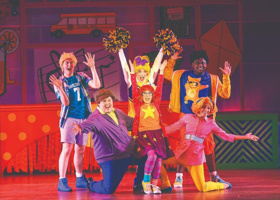 Oklahoma City's Lyric Theatre has a well-deserved reputation for their all-around high production values and high quality in their plays and musicals. They bring those same standards of excellence to their family-friendly fare, such as the recent excellent James and the Giant Peach and the currently running Junie B. Jones: The Musical. Providing this kind of quality theatrical experience for young audiences is extremely important as theater audiences get older and theaters must compete against so many other options for the attention of younger audience members. A show like Junie B. Jones is the perfect introduction to theater for young kids and just might help to build a love of the performing arts that lasts a lifetime.
Junie B. Jones is a series of books written by Barbara Park, a number of which have been used to create this musical stage adaptation, with book and lyrics by Macry Heisler and music by Zina Goldrich. The hero of our story is young Junie B., a girl embarking on her first day of the first grade. It's not long before Junie B. realizes that she's not in kindergarten anymore and things have changed, including old friends who aren't her best friend anymore and people who enter her life destined to become a new best friend. She also discovers that she needs glasses, a major crisis because when you're in the first grade, everything is a major crisis. As Junie B. deals with these and other trials and tribulations, she learns a number of important life lessons, lessons which anyone at any age can understand and relate to.
That fact, the universal and relatable nature of the themes and lessons found herein, is just one of the many joys of this musical. Heisler and Goldrich have taken the series of children's books and turned them into a show that isn't strictly for kids. There are definitely moments that will have the kids laughing out loud, but there are also moments when just the adults will laugh out loud and other moments when everyone will laugh out loud together. Young kids will certainly be able to recognize some of Junie B.'s experiences as similar to their own and will relate to what she's going through. Adult audience members, though, will have just as much to recognize in Junie B.'s trials and tribulations, reactions and their repercussions. Sometimes there just isn't a meatball big enough on your plate of spaghetti and meatballs to make you feel any better and other times, you just need a sugar cookie. Who hasn't been there?
While the story and characters are completely relatable, the music is totally fun, energetic, sometimes touching and at other times hilarious. The songs include a number of different styles from power ballad ("Time to Make a Drawing") to rock 'n roll ("Lunch Box") to doo-wop and tunes out of the 50s and 60s ("Top Secret Personal Beeswax" and "Lucille, Camille, Chenille"). Even though they are often about childhood topics, such as an ode to a lunchbox and another to the kindly lunch lady, they offer themes that can be expanded beyond just what's in the lyrics. Some of them beautifully deliver life lessons ("When Life Gives You Lemons") and many musicals would kill for a show-ender this good ("Writing Down the Story of My Life").
Director and choreographer Ashley Wells does a fantastic job here, keeping everything light, lively, fun and energized. The rather short show moves along at a quick pace but never feels rushed. Every moment gets it's time to land and register with the audience, including details that could seem minor or be glossed over quickly. Wells has worked with her cast to make the characters rise above the level of a caricature or cartoon stereotype, giving them some real, believable life, characteristics and reactions. One can imagine that this must be a fun show to direct, there's a sense of fun and play inherent in everything that happens on stage, which it may be safe to assume was part of Wells' master plan.
Also having fun are the stellar performers who bring the characters to life. As Junie B. Jones, Kristin Kuns is wonderful, creating such a lovable and relatable child, the kind of kid we have all known, or have been, or both. Junie B. is wise beyond her years, that type of kid that people describe by saying, "she's 5 going on 35" and she has big ideas and big dreams. Kuns plays every moment in a way that is very real and believable, it often does not feel like an adult playing a child, except maybe for when she sings and demonstrates her very mature and polished vocal talents, which are impressive. Kuns is a joy to watch in this role and gets every audience member rooting for Junie B. and her success.
Kuns makes her Lyric Theatre debut here, as do a couple of other cast members. One of them, Mahalia Gronigan is a revelation and someone we will hopefully be seeing more of on our area stages. Playing Grace, May and Mother, she creates three entirely different characters, each with a different personality and a different accent. Some audience members may have to glance at their program a second time to make sure it's the same actress. Just as impressive is the straight face she maintains each time she says one of the show's funniest lines, and she has almost all of them. Her performance as the bossy, conceited Grace is consistently hysterical.
Two other cast members appearing at Lyric for the first time are Cole Cloutier and Micah Marine. Cloutier is hilarious as Sheldon, that boy we all knew in school who was kind of awkward, kind of a klutz, often sick or injured. It's a physical and wonderful performance that Cloutier throws himself entirely into. Marine is also fantastic as Herb, Junie B.'s new best friend in the first grade. There's a bit of an adult romantic comedy feel to some of the moments between Herb and Junie B., helped by the fact that Marine and Kuns have great chemistry and are adorable together. They have some touching moments perfectly played by the two actors.
Rounding out the cast are Emily J. Pace and Justin Larman, who, like almost everyone in the cast, play multiple roles. Pace is very funny as Lucille, Junie B.'s former best friend from kindergarten who has moved on to other friends in the first grade. She gives her character a hilarious high-pitched voice and tons of personality, while also utilizing her fantastic singing voice to full effect. Like Pace, Larman always adds value to every scene just by being there and providing focus, charisma and energy. He does also steal the show as the Mrs Gutzman, the friendly lunch lady who is a combination of Mrs. Doubtfire, a friendly prison warden and a Broadway diva. With Larman, every moment, every gesture and facial expression, from Mrs Gutzman hits a comedy home run.
Also hitting a home run are the technical elements of this production, all of which maintain or support the show's sense of fun and energy. Dawn Drake's set design, Jeffrey Meek's costume design, Art Whaley's lighting design and Brawna Gfeller's wigs are all wonderfully executed. Together they create a world that makes us want to jump in and become a part of it.
At the end of the show, the actors did something similar, jumping into the audience and greeting all the kids, high-fiving and saying hello, much to the excitement of the youngsters. This kind of fun, energetic, relatable, smart, interactive theater that does not dumb itself down to kids is just the kind of thing theater companies need to be doing. This show is likely to have many of them asking their parents to buy the books and another ticket to see this show again or another one like it.
JUNIE B. JONES at Lyric Theatre features all daytime performances and continues through March 25 at the Plaza Theatre, 1725 NW 16 St. As of 3/18, the company's website indicates that most shows are sold out and tickets are only available for the Thursday, March 22 show at 10am. To reserve a ticket for that show or to check on other performances in case tickets have opened up, visit LyricTheatreOKC.org or call Lyric's box office at (405) 524-9312.
Pictured: Back Row, (L to R): Cole H. Cloutier, Emily J. Pace and Micah Marine. Front Row, (L to R): Justin Larman, Kristin K?ns and Mahalia Gronigan. Photo by KO Rinearson
Related Articles View More Oklahoma

Stories

Shows