BWW Review: Next Stage & KnockDownDragOut Present Multi-Layered Romantic Drama CONSTELLATIONS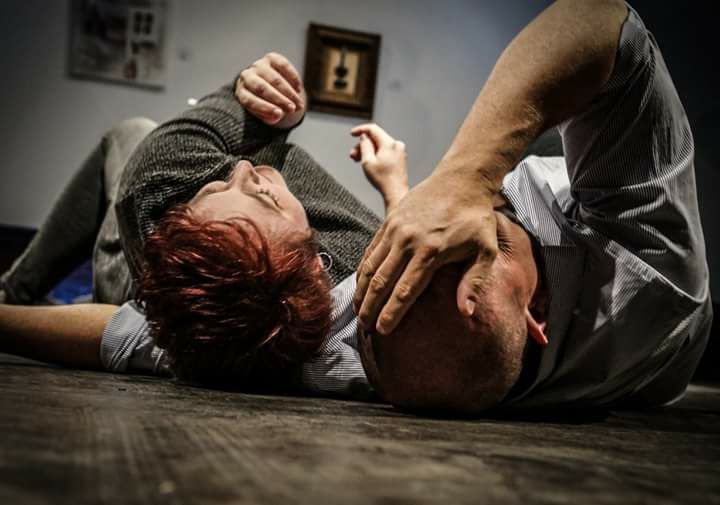 New works are always a breath of fresh air in the Oklahoma City theatre scene, and the Oklahoma premiere of CONSTELLATIONS - a co-production between Next Stage and KnockDownDragOut staged at the IAO Gallery downtown - is a treasure trove of script, performance, and execution.
Playwright Nick Payne's story, at first glance, is your basic boy-meets-girl rom-com; but as the evening unfolds, we come to find a rich exploration of love, trust, fidelity, and truth...told through the lens of multiverse, string theory, and quantum mechanics. Sound boring? It's anything but. Payne's script uncovers the subtleties in relationships and emotions by offering the chance to explore them through repetition and revelation.
Marianne (played by Emily Etherton) is a Cambridge University cosmologist. She meets Roland (played by Todd Clark) a...beekeeper. Yes really; like...he collects honey, from bees. On the surface, these two could not be more different, yet somehow they connect. Or do they? Revisit those same words in a new way and we find how a seemingly insignificant choice in word or deed can create a cosmic shift. CONSTELLATIONS explores attraction, marriage, commitment, monogamy, relational conflict, illness, and more in its rapid-fire 75 minute, intermission-less running time.
A two-hander of this magnitude requires strong acting and direction; luckily, audiences at the IAO Gallery are in more than capable hands. Emily Etherton and Todd Clark inhabit their characters with ease and assurance: Etherton handles her character's required lightning-fast changes in mood with dexterity and specificity; Clark's droll earnestness is winsome, engaging, and heart-wrenching; together, their chemistry is electric. Performing such a complex and layered script is quite the monumental task, but Clark and Etherton seize the opportunity with gusto, connecting with one another, and the audience, with consonance. Director Rodney Brazil utilizes the close proximity of the art gallery with exactitude, allowing the shallowness of the playing space to draw the audience in. His understated design choices lend an air of raw yet sophisticated ambience, and his light hand allows the performers to explores the intricacies of Payne's script with freedom.
With so much good going on, I get the rare opportunity to be a little picky: with the IAO Gallery space being so intimate (only 2-4 rows deep) I felt the performances might have explored certain moments with more subtlety and variation...since the point of the play is to excavate the differences and connections among people and situations, some line readings seemed similar upon revisitation of scenes. Because the dialogue is so (necessarily) repetitive, the design choices in the audio and visual the transitions between scenes (and therefore, universes) could have afforded more variety. But in such a succulent and consummate display of art, these quibbles are more a matter of opinion than substance.
CONSTELLATIONS offers profound, thought-provoking drama in an effervescent and entrancing package. These artists have much to offer, and I certainly hope this is not their final collaboration...audiences deserve to see more.
-
CONSTELLATIONS, presented by Next Stage and KnockDownDragOut at the IAO Gallery November 3rd-11th, 2017. For tickets, call (405) 367-3774.
Photo credit: Angie LaPaglia