Theatre for the New City Presents SUBWAY STORY (A SHOOTING)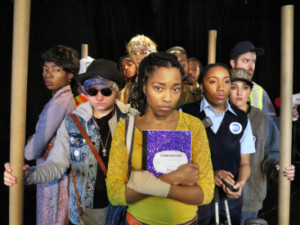 Innumerable American children and teens are exposed to gun violence at home, in school, in their communities and in the media. In "Subway Story (A Shooting)," playwright/director William Electric Black means to elucidate the pressures that drive the epidemic in young people. The piece is the final installment of his five-play GUNPLAYS Series, which has dramatized the epidemic of gun violence using differing approaches and theatrical styles. Theater for the New City, which has presented the entire series, will mount "Subway Story (A Shooting)," its final installment, February 22 to March 18 in its Community Theater.

Early this year, The Federal Centers for Disease Control and Prevention, based on 2014 data, reported that homicide is the leading cause of death for Black males between 15 and 34. Among the twenty-one NYC teenagers who died violently in the past twelve months, all were Black or Hispanic; all but one were male and all but two were shot. Irrespective of other circumstances, these victims shared a common reality: they grew up in poverty-stricken communities where threats of violence and death are constant. Studies show that youths who witness gun violence experience similar negative psychological and physical harm as youths who have had direct exposure. Of all the risk factors, the strongest and most consistent predictor of youth gun violence is exposure to or history of violence. In addition, the access to and availability of firearms increase the likelihood of weapon-related violence among youth.

Reviews of literature on gun violence reveal that violent crimes in urban areas are more likely to involve guns than in suburban or rural areas. While school shooters tend to be from stable, low crime towns and suburbs who generally do not know the people they kill, street shooters tend to live in densely populated areas with high levels of crime and poverty, and they tend to kill individuals they know.

"Subway Story ( A Shooting)" is the unfolding of an essay by an African-American teenage girl named Chevonn, which she must complete to pass junior English. It is supposed to be nonfiction but instead turns out surprisingly literary in style. In her composition, a troubled, abused high school student combs the subways, seeking to obtain a gun in order to shoot her mother. Her quest is narrated in a fantastical mashup of literary images that are part Lewis Carroll and part queasy reality, revealing issues affecting our children including alienation, discrimination, bullying and the easy availability of firearms. Chevonn's autobiographical tale strongly suggests how society needs to perceive the hopelessness that kids face and how this can make them lash out with guns or turn them on themselves.

Chevonn has been physically abused by her mother and sexually abused by her father. The girl of her story, like many teens of lower income, dysfunctional households, seeks a gun to end the pain. Along the way, Chevonn meets subway-dwellers whose stories she captures in her composition book and she wrestles with her own destiny while encountering a succession of hidden sufferers. As their stories unfold, so do stories about assault, gender bias, homelessness, the plight of Dreamers, hatred toward Muslims and the effect of gun violence on people of color. Chief among the young woman's encounters is a transgender boy named Emmett who has a gun because he was bullied in school and seeks escape through suicide. He would like Chevonn to kill him and then use the gun against her mother. Others include a homeless veteran named Army who packs an assault weapon, suffers from PTSD and is pursued by the authorities. Dodging the police who are chasing Army, Chevonn retreats to the supposed "safety" of her mother's house, where she overcomes her inability to cry, using her tears to finally put out the fire in her soul.

The play challenges us to realize what leads young people to gun violence: a convergence of individual, family, peer, school and community risk factors. We are prompted to ask ourselves: are we desensitized or numb to the pressures our children endure, like people who stand passively by while tragedies incubate in plain sight around them?

As Americans, we are now struggling to find our bearings after two months of mass shootings--Las Vegas, the Baptist Church in rural Texas and Rancho Tehama Elementary School near Sacramento. This play does a service by bringing our focus back to the larger problem of gun violence among young people in urban settings. Interestingly, while mass shootings grab the headlines, they account for less than one percent of gun deaths each year. Here's a revealing comparison: The death toll from our three recent mass shootings was 90, but in 2016 there were about 6,600 gun-related deaths among youths 24 and younger.

The actors are Sebastian Gutierrez, Jeremy Lardieri, Mohamed Madboly, Natalie Marie Martino, Brandon Mellette, Jacqueline Nwabueze, John Patterson, Yessenia Rivas, Tournesoul, Camille Upshaw and Levern Williams. Cast understudy is Ann-Kathryne Mills.

Set design is by Lytza Colon and Mark Marcante. Costume and prop design are by Susan Hemley. Lighting design is by Alexander Bartenieff. Sound design is by James Mussen. Sound tech is Alex Santullo. Stage Manager is Megan Horan. Production Manager is Dylan Vaughan Skorish. Percussion advisor is Jacob Shandling.

"GUNPLAYS" (www.gunplays.org) is a series of five plays by William Electric Black addressing inner city violence and guns. In 2014, Black launched his GUNPLAYS series at Theater for the New City with "Welcome Home Sonny T," a drama that spotlighted two significant forces driving the current epidemic of gun violence: the social impact of alienation and unemployment on young black males and the declining influence of black ministers as a force of stability in affected neighborhoods. The second play in the series, "When Black Boys Die" (2015), premiered at Theater for the New City in 2015. The third, presented by Theater for the New City for 2016 Gun Awareness Month, was "Death of a Black Man (A Walk By)," a play with hip hop verse, chanting, songs and poetry in which the audience moved around through a neighborhood that experienced gun violence. The fourth, "The Faculty Room" (TNC, 2017), was a drama that swallowed its audience into a schoolhouse in a mandatory lock down because of an imminent gunfight among students there. "Subway Story (A Shooting)" combines music, poetry, dialogue, movement, and immersive theater in a way that makes it the most unique staging of all five plays in the series.

William Electric Black's record with "activist" plays is admirable. In 2009, he directed Theater for the New City's sensational and serious "Lonely Soldier Monologues: Women at War in Iraq," a staged series of monologues based on a book by Helen Benedict. The play earned widespread notice and significantly helped the issues of America's female soldiers to be widely recognized for the first time.

William Electric Black (www.williamelectricblack.com), aka Ian Ellis James, is a seven-time Emmy Award winning writer for his work on "Sesame Street" between 1992 and 2002. He also wrote for Nickelodeon's "Allegra's Window" and LancitMedia's "Backyard Safari." Theater for the New City gave him his start in theater, presenting his earliest work, "Billy Stars and Kid Jupiter," in 1980. Now, TNC proudly continues its tradition of supporting and developing Black's unusual and energetic theatrical work.

In a series of multimedia projects, Black has campaigned for exercise and good nutrition for young children, prescription drug awareness and obesity prevention. He has received a Bronze Apple (National Educational Video Award) for directing. He has also received several Best Play Awards and has been published by Benchmark Education, The Dramatic Publishing Co. and Smith & Krauss.

He is a faculty member at NYU's Tisch School (Dept. of Dramatic Writing/Open Arts, and NYU's Summer High School Program). He has also taught at The Collegiate School, The Riverdale Country Day School, Southern Illinois University, 92nd Street Y, Teachers & Writers and TheatreWorks USA.

Beside socially-conscious plays like the Gunplays series and "The Lonely Soldier Monologues," Black creates delightful musicals for family audiences. These have included "Betty and the Belrays" (TNC, 2007), in which three white female singers challenged a racially divided society by singing for a black record label, "My Boyfriend is a Zombie" (TNC, 2010), which was like Grease with a zombie twist, and "American Star!!!" (TNC, 2013), a satire of adolescents' obsessions with celebrity idol TV shows. The last of these, on its serious side, shone a canny light on magical thinking in minority youth, where lack of opportunity gives rise to "pie in the sky" dreams like instant TV stardom. Black has also written, produced and directed a series of plays and musicals for La MaMa, where he runs the Poetry Electric series.

He is writing, directing, and producing animated videos on stroke prevention with the National Stroke Association and childhood obesity prevention for Hip Hop Public Health under the direction of Dr. Olajide Williams featuring music by Doug E. Fresh, Chuck D, other rap artists. He has completed three short films to educate the Black faith-based community and the Hispanic faith-based community on stroke awareness. In 2015, he published an early reader, "A Gun is Not Fun" (www.agunisnotfunthebook.com) for children's education as part of a national campaign to save lives in cities across America.
Related Articles View More Off-Off-Broadway

Stories

Shows
More Hot Stories For You