Theater for the New City Presents ENCHANTED REVOLUTION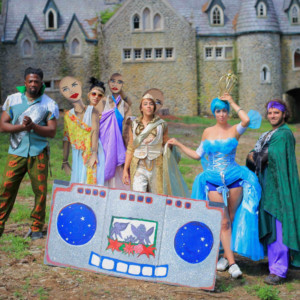 Theater for the New City invites audiences to behold The Enchanted Revolution. 'The Resistance' has located a vulnerability in an oppressive regime on the planet Sha. Princess Yazmaya fights to return all power to the people, mermaids, fairies, dragons, unicorns and more. This timely nouveau-fairytale theater piece is brought to you by writer/director/performer Charlotte Lily Gaspard and the diverse and accomplished artists of Midnight Radio Show. The show dazzles and delights, in the form of an intensely inventive and creatively told bedtime story you never knew you needed. But don't sleep. Audacious fantasy fashion costumes, shadow and 3D puppetry, fairyland artistry and design, music with one leg on the radio and the other in a classical fairytale world, and expert performers come together in this rebelliously original mélange of genre and aesthetic.
Up to this point, these shows have been unseen outside of the collective's Vinegar Hill studio & clubhouse, C-Spot. Singer-songwriter Jessie Davis lends her superb melodious gifts, along with hip hop theater extraordinaire Malik Work, and visionary composer Ezra Bloom, forming the foundation for this version of the tribe's well known dream team of collaborators.

Approximately twice a year, the Midnight Radio Show crew produces an epic, all original, multi-dimensional cabaret, where the players are half puppets and half real live humans. Theater for the New City will be their show's first venture into a conventional black box theater. These shows begin as a new play written by Charlotte Lily Gaspard, extracted from a galaxy she's meticulously created as a lifelong passion macro-piece. This galaxy of mystical and magical creatures has its own balance of interrelated planets, rules, governments, queens, presidents, wars, races, academies, struggles, and history. In some corners of the galaxy gender is reimagined, in others creed, or education. Gaspard's galaxy teaches us much about our own, in a most exquisitely fun, innovative and prolific way. Midnight Radio Show puts the dreams of children on stage to remind the world what we might be leaving out. For a world without magic, is a world without imagination. Without imagination, and the possibility of The Enchanted Revolution, we are doomed.
"Love is at the root of our resistance."- Colin Kapernick
TICKETS: $15 www.theaterforthenewcity.net
Cast: Malik Work, Lisa Rochlin, Mariah Lotz, Charlotte Lily Gaspard & Jessie Davis
Written & Directed by Charlotte Lily Gaspard
Associate Director: Malik Work
Musical Director: Jessie Davis
Costume Designer: Al Malonga
Puppetry Design: Charlotte Lily Gaspard & C. Spot Designs
| | |
| --- | --- |
| Vote Now for the 2022 BroadwayWorld Off-Broadway Awards | |
| voting ends in | |