Photo Flash: Sneak Peek at Erik Ransom's Pop Rock Musical MORE THAN ALL THE WORLD
Lil Rascals Theatre has announced the full cast of MORE THAN ALL THE WORLD, Erik Ransom's epic pop rock musical inspired by Christopher Marlowe's "Edward II", with direction and musical staging by Rachel Klein ('Around the World in 80 Days', 'The Anthem') and with orchestrations and arrangements by Andy Peterson ('Atomic'). The company has also just released stunning new images of the cast in costume - scroll down to check them out!
The cast of MORE THAN ALL THE WORLD features Luis Villabon, Remy Germinario, Emily Stockdale, Katherine Pecevich, Erik Ransom, Grace Stockdale, Michael Pugliese, John Jeffords, Devin Holloway, Hugh Hysell, Tony Perry, Skyler Barnhart, Lydia Georgantzi, Ethan Swan, Zac Wood, Susana Quinchia, Chelsey Ng, and Alexander Moitzi.
MORE THAN ALL THE WORLD begins performances on Friday, November 4th at Theater For The New City, 155 First Avenue. The production will run through Saturday, November 19, 2016 and have its official opening night on Wednesday, November 9th.
MORE THAN ALL THE WORLD is an epic, historical tale inspired by Christopher Marlowe's 1593 play, "Edward II". Set to a complex and diverse pop/rock-influenced musical theatre score, it details the true story of England's controversial King Edward II, whose reign was riddled with scandal and insurrection. It is a modern take on a 14th Century story that resounds with strikingly current themes of prejudice, classism, otherness and more.
"Edward II", by famed Tragedian Christopher Marlowe, was written during the reign of Queen Elizabeth I, and depicted the fall of the eponymous monarch. It was a bold, groundbreaking play for the 16th Century, because it explicitly portrayed an English sovereign whose doom came about because of his love of another man. Marlowe's "Edward II" is still performed around the world to this day. 1969 marked the first professional production in 300 years, which was produced by The Prospect Theatre Company, starring Sir Ian McKellen. In addition to Marlowe's text, the play has famously been adapted by Bertolt Brecht in 1923 under the title, "Leben Eduard des Zweiten von England" (The Life of Edward the Second of England).
A film version of Marlowe's play was released in 1991 directed by Derek Jarman and starring Tilda Swinton and Annie Lennox. More Than All the World is a musical adaptation of that same story, wherein Marlowe narrates this epic true story of 14th Century political intrigue, deception, war and love. The piece utilizes a catchy pop musical score and a book that has been described as 'clever, witty and insightful'. More Than All the World puts the ongoing debate about LGBTQ civil rights into perspective as we see the rhetoric wasn't much different in 1326 than it is today.
The production features scenic design by Ann Beyersdorfer, lighting design by Jamie Roderick, Sound design by Doug Mills, costume design by Rachel Klein, wardrobe supervisors Francesca MacLaughlin and Arisa Ozablak, fight choreography by Rod Kinter., Dance Captain and additional choreography by Luis Villabon, Assistant Dance Captain Devin Soloway, The production Stage Manager is Joan Wyatt, the ASM is Morgan Leigh Beach, General Management is by Daily-Monda Management (Frankie Dailey & Joey Monda).
For tickets and more information, visit www.MoreThanAllTheWorld.com.
Photo Credit: Michael Blase


Devin Holloway, Erik Ransom, Grace Stockdale and Emily Stockdale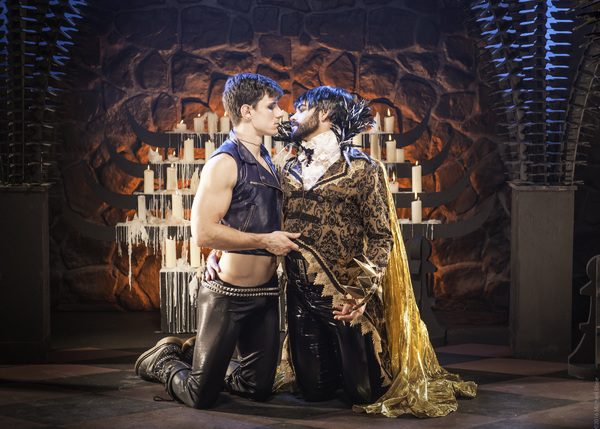 Michael Pugliese and Erik Ransom

Susana Quinchia and Zac Lee Wood
Related Articles View More Off-Off-Broadway

Stories

Shows
More Hot Stories For You