Photo Flash: Manhattan Rep Showcases NO TURNING BACK And AN EVENING WITH STEPHEN CRANE This Weekend
Manhattan Repertory Theatre will showcase two new one-act plays "No Turning Back" by Richard Thomas Henle and "Evening With Stephen Crane" by Phil Paradis. The double-bill will have two performances Friday and Saturday, August 24-25, 2018 at 6:30 pm at Manhattan Repertory Theater, 17-19 West 45th St., Third Floor #301, New York, NY 10036. Tickets are $20 at the door. Seating is limited; reservations are recommended and can be secured at www.manhattanrep.com/e-series-summer-new-works-2018
No Turning Back, written and directed by Richard Thomas Henle, is a thirty-five minute drama that tells the story of one man's return to his old neighborhood following the death of a childhood friend. Actors featured include Peter Quinones, Ivory Moon Brownback, Danny Ralph Munoz, Stephanie Jeurgens, Taylor Joree Scorse, and Brett Solimine. Henle is a Resident Playwright at Manhattan Rep and has authored more than fifty plays, many of them presented in the last decade at Manhattan Rep.
Evening with Stephen Crane is a fifty-minute one-man play directed by Janice Orlandi and features Chris Ostrowski as The Red Badge of Courage author entertaining American visitors at his home in England in August 1899. Crane tells about his adventuresome life, including tales about The Red Badge of Courage, his shipwreck, his short-lived friendship with Teddy Roosevelt, and his involvement in a New York Police scandal during the days of Tammany Hall.
Says Director Janice Orlandi, "Audiences will experience Stephen Crane's humor and charm and story-telling prowess as he regales them with anecdotes from his life as a reporter, novelist, and war correspondent. They'll learn how Crane became an early champion of Women's Rights and meet the man who inspired Ernest Hemingway and 'The Lost Generation.'"
Actor Chris Ostrowski grew up in Pittston, Pennsylvania. Recently he appeared in two productions of Help Me Get Over you at Theater 80 St. Marks and the Secret Theatre Festival. This winter in American Theatre of Actor's Julius Caesar, Chris played Murellus, Cicero, Cinna, Decius Brutus, and Octavius Caesar. He is a graduate of the Tom Todoroff Conservatory. For more visit chrisostrowski91.com
Director Janice Orlandi is Artistic Director at Actors Movement Studio. Her directing credits include Bette Davis Ain't for Sissies (Edinburgh Fringe, St. James Studio London; Theater Row, Laurie Beechman, 59E59), Garbo Dreams (Red Room NYC), The Brute (Impact Theater), Uncle Vanya (Expanded Arts), and The Three Sisters (New Vaudeville Theater). Movement Director credits: The Other Mozart at St. James Theater London, Here Arts Festival NYC, Cherry Lane Theatre; The Contrast, (Mirror Repertory), An Ideal Husband and Tartuffe (Sonnet Repertory NYC). She served on the faculty at University of the Arts Philadelphia and Rutgers University for several years. Currently she is on faculty at TISCH School of the Arts, Atlantic Theater Company, and New York Conservatory for Dramatic Arts. Her work has been seen throughout the United States and abroad. For more www.actorsmovementstudio.com
Playwright Phil Paradis is best known for Soldier's Christmas, a play with song about the World War I Christmas Truce of 1914. His plays have been produced in New York, Los Angeles, San Diego, Cincinnati, and Louisville. His awards include a Kentucky New Play Series Award, a Cincinnati Directors Competition Prize for Footprints of the Polar Bear. He is a Resident Playwright at Manhattan Rep, a member of the Dramatists Guild and has served on the faculty of five universities. He directs Actors & Playwrights Collaborative. For more, see www.philparadis.com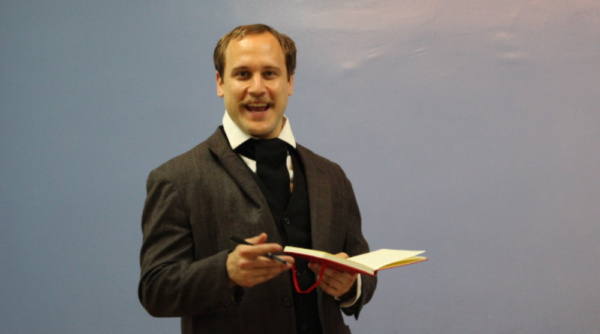 Manhattan Rep Showcases EVENING WITH Stephen Crane AUGUST 24-25.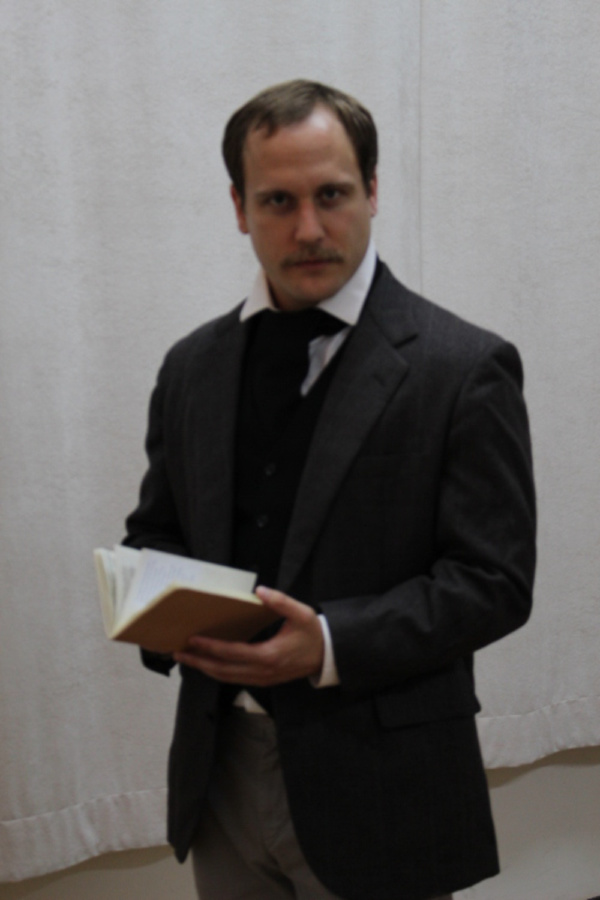 Chris Ostrowski brings The Red Badge of Courage author to life in this one-man play.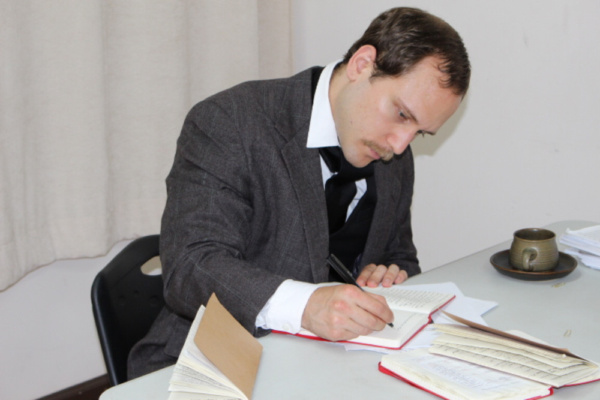 Ostrowski as author Stephen Crane in Evening with Stephen Crane written by Phil Paradis and directed by Janice Orlandi.