MAN ZOU: THE SLOW WALK, A One Man Show Comes to Ho Foods NYC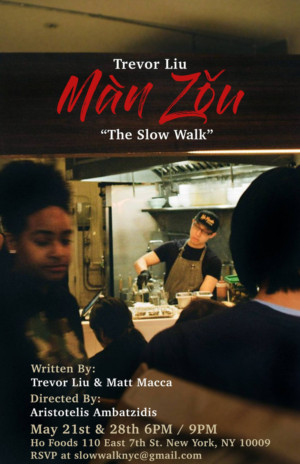 For this Spring, Ho Foods NYC are proud to present a socially relevant one man show to the vibrant East Village! Màn Zou: "The Slow Walk" is a play written by Matthew Macca and Trevor Liu, directed by Aristotelis Ambatzidis, and featuring Trevor Liu.
This site-specific production will be presented at the cozy 12 seats Ho Foods NYC. Ho Foods NYC is an up and coming Taiwanese Noodle Shop in the East Village. Proudly serving the ultimate Taiwanese comfort food: Beef Noodle Soup.
The story discusses and comments on the journey of an International Citizen to America, and his attempt to find his root, identity, and his home. This site specific production gives people the opportunity to tap into the nuanced and complex life of many International Citizens in this diverse country.
The show features Trevor Liu, who is a New York based bilingual Taiwanese actor. He is thrilled to bring this socially relevant and light hearted show to the community in East Village. Recent credits include Serpent 2 from Serpents with the Communal Space Festival, Drew from Non-Laughter Anonymous with The 24 Hour Plays: Nationals, Barker/Ojichan from Interabang with Ars Nova ANT Fest, Journey to the West at the Central Square Theater in Boston, A Beautiful Country by Chay Yew with Columbia Blue Glaze Theatre. BFA: BU'16
The playwright Matthew Macca's plays include To Teach a Mockingbird (Kennedy Center Workshop, Princess Grace Semifinalist, O'Neill Semifinalist), Pandora's Box (Edinburgh Fringe Festival 2013). His other short plays have been performed at the Boston Theater Marathon, Touch Me Philly and Playhouse on Park. He holds a BFA from Boston University in Acting, where he developed and performed his solo show Mouth Open Eyes closed. Acting credits include The Comedy of Errors, Midsummer Night's Dream (Hartford Stage), Brighton Beach Memoirs (Playhouse on Park), and Twelfth Night (Valley Shakespeare Festival). Find out more about Matthew at Matthewmacca.com
Director Aristotelis Ambatzidis has a Bachelor of Fine Arts from Boston University. While there, he appeared in a handful of productions including: "Hothouse", "Delirium", and "Dancing at Lughnasa". In 2016 he had his directorial debut with Tom L. Wark's "Daddy Issues". Aristotelis will appear in Crystal Moselle's film "Skate Kitchen" in select theaters this summer.
For Ticketing Information please visit links below:
May 21st 6PM https://tinyurl.com/y7r4pdov
May 21st 9PM https://tinyurl.com/y9wy3zoc
May 28th 6PM https://tinyurl.com/y9sb2wb6
May 28th 9PM https://tinyurl.com/ya38qno5
Come along this exploration at Ho Foods through drinks, music, and food!