Latiné Musical Theatre Lab Presents 4XLATINE! March 13
4xLatiné features four, fifteen minute excerpts of new musicals, all written by Latiné writers!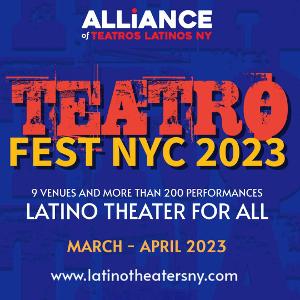 Latiné Musical Theatre Lab's 4xLatiné returns for its second year! 
4xLatiné features four, fifteen minute excerpts of new musicals, all written by Latiné writers! These presentations are staged and sung for a live, in-person audience. "We can't wait to help showcase these phenomenal pieces of musical theatre," said the Lab's Founder and Executive Director, Ryan Morales Green.
We're proud to introduce these new musicals and their respective creative teams chosen to be featured this year for 4xLatiné! Manuel Vs. The Statue of Liberty is heralded as "...an essential piece of musical theater that captures lightning in a bottle!" - Stagebuddy.com. With music & lyrics by David Davila, and book & lyrics by Noemi de la Puente, this piece has been nominated for the 2015 NYMF Award for Best Musical and winner of the 2014 NYMF Developmental Reading Series Award as well as the 2015 NYMF Special Award for Social Relevance and Impact, Manuel Vs. The Statue of Liberty "...is truly something this country needs right now. With the current state of discourse in this country, people need to feel that they are not alone in their struggles or what they have to go through to feel accepted. This show will leave you with a smile on your face and with that feeling of "Someone understands me" and "Someone gets it," - Onstageblog.com.
At the Barre is an LGBTQIA+ mime and ballet musical that explores grief, body dysmorphia, gender dysphoria, self-doubt, harmonic indie pop music, and the form of romantic comedies as a talented, pansexual principal dancer at an NYC ballet company and a talented, non-binary mime battle through an overly talkative world to make a connection. Book & lyrics by SMJ, lyrics & music by Natalie Myrick, and music by Sarah Flaim.
Café con Leche is a queer romantic comedy musical about quirky coffee recipes, meddling parents, and two women falling in love in a modern Latin twist on the classic golden age musical. Book, music & lyrics by Maiga Vidal.
Daydreamer is a New Fantasy Musical inspired by Latino Culture and Shonen Anime! Daydreamer is an adventure of sky-shattering proportions! Primavera is a land of mystical mishaps and magical mayhem, where serenades are as strong as swords and dreams can break the very fabric of reality. "Noche", schemes to steal the Sun and stars from the sky. With an endless night looming over the horizon, Candelaria, a child terrified of shadows, must overcome the overwhelming to bring light back to a broken world. Book & lyrics by Mario Vega, and music & lyrics by Eliza Vedar.
Directing At the Barre & Daydreamer is Maria Cristina Posada Slye, while Manuel Vs. The Statue of Liberty & Café con Leche will be directed by Emilia Lirman. All four pieces will be led by musical director Angela Ortiz and stage managed by Martha Lorena Preve.
The 4xLatiné will have a live band featuring Angela Ortiz on piano, Rosa Avila on percussion and Dan Martinez on bass. The cast includes: Kathy VanDerredt, Emilia Ibarra, Michael Schimmele, Eros Allen, Rebeca Murillo, Katherine George, Laura E. Padilla, L? Matthews, Ryan Reyes, Evan Michael Smith, Tami Dahbura, Angelica Beliard, Logan Dawson, Gabriel Obdulia Beniquez, Marilyn Vigil-Harris, Yasmin Sophia, Luz Ballestér and Frances Ramos.
4xLatiné will be a part of Teatro Fest NYC 2023, presented by the Lab's institutional partner, Teatro Latea. The event is a citywide extravaganza of Latin drama, dance, and music. For general information about the festival CLICK HERE!
For tickets to the 4xLatiné this Monday, March 13th, CLICK HERE!