KNOCK KNOCK By Floyd Toulet To Be Presented At The New York Theatre Festival
Surprising, powerful, and unsettling, KNOCK KNOCK takes you on a journey deep into a mind broken by the past.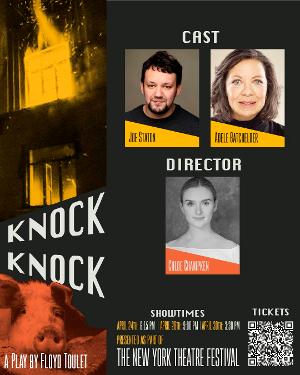 Announcing the New York premiere of Floyd Toulet's Knock Knock, to be performed at the Teatro Latea as part of the New York Theatre Festival, after a successful run at the Etcetera Theatre in London in November of 2021.
This dark and thought-provoking piece will be performed on the 24th, 28th, and 30th of April, 2023. Tickets are available at https://cloud.broadwayworld.com/rec/ticketclick.cfm?fromlink=2228886®id=6&articlelink=https%3A%2F%2Fnewyorktheaterfestival.com%2Fknock-knock%2F?utm_source=BWW2022&utm_medium=referral&utm_campaign=article&utm_content=bottombuybutton1
"I've got a condition called Dissociative Identity Disorder. It means that I hear voices in my head. I'm not making them up and I'm not mad. They're real. They live inside me". A slaughterhouse is set on fire and a body is found. The man believed to be responsible is questioned. A disturbing game of cat and mouse ensues until a series of flashbacks and recalled memories finally exposes the truth. Surprising, powerful, and unsettling, KNOCK KNOCK takes you on a journey deep into a mind broken by the past. KNOCK KNOCK is recognized by the V&A National Video Archive of Performance, endorsed by Peter Egan, and was awarded five-star reviews by the London Audience Club.
The show stars Adele Batchelder and Joe Staton. Adele is an actress based in New Jersey who studied and trained at both Wesleyan University and HB Studio. She has performed at notable establishments such as the McCarter Theater (Princeton NJ), Elmwood Playhouse, ActorsNET of Bucks County, and the Langhorne Players. Previous credits theatrical credits include A Delicate Balance, Native Gardens, and Our Town. Film credits include Ashes, That Which Remains, Scratchy, Cage and Tumbleweed, and The Girl Who Cried Her Eyes Out.
Joe Staton is a British actor, director, and producer based in New York City. He is an alumnus of the Stella Adler Studio of Acting in New York and the Italia Conti Academy of Theatre Arts in London. Originally from Minehead, Somerset, he grew up in France and Spain. Joe has recently returned from a successful run of Murder On The Orient Express with Cumberland Theatre in Maryland and is excited to be involved with this production. As well as performing, Joe is also serving as the show's producer and previously directed this production in London.
The play was written by England-based playwright Floyd Toulet, who was born in Johannesburg and spent much of his childhood traveling between South Africa, Mauritius, Australia, and England. Before writing for the stage, Floyd worked for over 20 years as a freelance advertising copywriter. Recent productions include The Terribly Disappointing Mr. Pummel, SNARED, and KNOCK KNOCK. A new script is currently in development.
Chloe Champken takes the reigns as director and is extremely excited to be making her directorial debut with this wonderful play and cast. Having completed her BA at Trinity Laban in South East London, she moved to New York in May of last year to attend the Stella Adler Studio of Acting where she continues her studies. She would love to thank Joe and Floyd for trusting her to encapture their story and allowing her to dive into her love for directing.
Also working to bring this production to life are Addi Bjäringer (Assist. Director) and Gabrielle Heckler (Graphic Design). The team would like to thank the New York Theatre Festival for its support. Once again, tickets can be found at https://cloud.broadwayworld.com/rec/ticketclick.cfm?fromlink=2228886®id=6&articlelink=https%3A%2F%2Fnewyorktheaterfestival.com%2Fknock-knock%2F?utm_source=BWW2022&utm_medium=referral&utm_campaign=article&utm_content=bottombuybutton1