JINX Comes to Caveat Next Month
The performance is on Sunday, April 2 at 4:30.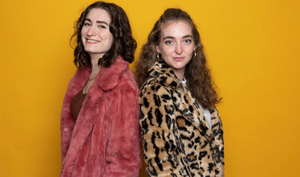 Humor Darling invites you to SING INTO SPRING! Join in for another installment of the live and in-person seasonal showcase, Jinx.
Whether you survived the recent cold months with therapy, green juice, SSRIs, or sheer will to remain a cog in the machine, we made it through yet another winter. That's right - Vitamin D is back, baby! Croon your seasonal depressions away at the upcoming Jinx.
Featuring a fresh lineup of New York's best musical comedians and character performers, Jinx showcases new and innovative humor. In honor of longer days and joyful warmth, we're doing an all-musical theme this time around.
Come sing your little hearts out to celebrate spring at the next Jinx!
Hosted by Humor Darling's resident songstresses Laura Ornella and Baylor Knobloch, Jinx is a celebration that pushes the bounds of New York comedy.
What's Humor Darling, you might ask? It's a comedy platform for satire writing, comedy show production, and more. Check us out at @humordarling on Instagram, Twitter, and Medium.
WHEN: Sunday, April 2 @ 4:30 (doors @ 4:00)
WHERE: Caveat
21 A Clinton St, New York, NY 10002
TICKETS:
$15 in advance, $20 at the door
$10 LIVESTREAM OPTION for virtual viewing as well!
Featuring:
Marcia Belsky (Comedy Central, TED talk)
Jack Blankenship (The Tonight Show Starring Jimmy Fallon, Know Your Meme)
Esther Fallick (Vulture's Must-See Comedy Shorts, 54 Below)
Baylor Knobloch (Humor Darling, Sundance Collab)
Laura Ornella (Humor Darling, JFL, Comedy Central)
Tiffany Springle (Roe V Bros, Charact-araoke)