Bryan Berlin's RUNNING SCARED Will Play the 2023 FRIGID Fringe Festival Next Month
Performances run February 15-March 5, 2023.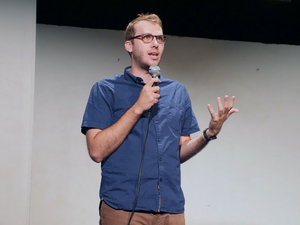 Berlination Productions will present Running Scared, written and performed by Bryan Berlin, as part of the 2023 FRIGID Fringe Festival at UNDER St. Marks (94 St Marks Place, New York, NY 10009) with performances on February 17th @ 9:50pm, February 24th @ 6:30pm, February 26th @ 3:40pm, March 3rd @ 6:30pm, and March 4th @ 3:40pm. Tickets ($15) are available for advance purchase at www.frigid.nyc. The performance will run approximately 50 minutes.
Bryan has been running for the last 10 years of his life and he recently realized he has no idea if he actually likes it. Join him as he looks at the role running has had in his life and how it has affected everything from his job to his romantic relationships.
Bryan Berlin is a comedian, storyteller, and educator living in Brooklyn, NY. He's host of the podcast Love Hurts, which features guests sharing a story of tough love in their lives. He's a Moth StorySLAM winner, and his stories have been featured on RISK! and Story Collider. When he's not performing, he teaches video and photography to high school students in Brooklyn. You can find more info at bryanberlin.com
FRIGID Fringe Festival is an open and unjuried theatre festival that gives artists an opportunity to let their ingenuity thrive in a venue that values freedom of expression and artistic determination. In true support of the Indie Theater Community, 100% of box office proceeds go directly to the artists whose work is being presented. FRIGID is here to chill out the New York independent theatre scene's ideas of what a theatre festival can be! www.frigid.nyc